Presidential Poll
All MLAs, except Khanna, cast vote
Chandigarh, July 19
Led by their leaders, the SAD-BJP and Congress legislators cast their vote for the Presidential election. The polling was held at the Vidhan Sabha here. Chief Minister Parkash Singh Badal and Deputy Chief Minister Sukhbir Singh Badal came with all 56 SAD members along with two attached legislators, Balwinder Singh Bains and Simarjit Singh Bains, and the 12 BJP legislators for the voting. Led by Pradesh Congress president Capt Amarinder Singh and Congress Legislature Party Leader Sunil Jakhar, 45 Congress MLAs and one attached member, Rajnish Bubby, cast their vote. There was one absentee, Arvind Khanna.


Left-right: Deputy CM Sukhbir Badal shares a lighter moment with Congress MLAs Tript Rajinder Singh Bajwa and Rana Gurjit Singh; Bibi Jagir Kaur on her way to cast her vote; and Congress MLAs Gurkirat Kotli, Parminder Pinki and Karan Kaur Brar flash the victory sign. Tribune photos: Pradeep Tewari

Despite arrest, Akali Dal leader on advisory panel
Kapurthala, July 19
Arrested for allegedly selling kerosene on the black market, local Akali leader Jagjit Singh Shammi remains a member of the Food and Supply Department advisory committee.


Gastro takes fatal form in Patiala, 3 dead
Patiala, July 19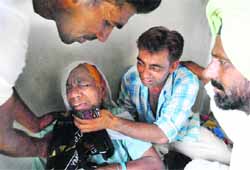 Gastroenteritis has taken a fatal form in a Patiala colony. Three persons have already succumbed to the disease whereas 125 have been admitted to various hospitals in the city. Mixing of sewage with drinking water is stated to be the reason behind the casualties at Badungar Colony. The deceased have been identified as Gurdev Kaur (80), Gurdyal Singh (65) and VG Narayan Singh (62).

An inconsolable relative of a victim. Tribune photo: Rajesh Sachar
2 casualties in Jalandhar; low-lying areas most hit
Jalandhar, July 19
Almost all low-lying areas in the city have reported cases of water-borne diseases.Two persons have died of diarrhoea , both from Manjit Nagar in Basti Gujan.
Ludhiana row: Statements of officer, vendor recorded
Ludhiana, July 19
To probe allegations levelled by vegetable vendor Kamlesh Pal against suspended Ludhiana MC Commissioner Malwinder Singh Jaggi, the Divisional Commissioner, Patiala, Ajit Singh Pannu, today recorded the statements of the parties concerned, including MC officials. Pannu, who reached here at 10 am, headed for Sutton House at Punjab Agricultural University. It took seven hours to record the statements of the vendor, Jaggi and MC officials.
Civil surgeon, Welfare dept chief spar over IVF clinics
Jalandhar, July 19
The Director, Health and Family Welfare, and the Civil Surgeon, Hoshiarpur, are at loggerheads over the functioning of two Hoshiarpur-based invitro-fertilisation (IVF) centres without the mandatory registration.
Kharar residents protest against power cuts, block highway
Kharar, July 19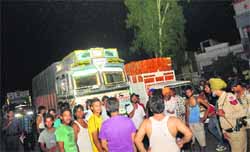 Miffed at unscheduled power cuts, local residents blocked the highway late tonight.
They came on to the road in large numbers at about 10 pm and sat on dharna, disrupting traffic. They claimed they had been without power for past 15 hours.



Kharar residents block the highway to Chandigarh. Tribune photo: Vicky Gharu
58 lives lost, Fazilka admn yet to ponder over road safety
Fazilka, July 19
The district administration is yet to take up the road safety measures as 58 precious lives have been lost in road accidents in the district from October 2011 to June 2012.

Phidde village elated by CM's gesture
Phidde (Ferozepur), July 19
Surjit Singh of Phidde village was given a grand welcome by the area people three weeks ago following his release a Pakistan jail. He spent 31 years in captivity in the neighbouring nation.
Now, RPOs to accept forms too
Chandigarh, July 19
The External Affairs Ministry has allowed the submission of application forms for a fresh passport directly to the Regional Passport Offices in the country.
SGPC defends Pak Deputy AG
Amritsar, July 19
The SGPC chief, Avtar Singh Makkar, has come out in support of Pakistan's Deputy Attorney General Khursheed Khan who has been issued a notice by Pakistan's Supreme Court Bar Council for performing 'sewa' at the Golden Temple and a few other shrines during his visit to India.
Laptops okay, but where are the textbooks?
Muktsar, July 19
From promising laptops to distributing bicycles, the government has taken several steps to draw more students to schools and improve the state's literacy rate. But in Muktsar, these initiatives are proving futile.
Punjabi varsity VC urged to hold teachers' poll
Patiala, July 19
Representatives of the Punjabi University Teachers' Coordination Committee met Vice Chancellor Dr Jaspal Singh today regarding holding Punjabi University Teachers' Association (PUTA) elections at the earliest. Criticising the Vice Chancellor for deliberately delaying the elections, members of the coordination committee said the VC should notify the election date as holding the PUTA elections was the VC's statutory duty.


Can't sidetrack elected sarpanch, rules HC
Chandigarh, July 19
The Punjab Government's alleged move to render opposition sarpanches ineffectual by appointing development committees for managing the panchayats has left it red-faced.
HC for speedy justice to juveniles
Chandigarh, July 19
In a significant order, the Punjab and Haryana High Court has asked the presiding officers of juvenile justice boards in Punjab, Haryana and Chandigarh to make all possible efforts to dispose of cases against the young ones in four months.
Two get life term for killing brother
Bathinda, July 19
Two brothers have been sentenced to life imprisonment for killing their elder brother.


VB seizes Rs 35 lakh cash from motor inspector's house
Ludhiana, July 19
Sleuths of the Vigilance Bureau (VB) have arrested an alleged close aide of Motor Vehicle Inspector (MVI) Rakesh Gupta from Jawahar Nagar in the city.