Come monsoon, 14 villages get snapped from mainland for 3 months
Sultanpur Lodhi (Kapurthala), July 13
More than 1,600 residents of 14 villages located on an island on the Beas near Sultanpur Lodhi have been cut off from the rest of the world for next three months with the district administration dismantling a pontoon bridge two days ago.

The pontoon bridge over the Beas being removed. Tribune photo: Malkiat Singh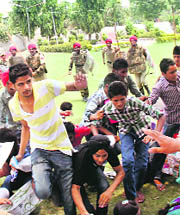 Police forcibly evicts students from college
Faridkot, July 13
The three-day-old standoff between students and management of government-run Barjindra College in Faridkot today ended with police using force to disperse protesters. Having taken to warpath while demanding relaxation in cut-off percentage for admission to various courses, a few students sustained injuries in the police action. The college has fixed 70 per cent as cut-off in merit list. This, the students claimed, was against the Punjab Education Department rules.


Protesting students being chased away by policemen at Barindra College in Faridkot on Friday. Photo: Sameer Sehgal

Chief Khalsa Diwan replaces its member in Takht Patna Sahib board
Amritsar, July 13
The Chief Khalsa Diwan has withdrawn the nomination of Jaspal Singh as member of Takht Shri Patna Sahib Management Board and replaced him with Bhupinder Singh Anand ahead of the crucial election of the Board president next week.
Rs 1.8 crore for Batalvi's memorial
Batala, July 13
The government, after dragging feet for nearly two years, has finally handed over Rs 1.90 crore to Shiv Kumar Batalvi Memorial Society for renovating an auditorium built in his memory three decades ago.

Police bans red beacons on escort, pilot vehicles of VIPs
Patiala, July 13
After the state government reduced the security cover of several VIPs, the Punjab Police has now banned the use of red beacons atop the pilot and escort vehicles of the VIPs.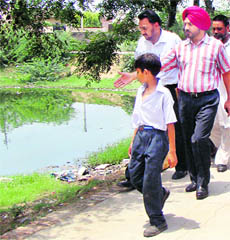 90 taken ill in Patiala
Patiala, July 13
There is a serious threat of an outbreak of an epidemic in Patiala as four out of eight stool samples collected from Sanjay Colony, which were sent to Government Medical College laboratory, are suspected to have been found positive for Cholera. The final report will come tomorrow, but college principal Dr KD Singh said initial investigations were hinting at the outbreak of cholera, a much serious vector-borne disease. The district health authorities were initially suspecting them to be cases of diarrohea.

Deputy Commissioner GK Singh inspects an affected area in Patiala on Friday. Tribune photo: Rajesh Sachar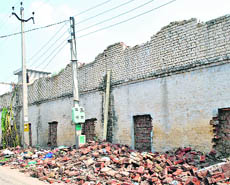 SGPC, Education Dept lock horns over school
Patiala, July 13
The Education Department and the Shiromani Gurdwara Parbandhak Committee (SGPC) have locked horns over construction of a dharamshala in the historic Dukhnivaran Sahib gurdwara.



A partially damaged boundary wall of the Government Elementary School inside the Dukhnivaran Sahib gurdwara in Patiala. Tribune photo: Rajesh Sachar

No stopping opium smuggling in Punjab
Patiala, July 13
Drug peddlers from Rajasthan are finding it easy to sell their contrabands in Punjab. Opium, or black gold as it is generally called, has become one of the most easily available contraband despite the police tightening its grip.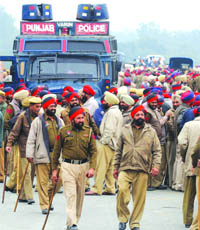 PIL on Gobindpura stir dismissed
Chandigarh, July 13
Just about a year after the Congress raised the issue of Gobindpura unrest in Parliament, the State of Punjab has claimed that the police firing did not result in any death; and the Government has sanctioned financial assistance of Rs 34.45 lakh to landless labourers injured in the incident.





Alleged police atrocities on Gobindpura farmers had become an issue during the assembly elections. A Tribune file photo

50% police transfers in violation of norms
Chandigarh, July 13
More than 50 per cent transfers of Deputy Superintendents of Police and other police officers in Punjab are in violation of the Punjab Police Act.
Marriage is no ground for parole, says High Court
Chandigarh, July 13
Convicts behind bars in this part of the region cannot seek parole for getting married. The Punjab and Haryana High Court has made it clear that prison bars debar convicts from getting parole on the grounds of matrimony.



Four policemen held after criminal flees
New Delhi, July 13
Four Punjab policemen were arrested after a man allegedly involved in several criminal cases in Punjab, Haryana and the Capital escaped from their custody while they were shopping at a store in Delhi.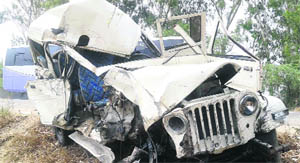 1 dead in bus-police jeep collision
Jagraon, July 13
Head Constable Gurmeet Singh, and a resident of Guruharshai in Ferozepur district, was killed on the spot and four other policemen seriously injured when a police jeep collided head-on with a private bus.

Mangled remains of the police jeep. A Tribune photo

Suicide by wife, kids: Khanna man arrested
Fatehgarh Sahib, July 13
The police has arrested a businessman from Khanna for abetting his wife and two children to commit suicide by jumping into the Bhakra canal.