Sarabjit's sister meets Sonia
New Delhi/Amritsar, July 4
Dalbir Kaur, sister of Indian death-row convict Sarabjit Singh, today met Congress chief Sonia Gandhi to seek her help for her brother's release. Sarabjit has been languishing in a Pakistan jail for the past more than 20 years.
Water in all villages to be tested: Badal


Rabbon Uchhi (Ludhiana), July 4
Punjab Chief Minister Parkash Singh Badal, while expressing his concern at the increasing problem of ecological degradation and the high level of water pollution across Punjab, today announced at Rabbon Uchhi village in the district that the government had decided to take samples of water from all the villages for analysis within the next three months.
SAD gets edge over BJP in Amritsar MC
Amritsar, July 4


The race for the Mayor's post in the holy city took an interesting turn today with the SAD's tally going up to 25, one more than its alliance partner BJP (24), after Akali Dal candidate Raj Kumar Jolly was declared elected from Ward No. 3, the result of which was withheld on June 10.
Raj Kumar Jolly (ward no. 3)
Mayors likely to be appointed in Sept
Chandigarh, July 4
The coalition partners in the state government, the SAD and the BJP, would have to wait till the first week of September to appoint mayors in four municipal corporations that went to the polls recently with rules coming in the way of making immediate appointments to these posts.
Mansoorpur firing incident
Villagers protest against police 'inaction'
Mukerian, July 4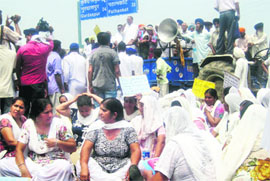 Alleging police inaction in a firing incident in which an NRI's son was shot dead, scores of Mansoorpur village residents assembled outside the local Civil Hospital and blocked the Jalandhar-Jammu highway for over an hour today. The villagers alleged involvement of a local BJP leader in a clash between two groups over a land dispute in which Gurpreet Singh was killed on June 28.
Residents of Mansoorpur village sit on a dharna on the Jalandhar-Jammu highway in Kukerian on Wednesday. A Tribune photograph
Alleging graft, woman attempts self-immolation
Bathinda, July 4
Disturbed over "harassment" of people and "corruption" in the local District Transport Office, a woman today attempted to commit suicide by setting herself on fire near the Multania over bridge.
Vigilance AIG chargesheeted
Chandigarh, July 4
The CBI today filed a chargesheet against Punjab Assistant Inspector General of Police (AIG) PS Sandhu who was arrested last year in a corruption case.
3 months on, stone crushers allowed to resume operations
Chandigarh, July 4
With construction work and major infrastructure projects across Punjab coming to a virtual standstill for the past three months, the Punjab Government today allowed the 500 odd stone crushers in the state to re-start their operations.
PU debars 51 BEd colleges from admitting students
Chandigarh, June 4
Panjab University has barred all its affiliated B Ed colleges from making admissions without fulfilling the requisite norms and faculty needs. A seven-member committee, after taking the decision, asked the B Ed colleges to fulfill the National Council for Teacher Education and Panjab University norms and submit a compliance report only after which they would get the nod to carry out admissions.
Electroplating units raided
Patiala, July 4
The Punjab Pollution Control Board today raided 22 electroplating units in Ludhiana. During the raids, PPCB officials found nine electroplating units violating the pollution control norms. During the raids, it was also checked whether the electroplating units were getting their entire effluent lifted for treatment at the Common Effluent Treatment Plant (CETP).
Education board joint secretary suspended
Mohali, July 4
Punjab School Education Board Joint Secretary Om Parkash Soni has been placed under suspension for proceeding on leave without getting prior sanction. Dr Balwinder Singh, an offcial of the board, said Soni had applied for a two-week leave, which was not sanctioned by the authorities concerned. "Taking serious note of his act, PSEB Chairman Husan Lal today issued orders of his suspension," said Dr Balwinder.
Provide relief to riot victims in four months, Centre told
Chandigarh, July 4
Acting on a petition for directions to the Centre and other respondents for monitoring the disbursement of grants to the 1984 riot victims, the Punjab and Haryana High Court has asked the Union Ministry of Home Affairs to look into the applications before it on the issue.
'Had to face a storm when cash-for-judge scam broke'
Chandigarh, July 4
Transferred to the Rajasthan High Court, Justice Nirmaljit Kaur of the Punjab and Haryana High Court today indicated that she had to face a storm after the surfacing of the cash for judge scam. But, she was only acting as a responsible citizen and was glad she rightly reacted.