The rising cost of medicare
The entry of private players into healthcare has been known to increase the gap between the rich and the poor. Privatisation and the inability of the state in providing quality healthcare limit the underprivileged from accessing medical services
Dr Rajeev Gupta
"The practice of medicine is an art, not a trade; a calling, not a business; a calling in which your heart will be exercised equally with your head. Often the best part of your work will have nothing to do with potions and powders, but with the exercise of an influence of the strong upon the weak, of the righteous upon the wicked, of the wise upon the foolish."
— William Osler (1849-1919)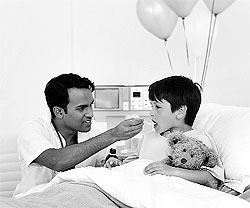 Since the time William Osler, the father of modern medicine, said the above mentioned words, the medical practice has undergone many structural changes. The medical practice has been greatly influenced by various political, social and economic changes taking place all over the world. In India, particularly, medicine is passing through a painful phase where fundamentals of finance and practice are being altered fast. The healthcare system is being corporatised and privatised.
The medical profession has not been able to keep itself aloof from the strong wave of capitalism. Medicine is no longer the domain of the physicians working in their clinics and hospitals, as it is gradually moving into the hands of big corporate houses, which have introduced advanced services in the medical sector. Equipped with modern technologies and management skills and funded by big corporate, business houses and rich investors, these medical centres have pushed the state medical centres to a much lower pedestal. No wonder, those occupying the corridors of power in our country often flock to these corporate hospitals for their health problems, showing scant faith in the state-run services. It is not a coincidence that during the recent Lokpal movement, Anna Hazare's health was closely monitored by a medical team from a reputed corporate hospital and he was later shifted to the same private hospital for care.
Reforms & liberalisation
The health sector reforms and liberalisation policy in India have brought in new profit-making opportunities in the healthcare market. In India, state-run healthcare providers could not look after the medical needs of the fast growing, prosperous middle and affluent upper class.
India has a vast middle-class population which is educated, prosperous, aware, health conscious and is ready to pay for better medical facilities. Having been exposed to world-class healthcare practices during their travels across the globe, they want similar treatment facilities in India as well. Earlier, this population was being looked after by next-door small clinics and nursing homes. Now, it has gradually shifted to corporate hospitals even for common services like normal birth deliveries and regular childcare.
Corporate healthcare is being supported by big business houses, rich investors, insurance companies, expatriate Indians, politicians and senior bureaucrats. Equipped with the most modern technology, highly-skilled medical and paramedical staff and better governance, corporate hospitals have carved a formidable place in the health sector.
Encouraged by the response and growth of the corporate hospitals, many local entrepreneurs have also come up with specialised chains of the medical centres. In view of the advancement in medical practice in India, foreigners and non-resident Indians, too, flock to India for their treatment. Now these corporate-run hospitals are gradually moving from bigger cities to smaller towns and even to the community health services.
Business-driven model
In a business-driven medical model, output, productivity, sales, earnings, profits, product promotion and packages are the commonly used words. Nowadays, people hardly talk in terms of good or bad doctors. They prefer to visit a 'busy' doctor, as they visit a 'busy shop or a restaurant'. It is not the quality but the quantity that has overtaken. Big private hospitals regularly circulate data about number of diagnostic and treatment procedures done by their faculty. Such an exercise is bound to produce a sense of unhealthy competition among the faculty members. In such hospitals, it is the self-interest that drives the profit and a specialist's take-home pay-package is linked to his performance and output and not to his qualification, knowledge, and skills. It is a professional's marketability, media management and business skills which help him to climb on the ladder of success.
Many of our medical professionals from the government sector are joining the private sector. They find it difficult to adjust to a business model of medical care, where they are completely devoid of administrative decisions and their clinical decisions are also judged only on the basis of economic parameters. The ethical and moral implications of fast growing commercialisation of healthcare have become a matter of controversy.
Social responsibilities
One of the major criticisms of corporate hospitals has been that these hospitals are being given a host of concessions and subsidies by the government, but these function on a pure business model for profit making without any social responsibilities and sensitivities. The treatment cost in these hospitals is absurdly high. Since a majority of their clients are heavily insured, these hospitals tend to inflate the bills, as these clients are not going to pay from their own pockets.
Many of these corporate hospitals are often blamed for openly flouting their commitment of providing free or subsidised healthcare to economically weaker sections of the society. In 2002, the Delhi High Court had ordered that those private hospitals, which had been provided subsidised land, should provide 10 per cent indoor beds and 25 per cent outdoor cases, free of cost, for patients from the economically weaker sections of the society. The court dismissed the plea of owners of private hospitals that they were not given land on the basis of the new norms set by the government. The Supreme Court, in a recent judgment this year, has already said that hospitals, which have been provided land at subsidised rates, will have to provide free treatment to poor patients.
Privatisation, in general, has been known to increase the gap between the rich and the poor, leading to the survival of the richest. Wider the gap, higher is the social unrest. The policy of excessive privatisation and state abdicating its responsibility of universal healthcare will limit the underprivileged from accessing the medical services. If the state's limited resources have to be consumed by the bigger and private players of healthcare industry and state's funding of the general and community healthcare has to suffer, one can imagine the emerging scenario of health services. The health for all by 2020 will remain a utopian idea only. The basic guiding principles of medicine like service, empathy and altruism will be given a silent burial at the altar of corporatisation and globalisation.
The writer is Ludhiana-based psychiatrist and de-addiction specialist
Sops to business houses
Appolo Hospital, Chennai, was the first corporate hospital which started in 1983.
Initially, corporate houses were encouraged to open new hospitals in six metros. But now they can open hospitals in all cities which has a population of more than ten lakh.
The government encouraged business houses to open these hospitals by giving them liberal funding and easing regulations.
The state provided free or highly subsidised land, reduced import duties on life-saving equipments, gave several tax exemptions and modified health
insurance rules.
The Delhi Government leased 15 acres of prime located land in South Delhi to the company running a corporate hospital for 30 years at an annual token rent of Re 1/- only per month.
However, the Indian government has never been so liberal with the cottage medical industry managed by ten lakh of family physicians and specialists who are running their clinics and nursing homes under all odds and difficulties.
Fast growing corporatisation and corporate hospitals are proving to be a threat to existing small-scale medical establishments since the latter are neither resourceful, nor well-equipped with higher business and management skills.
Corporate care
Corporate hospitals can't solve the health problems of any community at large as these cater to a niche segment.
As these hospitals run on business model for profit generation, treatment cost rises manifold in these hospitals. The management is interested only in money-spinning specialties.
These hospitals mostly focus on tertiary medical care, an area which is not being adequately attended to by the government and small medical players.
The State has provided a large number of concessions to these hospitals but has failed to ensure that these hospitals provide free or subsidied care to the poor needy patients in return.
In 2009, The Delhi High Court ordered a corporate hospital in Delhi to provide free treatment to economically poor patients and imposed a fine of Rs 2 lakh on it for failing to follow its earlier directions since the hospital had been provided land at concessional rates.
Presently, Delhi High Court is hearing a contempt case against three Delhi hospitals for not providing free services to poor patients.
The privatisation of healthcare has created a two-tier system which reinforces economic and social inequalities, leading to higher levels of stress and social tensions.
Some corporate hospitals recently rewarded their specialists with Mercedes and BMW cars in return of their services.
Globalisation
As globalisation of healthcare increases, there is decline in public sector expenditure and rise in public-private partnership in healthcare.
Economic policies of International Monitory Fund and World Bank have resulted in reduction or removal of state-run health services in poor and developing countries.
As a result, healthcare is either unavailable to the poor or is too expensive.
Even in developed countries, healthcare is a fundamental right, not a privilege.
Countries like Canada, Australia and many European nations have strongly resisted market-based health services. But still corporate hospitals are gradually finding foothold in these countries.
Philanthropic care
Dr Devi Parshad Shetty is an Indian philanthropist and cardiac surgeon.
He has founded Narayan Hrudayalaya, a multi-speciality hospital in Bangalore and Rabindra Nath Tagore International Institute of Cardiac Services in Kolkata. His centres perform one of the cheapest surgeries in the country.
Dr Shetty has introduced Yeshasvini, the world's cheapest health insurance scheme, at Rs 10 per month. It was designed by Dr Shetty and the Goverment of Karnatka for poor farmers. Four million people in Karnatka are covered under it.