Capt should have devoted more time, says Partap Bajwa
Chandigarh, July 9
Though the Punjab Congress today expressed "satisfaction" with the party's Dasuya bypoll campaign, there were rumblings of discontent with Gurdaspur MP Partap Bajwa claiming things would have been better had PCC president Capt Amarinder Singh camped in the constituency like Chief Minister Parkash Singh Badal.
Sidhu bats for Sahi on final day of canvassing
Dasuya, July 9
A day after Chief Minister Parkash Singh Badal and PPCC chief Capt Amarinder Singh left the town after canvassing for their candidates, the stage was set for Amritsar MP Navjot Singh Sidhu to hold the fort for the BJP candidate on the final day of campaigning.

BJP MP Navjot Sidhu addresses a rally in Dasuya on Monday, the last day of canvassing, and (below) Congress candidate Arun Dogra (second from right) during his door-to-door campaigning. Tribune photos: Malkiat Singh

No sympathy wave, says BJP
Dasuya, July 9
A Congress bastion till a few years ago, the Dasuya assembly segment was won by the BJP purely on account of development initiatives.Yet the plight of residents remains far from satisfactory. Nevertheless, the people are happy that the byelection has at least highlighted their concerns.

Several castes make netas' job tough
Chandigarh, July 9
Parties are finding it hard to remain politically correct in Dasuya constituency, which is a mix of different castes and communities in a voting population of 1.62 lakh.

Majithia says questioning EVMs' credibility wrong


Dasuya, July 9
Hitting out at Punjab Pradesh Congress Committee president Capt Amarinder Singh, Revenue and Public Relations Minister Bikramjit Singh Majithia today said the former Chief Minister should not question the credibility of electronic voting machines (EVMs).




Runaway couples
Suspected honour killing
Youth beaten to death
Ludhiana, July 9
In a suspected case of honour killing, a 23-year-old youth from Jodhan was allegedly beaten to death by his beloved's kin last evening.

No over-the-counter drugs sale: Dr Sidhu
Chandigarh, July 9
Punjab's Chief Parliamentary Secretary (Health) Navjot Kaur Sidhu has suggested various steps for improving healthcare in Punjab. Sidhu said the government would go all out to check the sale of drugs without prescription.

Despite HC orders, no relief for Amritsar traders
Amritsar, July 9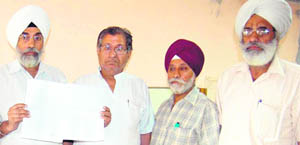 Despite court orders, there has been no respite for the shopkeepers who were displaced after Operation Bluestar. The Punjab and Haryana High Court had on May 24 directed the government to allot alternative sites to 133 affected traders within 40 days.

Displaced Amritsar traders with a copy of the High Court order. A Tribune photograph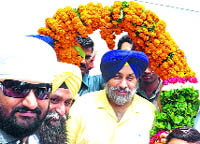 Sukhbir has a quiet birthday with family
Chandigarh, July 9
Punjab Deputy Chief Minister Sukhbir Singh Badal had a quiet 50th birthday at his residence in Delhi with his immediate family members. Sources said the family participated in 'akhand path' and kirtan at their residence.


Sukhbir Badal in Delhi

No unmanned crossings in Ambala Div by 2015
Bathinda, July 9
Unmanned railway crossings in Ambala division will be closed soon, Divisional Railway Manager PK Sanghi said here.


Pouring faith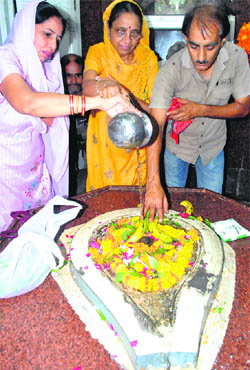 Devotees offer water on a Shivling on the first Monday of Saavan month in a temple in Patiala. Tribune photo: Rajesh Sachar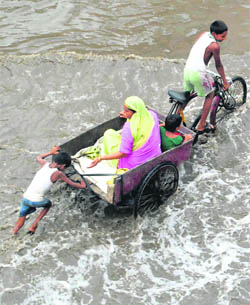 WATERWAY: A family crosses a waterlogged road in Patiala on a cart after the city was lashed with heavy showers on Monday. Tribune photo: Rajesh Sachar
Unemployment rate in Punjab among lowest
Chandigarh, July 9
It may sound strange but it is true that the unemployment rate in Punjab is 1.8 per cent against the all-India level of 3.8 per cent.
Govt urged to tackle stray dog menace
Patiala, July 9
The Society for People's Welfare and Awareness, a local NGO, has demanded permanent solution to the problem of stray dogs in view of increasing number of dog bite cases in Patiala. The NGO feels that apart from the sterlisation process, the government should ensure construction of kennels for stray dogs, special incentives to voluntary organisations and the people involved in tackling the problem, sensitisation programmes, monetary compensation to the victims of the stray dog bites.
Fuel Supply Agreement with thermal power plants
Coal India calls off board meeting
Patiala, July 9
The postponement of a meeting of the Board of Directors (BoD) of the Coal India Limited (CIL), scheduled for July 10 in New Delhi, has further delayed the signing of the Fuel Supply Agreement (FSA) between the subsidiaries of the CIL and the developers of the upcoming thermal power plants in Punjab. In the meeting, the directors were mainly to deliberate on the matter pertaining to signing of the FSA with the power firms.
Augment power distribution system: Experts
Patiala, July 9
With power crisis in the state coming to an end, apart from sudden spurt in the power demand, there were frequent breakdowns in the transmission and distribution network in the past two weeks.
Filmmaker Saeed Mirza to make documentary on use of pesticide
Faridkot, July 9
Days after Aamir Khan's popular show, "Satyamev Jayate" chronicled the indiscriminate use of pesticides and chemical fertilizers in Punjab and its adverse impact on human health, now Saeed Akhtar Mirza, who has made many famous Bollywood films and won plaudits  for using whole sentence as their names —Albert Pinto Ko Gussa Kyoon Aata Hai, Salim Langde Pe Mat Ro, Mohan Joshi Hazir Ho and TV Hindi  serial like Nukkad, has now forayed into Punjab to depict the negative side of pesticides and chemicals in agriculture in his documentary.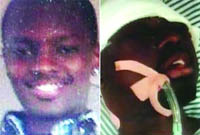 Yannick Case
Another accused held
Jalandhar, July 9
Under pressure after Burundi national Yannick Nizhanga's father Nestor Ntibateganya wrote to the Chief Minister pleading for justice, the police today arrested another accused, Amandeep, for the ruthless assault on the African student on April 21.
2 revenue officials booked for fraud
Fatehgarh Sahib, July 9
The police has registered a fraud case against three persons, including Patwari Gurmukh Singh and clerk Surekha Rani in the tehsildar office here and Gurmeet Singh, a resident of Dera Mir Miran, on the complaint of Raj Kumar, a resident of Sirhind.