Deputy CM Sukhbir Badal and MP Harsimrat Kaur at the Golden Temple (left) and Schoolteachers hold a rally on World Population Day in Patiala on Wednesday. Tribune photos: Vishal Kumar and Rajesh Sachar.
Cong rebel Dhillon to join SAD today
Chandigarh, July 11
Union Minister for External Affairs Preneet Kaur is bound to suffer a major setback with one of her close confidante and Congress rebel Deepinder Singh Dhillon all set to join the Shiromani Akali Dal (SAD) in the presence of Chief Minister Parkash Singh Badal and SAD president Sukhbir Singh Badal here tomorrow.
Mayoral posts
Will hold talks with BJP: Sukhbir
Amritsar, July 11
Deputy Chief Minister Sukhbir Badal has said the ruling alliance partners will resolve the issue of mayoral posts by holding a dialogue.
69.7% turn out for Dasuya byelection
Dasuya, July 11
As many as 69.7 per cent voters cast their ballot in the Dasuya byelection today compared with 75.47 per cent during the last assemby elections.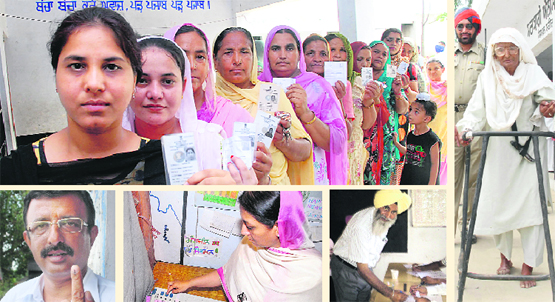 Clockwise: Women voters with their I-cards outside a polling booth in Dasuya; an elderly women comes out of a polling station ; PPPcandidate BS Ghuman inside a polling booth ; BJP candidate Sukhjit Kaur Sahi casts her vote at Usman Shaheed ; and Congress candidate Arun Dogra shows his inked finger. Tribune photos: Malkiat Singh
Next, time for some tough decisions
Chandigarh, July 11
Post-Dasuya bypoll, it will be testing times for the SAD-BJP government that will have to take a call on mobilisation of resources to mop up at least Rs 3,000 crore to overcome the critical fiscal situation. It will also have to decide on the power tariff issue. For the past few months, the government had been postponing a decision on levying fresh taxes. It did not announce fresh taxes in its Budget passed last month.


Missing SOS village children recovered from Bathinda
Bathinda, July 11

Four children missing from SOS village, Rajpura, were recovered from Bathinda today. The children have been identified as Nikita (15), Sukhjinder Kaur (14), Suminder (12) and Manvinder (13).





A policeman questions Rajpura SOS village children in Bathinda. Tribune photo: Pawan Sharma
Lahore-based NGO vows to preserve Sir Ganga Ram's legacy
Ludhiana, July 11

Amidst tension between India and Pakistan, there are people and organisations whose efforts show some signs of hope. One such organisation is a Lahore-based NGO, Friends of Ganga Ram. It observed the death anniversary of Sir Ganga Ram, an Indian philanthropist and agriculturist, at his "samadhi" in Samadhi Ganga Ram area located in the heart of Lahore city yesterday.



NGO members at the samadhi of Sir Ganga Ram(inset) in Lahore.
Granite rocks leaching uranium into water, claim atomic experts
Chandigarh, July 11

A team of experts from the Department of Atomic Energy today claimed that presence of uranium in southern Malwa was due to granite rocks present in the sub-soil and not the after-effect of overuse of phosphoric fertilisers.
In Punjab, the low amount of phosphoric fertilisers mixed in the soil did not justify the high level of uranium traces found in groundwater in five districts of the state. — RK Sinha, Secretary, Atomic Energy Department
Foreign scientists offer help
Faridkot, July 11
An international research team consisting of scientists from the UK, Germany and South Africa have offered help to the Union Ministry of Health and the Bhabha Atomic Research Centre in finding the sources of uranium contamination and studying its impact on human and animal health in Punjab.
40 gastro cases reported in Patiala
Patiala, July 11
The very first rain has exposed the ill-preparedness of the Health and Family Welfare Department to deal with outbreak of any vector-borne disease in the city. As many as 40 cases, including men, women and children, of gastroenteritis have been reported in the past two days at Sanjay Colony near Sheesh Mahal in Patiala. While seven of them were admitted to Sahara Hospital, five patients were taken to Government Rajindra Hospital where there condition was stated to be stable.
PSPCL inks pact with NV Distilleries
Patiala, July 11
The Punjab State Power Corporation Limited (PSPCL) has signed a power purchase agreement with NV Distilleries & Breweries Pvt Ltd.
Now, free education for Patiala jail inmates
Patiala, July 11
In a first-of-its-kind initiative, the Patiala Central Jail has tied up with the Indira Gandhi National Open University (IGNOU) and the National Open School so that jail inmates interested in studying can do it free of cost.
Rights panel marks probe into police torture case
Chandigarh, July 11
Following allegations by a resident of Ferozepur that his son was illegally detained and tortured by the police and the local SSP refuting the allegations, the Punjab State Human Rights Commission today marked an independent inquiry into the issue by its own investigation wing.


Saini deserves to be DGP, state tells High Court
Chandigarh, July 11
Justifying the appointment of Sumedh Singh Saini as the Director-General of Police (DGP), the State of Punjab today questioned the motive behind an NGO's move to challenge it.
Lawyers boycott work
Patiala, July 11
On a call given by the Bar Council of India, Patiala lawyers boycotted work today in protest against the proposed Central Government's legislations, including National Accreditation Regulatory Authority for Higher Educational Institutions Bill, 2010, Higher Education and Research Bill- 2011, the Foreign Educational Institutions (Regulations of Entry and Operations) Bill, 2010, and the National Law School Bill, 2011.


Three held with 25-kg opium
Patiala, July 11
The Rajpura police has recovered 25-kg opium and 100-gm smack from three persons at the Shambhu border today.
Woman Army officer found dead in Jalandhar
Jalandhar, July 11
A woman officer of the Army Medical Corps (AMC) was found dead under mysterious circumstances at her room in the Military Nursing Service (MNS) Officers' Mess here today morning. She was declared brought dead by doctors at the Military Hospital (MH) in Jalandhar Cantt.