Air India Boeing Dreamliners grounded in US by red tape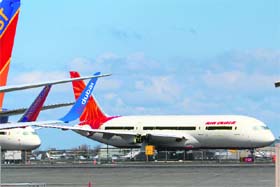 New Delhi, July 11
Three of Boeing's cutting-edge 787 Dreamliners painted in Air India colours are parked in South Carolina, waiting for the ailing state carrier to pay for them and take possession. The 787, which promises to help modernize Air India's ageing fleet, has instead been a source of several headaches for the money-losing carrier.
The three planes, the first of which was ready for delivery at the end of May, are caught up in a dispute between the US planemaker and India over compensation to the airline after production was delayed by four years.
India has not yet signed off on an undisclosed package agreed between Air India and Boeing, according to a senior government official directly involved in the process.
"We still do not have inputs from several ministries, including departments like expenditure secretary in the finance ministry. So the process is getting delayed," the official said on Wednesday, declining to be identified.
Air India has ordered 27 Dreamliners in total and was to be the first non-Japanese carrier to take possession of the long-haul plane, whose carbon-composite construction makes it more fuel-efficient than earlier models.
At list prices, the three planes have a combined value of about $580 million, although discounts are common. They are being financed by Standard Chartered Bank.
"Three Dreamliners are ready for delivery and are parked at Charleston, South Carolina. We're just waiting for Air India to receive those," said Dinesh Keskar, Boeing's vice president of sales and marketing for Asia-Pacific & India.
The Dreamliners are part of orders totalling $6 billion made by Air India in 2005, stretching already constrained finances that subsequently required a $5.8 billion government bailout.
More recently, the right to fly the 787 was at the heart of a 58-day strike by a group of about 500 pilots. The striking pilots had demanded that their colleagues from the former Indian Airlines, the domestic state-run carrier that merged with Air India, not be trained to fly Dreamliners because they worried it could hurt their own career prospects.
The first of the three planes, showcased at an air show earlier this year in India, was ready for delivery in late May, and Air India sent a group of pilots to take delivery. — Reuters
Strike fails to affect AI, Q1 revenues up 21%
Despite the two-month-long strike by a section of its pilots, the state-owned Air India saw its revenues rise 21% in the April-June quarter. The carrier's topline rose 3% in June over the same period last fiscal, notwithstanding the fact that it operated a truncated flight schedule on the international network during the entire month, officials said. — PTI