Three hurt as murder accused assault cops
Mohali, July 11
Three police personnel, including two women constables, and a sub-inspector of the Chandigarh Police sustained injuries following an assault by two murder accused, including a woman, at the district courts complex, Phase III B1, here today.
Murder accused Dolly being taken for a medical check-up to the Civil Hospital; and (right) constable Gagandeep Kaur shows an injury mark on her arm in Mohali on Wednesday. Tribune photos: Vicky Gharu
Cutting through the deluge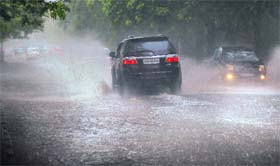 Vehicles wade through a waterlogged road during rain near Hotel Mountview in Chandigarh on Wednesday. Tribune Photo: S Chandan
Drowning incident
UT admn announces Rs 50,000 compensation
Chandigarh, July 11
A day after the death of 20-year-old Tinkoo Prasad, who drowned in rainwater collected in a huge ditch at a park, Valley for Animals, commonly known as the Dinosaur Park in Sector 49, the UT Administration today announced a compensation of Rs 50,000 to Prasad's family.
Peace at last: Inspector, SSP reach truce
Chandigarh, July 11
After much infighting and rift between the UT Police, it's time for some peace and reconciliation with inspector Amanjot Singh and UT SSP Naunihal Singh finally reaching a settlement.
Litigants face inconvenience
Chandigarh, July 11
Scores of litigants who went to the district court in Sector 17 today were a harassed lot and faced major inconvenience, as lawyers were on strike. The strike will conclude on July 12. The lawyers across the country are protesting against the Centre's Higher Education and Research Bill, 2011.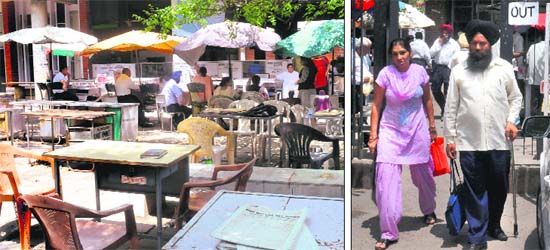 The district court wears a deserted look; and (right) litigants come out of the court as the lawyers strike work in Chandigarh on Wednesday. Tribune photo: S Chandan

City receives 17.9 mm of rain
Chandigarh, July 11
The city had received 17.9 mm of rainfall since yesterday evening, taking the total to 187.9 mm rainfall during the past one-and-a-half month. The meteorological department has predicted cloudy sky with rain or thundershowers during the next 24 hours.


A rickshaw-puller makes his way during rain in Chandigarh on Wednesday. Tribune photo: Parvesh Chauhan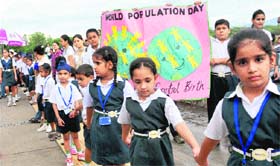 Students participate in an awareness rally on World Population Day at Sukhna Lake in Chandigarh on Wednesday. Tribune photo: Vicky Gharu
No possession of plots even after payment, committee holds protest
Mohali, July 11
Members of the Plot Allotment Sangarsh Committee, Sectors 76 to 80, staged a dharna in protest against the failure of the Greater Mohali Area Development Authority (GMADA) to give possession of plots to the allottees even when they had already made payments in this.
50 docs attend workshop on rational use of drugs
Panchkula, July 11
In order to sensitise doctors about patients' needs and to promote rational prescription in government sector and medical colleges, a workshop on "Rational drug use and standard treatment guidelines" was organised here today.


Community Centre in P'kula hangs fire
Panchkula, July 11
The Community Centre at Sector 2 is yet to see the light of the day even after its designs have already been approved by the Haryana Urban Development Authority in 2006. Though the residents had raised the issue with district administration yet the local MLA DK Bansal, Union Minister for poverty alleviation Kumari Selja yet nothing has been done so far.
Pillars constructed for a footpath over a nullah at Sector 2 in Panchkula. Tribune photo: Nitin Mittal
Season of friendship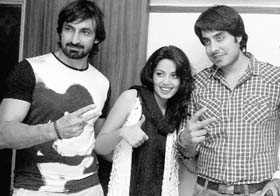 Punjabi movie 'Yaran Nal Baharan' pose during a promotional event in Patiala on Wednesday. Tribune photo: Rajesh Sachar
Mohali admn comes up with a solution
Mohali, July 11
Giving respite to the residents of Phase IV from waterlogging during the monsoon, the Mohali Administration has decided to rectify the 'folly' of Greater Mohali Area Development Authority (GMADA) by amending the level of Shopping Street at certain points.
MHA transfers Joint Secy
Chandigarh, July 11
The Union Ministry of Home Affairs (MHA) has transferred Joint Secretary (Home) Abhishek Dev, a 2007 UT cadre officer, to Arunachal Pradesh. He would be replaced by Rodney L Ralte, who is currently posted as the District Commissioner in Mizoram.

DAV fails to clarify stance
Chandigarh, July 11
Despite being asked to clarify its stand on low internal assessment awarded to BA-II Geography students by today, DAV College in Sector 10 has failed to do so. The Panjab University, taking cognisance of representation filed by Senator Prabhjit Singh, has withheld the Geography results asking the college to justify the low assessment awarded to the students.


Students at the DAV College, Sector 10, Chandigarh. Photo: Pradeep Tewari
PU forms anti-ragging squads
Chandigarh, July 11
The Panjab University DSW Office today held a meeting of the anti-ragging squad and formed two groups to conduct surprise inspection in hostels. The anti-ragging squads comprise of PU faculty members. The assistance of security guards of the hostels will also be availed by the squads during their visits.