Patiala Jail Supdt may land in trouble

Chandigarh, July 10
Patiala Central Jail Superintendent LS Jhakhar appears to be in trouble for not executing the death warrants issued against Balwant Singh in the Beant Singh assassination case. Balwant Singh was sentenced to death for his role in the former Chief Minister's assassination. The sentence was upheld by a Division Bench headed by Justice Mehtab Singh Gill after he refused to contest the same. A Division Bench of the Punjab and Haryana High Court has issued a show-cause notice to Jhakar for August 7. He has been asked by the Bench of Justice Surya Kant and Justice RP Nagrath to show cause why contempt proceedings should not be initiated against him under the provisions of the Contempt of Courts Act.
Balwant Singh
Lab attendants at Rajindra Hospital go on strike
Patients left at mercy of pvt labs
Patiala, July 10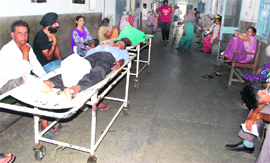 Patients had a difficult time after the lab attendants of Government Medical College and Rajindra Hospital, Patiala, went on strike today in protest against the delay in implementation of the 4-9-14 promotion policy. Many patients kept waiting outside the labs to get various tests done, while others had to approach private labs.


Patients wait for medical tests at Rajindra Hospital on Tuesday. Tribune photo: Rajesh Sachar


From July 25, fly to Europe via Armenia
Amritsar, July 10
Come July 25 and the holy city would be connected by air to Armenia's capital Yerevan. A leading Armenian airline, Armavia, would be operating flights twice a week on the route.
Re-demarcation of land will decide former DC's fate
Chandigarh, July 10
Action in the Patiala government land sale case is set to shift to Patiala with the Punjab Vigilance awaiting the result of the re-demarcation exercise, which is to be conducted by the Patiala revenue authorities.
Tackling uranium in water top priority: Sukhbir
Patiala, July 10
Punjab Deputy Chief Minister Sukhbir Singh Badal said the state government would tackle the problem of uranium in groundwater on top priority and had already sought technical inputs from the Bhabha Atomic Research Centre (BARC) to tackle this Punjab-specific problem.
Mill sealed for violating pollution control norms
Patiala, July 10
Taking a stern action against an industrial unit for violating the pollution control norms, the Punjab Pollution Control Board (PPCB) yesterday sealed Shakti Steel Rolling Mills, Jasran Majra Road, Mandi Gobindgarh.
Gender ratio: Minister awards Ropar village
Mohali, July 10
Against the poor gender ratio of 848 females per 1,000 males in Punjab, Beladhiyani Upper, a small village in Ropar district, has set an example by attaining the gender ratio at 1,825 females per 1,000 males.
Cancer fund row
No discrimination in giving relief: Makkar
Amritsar, July 10
A day after the row over the disbursal of relief from SGPC's cancer relief fund broke out, its president Avtar Singh Makkar today claimed there was no bias on any ground.
Sikh clergy to meet tomorrow
Amritsar, July 10
The five Sikh high priests will meet here on Thursday. On the agenda is a discussion on the problem of wild bears entering Gurdwara Hemkund Sahib in Uttarakhand and also the implementation of the Akal Takht edict against building gurdwaras on caste lines.
Procurement agencies' staff allege harassment
Chandigarh, July 10
The coordination committee of foodgrain procurement agencies today alleged that field officials of procurement agencies were forced by the government to procure wheat and paddy stocks even if these did not conform to the laid down specifications.
Now, digital mapping of all villages
Chandigarh, July 10 The Punjab Government today approved digital mapping of all villages in collaboration with the Remote Sensing Department of Punjab Agricultural University, Ludhiana. Punjab will be the first state in the country to initiate digital mapping of all its villages. Surjit Singh Rakhra, Rural Development & Panchayat Minister, said the step would help check encroachment of the village common land. — TNS
Delivering justice through email
Chandigarh, July 10
The Punjab and Haryana High Court is all set to deliver justice through email. For the first time in its history, the Punjab and Haryana High Court has logged on to technology for sending notices and summons through email. The process begins early next week, and will be made obligatory in about a fortnight.



1 more held in Yannick assault case
Jalandhar, July 10 Another accused in Burundi student Yannick assault case, Amarbir Singh Bajwa, was today arrested. ADCP (HQ) Navjot Mahal said Amarbir was nabbed near the PIMS on the Garha road this evening. He would be produced in the court tomorrow, he said.
Another Moga man murdered in Manila
Moga, July 10
Sukhdev Singh Jaggu (38) of Mehna village in Moga district was killed by unidentified assailants in Manila on Tuesday. He was working as an agent with a finance company.