No reverse osmosis plants for 33 villages in Muktsar
Muktsar, July 18
In the absence of RO (reverse osmosis) water treatment plants in their area, residents of around 33 villages in the district are forced to drink contaminated water. Underground water has already been declared unfit for human consumption in the area due to its high TDS level.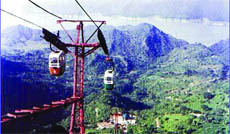 Nod to Anandpur Sahib - Naina Devi ropeway project
Chandigarh, July 18
The Punjab Cabinet today gave the nod to the prestigious Rs 100 crore Anandpur Sahib to Naina Devi ropeway project, approving the memorandum of Understanding to be signed with Himachal Pradesh.
Additional taxes on sugar, mobiles
Chandigarh, July 18
The Punjab Cabinet today approved a 15 per cent VAT (value-added tax) and surcharge levy on sugar and an 8 per cent lumpsum tax on mobile phones and its accessories to generate an annual revenue of Rs 145 crore.
Border farmers asked to vacate land after decades


Ghogga village, July 18
Kashmir Singh, a physically challenged farmer, owns one acre of land at the border village of Tanana. The land is the only source of income for his family of 10.





Farmers point at their fields at Ghogga village on the Indo-Pak border. Photo: Vishal Kumar





Vacation weddings: Govt to make marriage registration compulsory
Chandigarh, July 18
Punjabi damsels will not be lost in the wilderness while looking for greener pastures abroad. Chasing the dollar dreams by planning to marry NRIs, they may find themselves in a more genuine relationship, with the Punjab Government trying to end the menace of vacation weddings by making marriage registration compulsory.

Under pressure, Ludhiana vendor goes into hiding
Ludhiana, July 18
Vegetable vendor Kamlesh Pal, who had an altercation with PCS officer Malwinder Singh Jaggi's wife, has gone into hiding. His son Amit Kumar alleged that ever since the officer had been suspended, MC officials had been visiting their makeshift shop to pressurise his father into reaching a compromise.

New mining policy put on hold
Chandigarh, July 18
With the UPA government making a Presidential reference on the auction of natural resources, the new mining policy in the state might have to be modified, before it is implemented.

Govt readies to attract Rs 1 lakh cr investment
Chandigarh, July 18
The Punjab Government today finalised the outline of the policy frame work to attract a minimum investment of Rs 1 lakh crore in the next five years. Punjab Deputy Chief Minister Sukhbir Singh Badal today held a meeting with representatives of industrial houses and the departments concerned.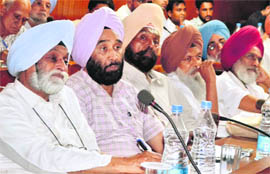 Agrarian movements serving no purpose: Expert
Chandigarh, July 18
A leading economist of Punjab, Prof Sucha Singh Gill, has raised concern over the prevailing scenario in the state's farming sector.


Participants at a seminar on 'Political Economy of Punjab' organised at the Centre for Research in Rural and Industrial Development in Chandigarh. Tribune photo: Manoj Mahajan

Snag results in long power cuts
Patiala, July 18
Following a technical snag in high voltage direct current (HVDC) lines, there was a major power crisis across the state today. The Punjab State Power Corporation Limited (PSPCL) has a short-term power purchase agreement with Adani Power for the supply of 500 MW. However, the corporation failed to get this scheduled supply due to the snag.


Fan(ing) protest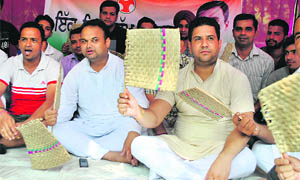 Members of the Punjab Youth Congress on hunger strike againt hike in power tariff, outside the headquarters of the Power Corporation in Patiala. Tribune photo: Rajesh Sachar
Act against publisher: Valmikis
Amritsar, July 18
A large number of activists of Bhagwan Valmiki Kranti Sena, headed by its state president Sarvan Gill, today blocked the national highway, near Jandiala Guru, and raised slogans against the state government and the police.
Railways fails to comply with High Court order
Chandigarh, July 18
More than 30 years have passed since Jarnail Singh's career was derailed after the termination of his services as a gateman with the Indian Railways. It is yet to be put back on track, with the railways allegedly failing to comply with a Punjab and Haryana High Court order directing the authorities concerned to decide his legal notice within a specified period of time.
More women in Punjab taking to dairy farming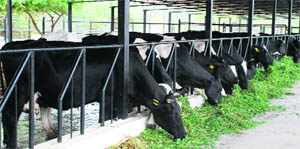 Ludhiana, July 18
After giving-up hope to find a suitable job, Mandeep Kaur decided to start her own venture of dairy farming so that she could support her parents and four sisters. And to get the latest knowledge on the subject, she enrolled herself for a 15-day specialised dairy-farming course at Guru Angad Dev Veterinary and Animal Sciences University (GADVASU). The university started the course with the theme "Adopt dairy farming for the progress of Punjab".
non-payment of salaries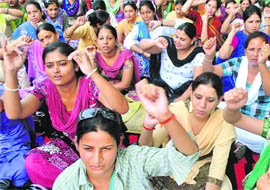 SSA teachers hold protest
Patiala, July 18
In protest against non-payment of their salaries, SSA teachers held a protest demonstration outside the office of the Deputy Commissioner here today.





Teachers hold demonstration in Patiala on Wednesday. Tribune photo: Rajesh Sachar

Soon, CCTVs to monitor truant teachers
Mohali, July 18
Teachers of government schools who regularly play truant from classes would be in for a hard lesson in case they do not mend their habit. They would soon be under constant as the state government has decided to install close circuit television cameras (CCTVs) in classrooms.
Traders want I-T office back in Sirhind
Fatehgarh Sahib, July 18
The District Beopar Mandal has demanded that the office of the Income Tax Department should be shifted back to Sirhind from Mandi Gobindgarh. In a meeting, representatives of various organisations declared that they would launch an agitation if the office was not shifted back immediately.
JEs up in arms against Power Corp
Patiala, July 18
The Council of Junior Engineers PSEB (Regd) is contemplating to resume its agitation in support of their demands. Council leaders said despite assurances by the management of the Power Corporation and the state government, their demands were yet to be accepted. The final course of action would be chalked out in a meeting of the council to be held in Ludhiana on July 21.
Tax evaders attack police team
Patiala, July 18
In yet another case of attack on government officials, tax evaders assaulted policemen on duty at Ghanaur and escaped from the scene.



Presidential Poll
Bibi gets interim bail for a day
Chandigarh, July 18
The Punjab and Haryana High Court today granted a day's interim bail to MLA Bibi Jagir Kaur to enable her to vote in the Presidential election to be held tomorrow. Bibi is serving a five-year jail sentence in the Kapurthala prison in the Harpreet abduction and forcible abortion case. As the case came up for hearing this morning, CBI counsel RK Handa opposed the bail application. He brought to the court's notice the media reports on Bibi bestowing a siropa on the IG (Jails).
HC notice to State in African student's case
Chandigarh, July 18
"Under pressure" from politicians in an African student's assault case, the Punjab Police is on an arresting spree. Three months after the African national was battered to near death, the police has already taken into custody seven persons, though the number of assailants mentioned in the FIR was just three. To make the matters worse, it is allegedly harassing and threatening the parents of an accused with implications if they fail to produce him.