RAJESH KHANNA 1942-2012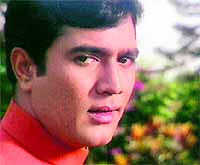 King of romance
India's heart-throb of the 70s, who enjoyed unprecedented popularity for two decades passed away quietly at his bungalow Ashirwad on Wednesday
Vandana Shukla
HE was spotted by Chetan Anand playing the role of gunga sipahi in 'Andhayug,' directed by late Pt Satyadev Dubey in 1963. Anand gave him the lead role for 'Aakhri Khat.' And the rest is history.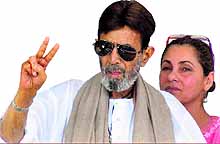 Rajesh Khanna was not Dilip Kumar of Hindi cinema. He did not have enviable talent for acting, he could not dance, nor was he handsome as a Roman god, but he became the first superstar of Hindi cinema. It was his charm all the way that gave him 15 consecutive hits, an unprecedented phenomenon for Bollywood. What contributed to the making of the first superstar of Bollywood was not the actor alone, but a lot of factors that were in sync with the times when he arrived in his screen avatar.
Man of his times
He belonged to an era when men were not shy of showing their chest hair. His staccato mannerism may appear rather awkward today, it brought freshness after a long era of tongue- tied heroes Hindi films had produced for a long time. He acted with his body rather than his face and was charmingly flirtatious and bold for his times. He knew how to woo women, without being rowdy or shy. Thus he acquired the perfect balance of a man who was neither going to be a loser like 'Devdas' nor was an obsessive lover. He was somewhere in between, adorable in a unique way. Remember his unforgettable song, mere sapno ki rani kab aayegi tu from 'Aradhana' rendered yanking his head, which was adorned by a Nepali topi . He sang the song from an open jeep following a train, where a coy and dimply Sharmila Tagore sat pretending to read a book. Or, his gentle enticing of a widow in 'Kati Patang' with, ye jo mohabbat hai ye unka hai kaam.
It was his inimitable wooing of his screen women which almost touched a degree of reverence in films like 'Amar Prem,' 'Khamoshi' and 'Kati Patang.' He made young Indian women swoon. Some women literally married his pictures, others wrote letters in blood. When he married 'Bobby' star Dimple Kapadia, many women attempted suicide. In real life he broke his long time fiancée Anju Mahendru's heart by marrying Dimple.
The master of emotions
Rajesh Khanna essayed on screen what he was best at-- high, intense, emotional drama, you could call it melodrama. He was not action hero material, and his directors knew that. When he played Anand, a happy- go- lucky man dying of cancer in 'Anand', not a single eye was left dry in the auditorium. No one ever died on screen creating such strong empathy as did Rajesh Khanna in 'Anand.' If 'kitne aadmi the' from 'Sholay' became a leitmotif for action films," maut tu ek kavita hai, mujhse ek kavita ka vada hai, milegi mujhe," became a refrain, his fans never felt tired of repeating. Hrishikesh Mukherjee moulded the super- star into an actor for some of the most memorable roles of his career. If, in 'Anand' he defeated Meena Kumari with his prowess to make people cry, in 'Bawarchi' Mukherjee explored his lesser known talent for humour. In 'Namakharam' he was once again paired with Amitabh Bachchan, after 'Anand,' and did not disappoint his critics. Shakti Samantha cast him for a complex love triangle in 'Safar' and opposite a sentimental female character of a prostitute in 'Amar Prem.' These films succeeded for their high emotional quotient and Khanna became inseparable from his suffering heroines — he became their messiah.
Music all the way
The factor that constituted most in the making of the superstar was his popular songs. Khanna became the face for Kishore Kumar's voice. Right from 'Aradhana' when S D Burman made Kishore Kumar sing Roop tera mastana to the evergreen songs of 'Anand', 'Safar', 'Kati Patang,' 'Dag,' 'Andaz,' 'Aan Milo Sajna' or 'Aap Ki Kasam' you could not separate popularity of Khanna from the songs he rendered on screen. In films like 'Anand' different singers gave their voice, including Manna Day, who sang zindagi kaisi ye paheli hai, the songs still became super hits like the hero who rendered them. In fact most memorable songs of Bollywood can claim an association with Khanna's films.
His leading ladies
His women contributed immensely in the making of the superstar. Unlike the monochromatic female characters of the day, his women were multi hued — from a vivacious Mumtaz to the sensitive Sharmila Tagore. These women had substance and some of them were senior to him, like Nanda, Tanuja, Waheeda Rehman, and Asha Parekh. Most of them were seasoned actors, Khanna had to match up to their stature, which contributed to making people believe in their screen pairing as real life replication. His leading ladies recall him with a mix of emotions.
Nanda- "I first saw Rajesh Khanna on the sets of Yash Chopra's 'Ittefaq' in 1969. He was a shy, young lad, but his eyes were intense, as we began working together I noticed in him a rare élan, he had the ability to modulate his dialogues in 4 to 5 different tones in romantic scenes. His heroines could not but get carried away by him, a feat only Dev Anand could achieve before him."
Sharmila Tagore- "He is undoubtedly the first super star of Hindi cinema. We worked in many films together 'Aradhana,' 'Safar,' 'Amar Prem,' 'Dag.' After the success of 'Aradhana' we were called the leading pair of the 70s. Rajesh Khanna did not have the versatility of Dilip Kumar, romanticism of Dev Anand, or the in- born rhythm of Shammi Kapoor, but he had a voice and inimitable smile that swept people off their feet. He had this unique ability to look into his heroine's eyes, shut them for a moment and then reopen with a smile, that used to make women swoon over him."
Hema Malini - "My memories of Rajesh Khanna are of a man who used to distance himself from me, but was thoroughly professional in front of the camera. No other artist could have lifted the song Zindagi ek safar hai suhana in 'Andaz,' as he could while riding a motorbike. I still remember the scene of my marriage in 'Prem Nagar' a tear was stuck into his eyes and he said, " Lata, main tumhe aashirwad de raha hun." He was a master of emotions."
Mumtaz- "Just a few days back Dara Singh passed away, the news of Rajesh Khanna's demise has shocked me. I paired with him in many films, 'Do Raste,' 'Dushman,' 'Aap Ki Kasam,' 'Roti,' and 'Sachcha Jhutha, they were all hits. He was a star of stars. I still remember shooting of the song vada tera vada for 'Dushman,' I had never seen such gathering of people who had come to get a glimpse of him. After the shooting of Kuchh hua kya of 'Aap Ki Kasam,' I asked him why did he imitate Dev Anand, he said he was his idol and he was influenced by his style."
Asha Parekh- "Speaking of Rajesh Khanna reminds me of the song achchha to hum chalte hain from 'Aan Milo Sajna.' When the shooting began he was full of respect towards me, he was not opening up for the romantic requirement of the scene, and director Mukul Dutt was in a fix. I told Khanna , this is just screen romance, the rest you know. The song became a smashing hit. He could lip sync his songs very effectively, he had a short temper, but he did not keep his anger for long. Stars of his calibre are rare."
Victim of success
Born Jatin Khanna, he was an adopted child. After a stint in theatre, he was selected by the United Producers' Talent Contest. His earlier films did nothing for him till Aradhana (1969) came along. His double role as a dashing pilot in uniform in 'Aradhana' turned him into a star. There was no looking back till the angry young man Amitabh Bachchan arrived on the scene. Thereafter, his stars could not rise. Rajiv Gandhi and the Congress drew him out of his forced retirement with the lure of politics closer to the 1990s, and Rajesh Khanna – perhaps missing the adulation of fans and the contact with the masses – agreed to contest elections and become a Member of Parliament from Delhi. After giving about twenty hits, he pined to have a single successful film. But it evaded him. His last film was with the a struggling starlet Laila Khan, who was murdered recently.
Amitabh Bachchan presented the IIFA Award to Khanna. He said, "What hysteria Rajesh Khanna invoked… I used to be constantly asked, 'How does he look?' and 'What does he do?'
He retired to his bungalow Ashirwad, finally, where he breathed his last.
We were not estranged, we remained good friends. I have lost my life partner. — Dimple Kapadia, wife
Shabana Azmi
He was d SUPERSTAR like no other Did 10 films with him Met him last at Apsara awards Pale shadow of himself but smile as winsome RIP RajeshK
Anupam Kher
Rajesh Khanna gave us a crash course in Romance. He introduced us to a special twinkle in the eye that made us feel good about ourselves.RIP. Rajesh Khanna taught us how to smile. He added dignity to our concept of Romance. His songs made us forget our daily struggles of life.
Shah Rukh Khan
To live with intention & walk to the edge. Play with abandon, choose with no regret. Smile & made us do the same.Sir,u defined our era.RIP. Mom & me use to sit & watch Mr.Khanna's films back to back.Whenever life felt tough u made us feel how love could change it all. will miss u
Madhuri Dixit
Another of Hindi cinema's giants passes, Rajesh Khanna. Our sincere condolences to his family. We will miss him dearly.