Bridging the medical divide
A total of 74 per cent of the graduate doctors live in urban areas, serving only 28 per cent of the total population. This skewed distribution is one of the major factors responsible for the poor healthcare delivery system in rural areas. To overcome this problem, the government has mooted a new course, Bachelor of Rural Healthcare. These healthcare professionals will be licensed to practise only in rural areas
Dr Ravi Gupta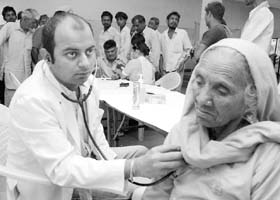 SHORTAGE of healthcare professionals in rural areas is a global problem. Both developed and developing countries have been facing the problem of skewed distribution of doctors towards the urban areas. Though it is the rural population that needs and deserves these doctors more — being usually more sick, poor and less educated than their counterparts in urban areas. The discrepancy between the needs and the delivery of services proves Hart's "inverse care law", which states that the ones with greatest needs usually have the worst provision of medical services.
This problem is further magnified in India due to migration of most doctors to either urban areas and/or foreign countries. In the past 65 years since Independence, a number of measures like getting a bond of rural service filled at the time of admission into medical college, incentives like admission into PG courses, mandatory provision of initial years of government service in rural areas, the focused programs like national rural health mission etc. have been tried, but none has been really able to find a permanent solution to this problem.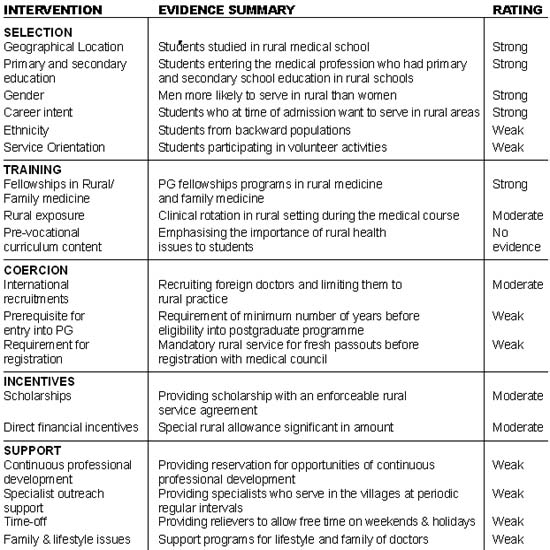 The recent proposal of starting a new course, Bachelor of Rural Healthcare (BRHC), for duration of three-and- half-years, is under active consideration of the government. There are already arguments and counter-arguments regarding this course. The proponents believe that since the BRHC graduates will be licensed to only practice in rural areas, this may solve the problem.
However, others feel that the BRHC graduates may be inadequately trained with course duration of three-and- a-half-years, in comparison to the MBBS course of five-and-a-half years. This will provide sub-optimal medical services to rural patients and may result in setting up of different standards of healthcare services between the rural and the urban patients. Rural inhabitants, too, have the same right to quality health services as do the urban patients.
Moreover, the line between an urban area and a rural area is quite thin thus the restriction of practice of BRHC graduates to only rural areas may be difficult. The creation of this new cadre of so-called mid-level healthcare providers is not new globally. In some countries, such cadres with a different nomenclature already exist, called "physician's assistants" in USA and "clinical officers" in Tanzania. In South Africa, such mid-level workers are trained in medical schools as a part of family medicine training with maximum emphasis on skill training. Their role in promoting public health is well established but they always work under the supervision of a medical doctor.
Inequitable distribution
In the international scenario, there have been scientific insights into the problem of inequitable distribution of health services in the urban and rural areas. There are numerous factors behind this such as difficult living conditions in villages with the lack of basic amenities and poor educational opportunities for their children, poor recreational infrastructure, and inadequate accommodation facilities etc. Others reasons like limited employment opportunities for the spouse. Academic isolation and lack of consultant support, too, add to their woes. There are still additional factors like insufficient number of relievers whenever leave is required by rural doctors, poor physical infrastructure in hospitals, and inadequate access to medical equipment and drugs have been found to be responsible for poor interest of doctors in the villages.
In India, other factors like poor accessibility due to lack of transportation facilities and inadequate basic amenities like potable water and erratic supply of electricity are other limiting factors. Ironically, rather than giving more financial incentives to those who serve in the villages, the salary of the rural healthcare workers in our country is less due to lower rate of house rent allowance in the villages in comparison to the bigger cities.
Most countries in the world have formulated policies on the basis of scientific evidence to solve this problem. Some of the scientific evidence available in literature that has been reported to have an impact on this problem is:
Colleges in rural areas
A number of studies have shown that the doctors trained in rural medical colleges tend to serve rural areas better. Studies from Canada, China and Congo have reported that medical graduates from rural-based medical schools serve in rural areas to the extent of 30.7 per cent, 34 per cent and 81.3 per cent, respectively. Reports from Australia by Hays and Bowman separately have also concluded that the existence of rural medical schools should be a major strategy to increase the distribution of doctors in the rural areas.
Opening of medical colleges in rural areas have been reported to provide multi-fold advantages:
n The establishment of a medical school means provision of tertiary-care health services to the area. Thus the problem of lack of medical services is eliminated directly.
n The rural medical school provides huge employment opportunities to local inhabitants, raising their financial standard.
n The medical school brings many ancillary service providers like chemist shops, private laboratories, diagnostic centres, transport providers like taxis etc., private lodges/ hotels/ guest houses, which will result in the overall development of the area.
n Some health planners argue that rural medical schools are unlikely to attract highly talented medical faculty. But this has not been the case, as proved by various scientific studies.
Moreover, the success stories of two of the top medical institutions of India — Christian Medical College (CMC), Vellore, and Kasturba Medical College (KMC), Mangalore, located in rural areas in Tamil Nadu and Karnataka, respectively, prove that the provision of academic work culture and the state-of-the-art infrastructure brings in true hardcore professionals defying the barriers of hefty salaries and other urban amenities.
Rural students
As per existing evidence, students from a rural background (who have completed primary or secondary education from rural schools) are four to six times more likely to practice in rural areas than city-bred peers. The potential impact of this observation was quantified by Rabinowitz in a longitudinal study performed under the Physician Shortage Area Program (PSAP) in the USA. On statistical analysis, rural background was the single variable strongly associated with rural practice.
Gender bias
Male doctors have been reported to more likely serve in the rural areas than the females. Does it mean that more men should be encouraged to join medical profession than the women? The answer is 'no' because the creation of better and safe working conditions for women in the rural areas will remove this problem.
Aptitude
Assessing the aptitude for serving the rural areas at the time of admission into the medical profession has shown to produce more doctors who will serve in rural areas.
Thus, the introduction an aptitude test at the time of entrance examination of medical students may help to bring more students into the medical profession with a better flare for serving in the villages.
Specialist courses
Starting postgraduate programmes in rural medicine/ family medicine has shown positive results for producing the dedicated doctors to serve in the rural areas. In the presence of some antagonistic thoughts of inadequate training in the proposed three-and- a-half-year course of Bachelor in Rural Health Course in India, the option of introduction of MBBS course with an honours degree in rural/ family medicine may be explored.
Special scholarships
Provision of scholarships for students from a poor socio-economic background with an agreement to serve in the rural areas would also help in promoting rural medical practice.
Although evidence supporting the value of interventions to promote the placement of doctors in rural areas is limited, many countries have, however, already successfully used it.
Ironically, in developing countries, where the rural population constitutes approximately 70-80 per cent of the entire population, the problem seems to be worsening. Evidence, though limited, clearly indicates that the strategies of incentives and coercion address only short-term needs with little or even negative long-term impact.
The role of selecting more students from rural background and opening of more medical colleges in the rural setting is strongly supported by the literature.
The recent decision of the government to start six new AIIMS-like institutions in big cities namely Patna, Bhopal, Jodhpur, Rishikesh, Bhubaneswar and Raipur, is a welcome step towards improving the overall standards of health and medical education in the country.
However, in future, if such high-end medical institutions are based in rural areas, it may help in narrowing down the gap between the urban and the rural areas to some extent.
The writer is a Professor of Orthopaedics, Government Medical College Hospital, Sector 32, Chandigarh