Canaries spell doom for the mines of culture
Management of culture does not require bureaucracy. By limiting culture to song and dance ensembles, government organisations that were supposed to act as patrons of our age-old traditions have caused the untimely death of hundreds of highly evolved folk art forms
Vandana Shukla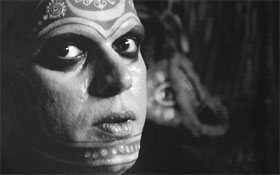 It was a unique way of approaching music. You could not call it fusion, in the general sense of the term, which led to the creation of now famous 'Sound of Worlds' project. The project was initiated by a group of young Hungarian artistes, who were enamoured by the sounds and rhythms of Indian folk music. Their aesthetic innovations in the traditional compositions of music introduced the discerning music lovers of India to the range and depth of Indian folk music, but, in a contemporary mould. For the first time 'Vilagok Hongja'(which means music of the world), the series on folk sounds produced by Istvan Jeszenzky, Gabriella Bacskai and their troupe, in collaboration with folk musicians of India, put the folk music on a pedestal where it earned respect usually accorded to classical music.
'Vilagok Hongja' was not the sole endeavour. In different parts of the country, people and private organisations, conscious of their cultural heritage were observing disappearance of our tangible as well as intangible traditions, and were working hard to protect them. Shabnam Virmani researched and archived the oral tradition of Kabeer Bani, as it is sung in different corners of the country, including some parts of Pakistan. She received help for this project from The Ford Foundation. Mehmood Farooqui revived Dastangoi, a powerful tradition of story narration, which disappeared with the gradual decline of Urdu speakers. Anoop Ranjan Pandey created 'Bastar Band,' in the heart of Maoist affected area of Chhattisgarh, to protect the folk instruments of the region. The oldest tradition of Sanskrit theatre, Kutiyattam, of Kerala, was saved by the timely intervention by UNESCO, which declared it as one of the "Masterpieces of the Oral and Intangible Heritage of Humanity." This help meant that the practitioners of these traditional arts could continue to do what they excelled at, and not abandon their art in favour of a menial job to earn their bread and butter.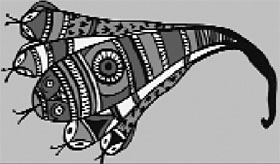 Manjusha Art- on the verge of extinction
A cultured beginning
While these individual success stories are talked about with pride, and often showcased and claimed by the government agencies too, hundreds of our traditions have been disappearing into oblivion. In the last sixty five years, with hundreds of universities, culture academies and departments, and millions of rupees allocated to these departments in budget, we could not as much as document the vast diversity of our traditional art forms that enriched our lives for centuries. Despite the fact that in 1985, twenty seven years back, the late Prime Minister, Rajiv Gandhi created ZCCs (zonal cultural centres), exclusively for this purpose.
The idea behind establishing the seven zonal cultural centres was to promote 'unity in diversity.' After about 35 years of independence, when several separatist movements were raising their head in the country, it was thought that by reviving the cultural bond across the length and breadth of the country, the elusive unity could be re-established. After all, despite repeated invasions, the people of this land had not abandoned Ramleelas, taziyas, nautankis, raasleelas, festivities around harvesting, fairs, and community singing, which had kept them together in a cultural bond during many historical upheavals.
Culture can't walk alone
Like most government plans, which sound good on paper but lack cohesiveness, the zonal centres suffered from the bureaucratic hierarchy. Culture is a reflection of people's way of life, as times change, people change and so does their lifestyle. Preservation of culture should not connote fossilisation of traditions. It had to be allowed to grow organically, with innovation and adaptation to the present environs. In the bureaucratic interpretation of culture, the 'orders' of culture events were taken rather literally, without using imagination and adopting 'safe' approach of repeating the old in the name of tradition, without using that rare commodity called innovation.
Secondly, it was around the same time that the country launched National Literacy Mission( 1988) and Sam Pitroda initiated what we now know as the telecom revolution. All the three plans worked, but, they worked in isolation. If only the tribal and folk art forms were used for spreading literacy, if only new technologies were used to help the traditional forms adapt and evolve (the way it was done by the Hungarian artistes), so many forms would not have disappeared from our cultural landscape. And, literacy mission would have received wider acceptance, if it was related to people's folk arts.
'Inventing' folk
Faithfully carrying the target oriented mind- set of the nasbandi era, zonal cultural centres got too bogged down by the number of events and performances they were supposed to organise in a year rather than creating a culture balance sheet, that would reflect the number of art forms disappearing from right under their nose. At some centres, the lost art forms were created using imagination, killing authenticity. Once again, to make some brownie points with the bosses, some folk forms were 'reinvented.' With a blinkered approach to culture, many facts were ignored. That, Bollywood and consumerism were making inroads in rural India. That children of folk artists were getting educated, under the same Literacy Mission, and did not like to remain poor folk artists, like their parents. They would like to have a proper job. Urban migration was growing rapidly and the idea of 'collective' was breaking. These changes were not taken into account when culture policies were designed by the think tanks in the government, culture was relegated to naach gana, and was not taken seriously, as a reflection of people's way of living.
Majority of folk art forms are spontaneous and are celebratory in nature. They are collective and participatory. They were not designed for stage performances. The ZCCs brought these 'performers' to stage, on stage the 'performances' lost much of their spontaneity, staleness seeped in with the sameness of the repetitive shows.
Not the bourgeois
In the new class culture of our art forms, classical art forms were assigned the protection by the three Akademies- Lalit, Sangeet Natak and Sahitya, while folk and tribal arts came under the protection of zonal centres. While the artists of classical music are paid a few lakh for a single performance (usually ranging from 2 to 8 lakh), the folk artistes are paid Rs 400 for a day's performance by the zonal centres. Though, a committee is now looking into raising it to Rs 1000 a day. This fact alone defines the status we accord to our folk art forms. Of the seven zonal cultural centres, two are being headed by superintendents of police, on deputation. This reflects the lack of seriousness we treat our cultural institutions with. Then, the selection of artistes is left to the vagaries of 'contractors,' who bring troupes of folk artistes from the hinterlands.
Many oral traditions are disappearing, like the Sarada singers of Telangana region, who live the life of nomads, hence they remain outside the reach of all government programmes. Kavi Kale, a traditional art form of making frescos is disappearing from the temple walls of coastal Karnataka due to renovation of old walls carried out by government agencies. Manjusha art from Bhagalpur is almost dead. Hundreds of other forms of communication and artistic expression have disappeared post- independence. Such examples can be picked from any corner of the country, making one wonder, how such diversity of art survived without any patronage for centuries? These art forms were created by the masses, enriched by them and were carried forward by them. People centric culture is turned bureaucracy centric in the name of its protection. We must remember, the canary of culture is a fragile being, it needs the right balance of environmental ingredients to live. And, stale air certainly kills it.
The U.R. Ananthamurthy Committee, constituted in 1994, reported some of the major departures it found in the working of ZCCs:
n ZCCs have lost their focus, become excessively bureaucratized and insufficiently creative, their performance fluctuating widely because the lack of institutionalization makes outcomes heavily dependent on the personality and personal inclinations of the Director who happens to be leading the ZCC at any given period of time…
n Instead of being people-oriented, with cross-country cultural Yatras and participation in cattle and agricultural fairs and mass religious celebrations such as the Kumbh Mela or the Urs or Christmas celebrations, as originally conceived and undertaken initially by the ZCCs, too many ZCCs for too much of the time have since tended to be oriented towards their host State Governments and host State VIPs, as well as to Headquarters…
n This tendency to concentrate ZCC attention on HQs and VIP functions, and acting as a funnelling agency for folk and tribal talent to State Departments of Culture, is also aggravated by the dominance of classical artistes and activists in ZCC Programme Committees, with insufficient representation for rural and urban slum representatives, tribal and folk artistes and older artistes...
In August 2010,the Mani Shankar Aiyar committee was constituted to examine the action taken on recommendations made by the Ananthamurthy committee. Some of their recommendations-
n The creation of infrastructure at the Headquarters (HQ) of the ZCCs is a deviation from the original concept of keeping them simple, cost-effective…the Committee recommends that the ZCCs should not spend more than 10% of their programme budget on HQ and Shilpagram programmes taken together.
n To offset the valid criticism that over-bureaucratization of the ZCCs has led to serious lacunae in the range and quality of programming, the Committee recommends that the proposed ICZCC must put in place an effective system of Cultural Audit to undertake an independent assessment of the quality of ZCC programmes.
n The rural orientation of the Yatras and chain programmes, the backbone of outreach programmes, needs to be revived, shifting the focus back to rural and mofussil venues in place of the present tendency to seek middle class venues in larger towns and cities.
n A compendium of folk and tribal art forms must be compiled and lesser-known folk and tribal performing art forms must be promoted.
(Texts quoted from the respective reports)