Swindler takes PU for a ride
Chandigarh, July 5
Panjab University (PU) has been taken for a ride by a swindler who allegedly siphoned Rs 3.28 lakh from the PU's official bank account. While the university authorities had issued a cheque for merely Rs 730 to a teacher as examination remuneration, the cheque was forged and Rs 3,28,730 was fraudulently withdrawn from the account.


Strike hits work at PGI
Chandigarh, July 5
The first day of the strike by contractual staff at the PGI caused inconvenience to patients at the outpatient department and laboratories here today. Cleanliness took a back seat and chaos prevailed as a majority of sanitation attendants also joined the three-day strike.
Patients and their attendants were inconvenienced following a strike by PGI contractual workers on Thursday. A Tribune photo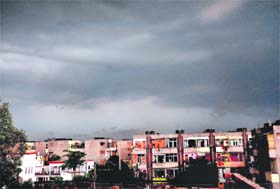 Grey canopy: A thick cover of dark clouds hovers over the city on Thursday. Residents were delighted when rain finally lashed the city, bringing down the temperature. Tribune photo: Vicky Gharu
Sergeant hit by speeding vehicle, dies
Chandigarh, July 5
A 23-year-old Sergeant with the Indian Air Force (IAF) died after being hit by a mini truck last night. The victim, Anand Kumar Mishra, was on his bike when a speeding Tata 407 hit him near the 3BRD light point.
kidney scam
Non-bailable warrants against two accused
Mohali, July 5
A local court has issued non-bailable warrants against Archna Gupta and her brother Mukesh Chowdhary in the infamous kidney scam. The court has directed the police to arrest the accused before July 20. Archna Gupta and Manish Chowdhary had reportedly submitted fake documents at the time of Archna's operation to get kidney from Ikramudin, the complainant in the case.
Rain brings respite from heat
Chandigarh, July 5
Giving relief from the intense heatwave conditions prevailing over the last two months, rain gods finally smiled on the tricity this morning. The city received the season's first showers and the overall rainfall was recorded at 8.4 mm, the weatherman said. There was more good news.

Patients and attendants run for shelter following rain at the PGI (left); and the view of a street water-logged due to a blocked drain at Sector 10 in Chandigarh on Thursday. Tribune Photos: Pradeep Tewari
Residents face power cuts
Chandigarh, July 5
Residents of many sectors in the city once again faced power cuts today. Residents of Sectors 33, 34 and 41, Mani Majra, Mauli Jagran and Dhanas witnessed power cuts for between two hours and four hours.


One water sample fails test
Chandigarh, July 5
Despite claims of the municipal corporation (MC) that the drinking water supply to Mauli Jagran here was not contaminated, one of the three water samples taken on July 3 was found unfit for human consumption.


Children pass through a nullah at Rajiv Colony in Chandigarh on Thursday. Tribune Photos: Nitin Mittal

No action to improve sanitation
Chandigarh, July 5
The municipal corporation (MC) has not taken any action to improve sanitation at Mauli Jagran here to avoid the breakout of an epidemic. During a visit to the colony, stagnant water and garbage were littered all over.



Heaps of garbage lie at a locality in Mauli Jagran. Tribune Photo: Nitin Mittal



Year after report, Admn inactive
Chandigarh, July 5
The UT Administration's seriousness to save the Sukhna Lake can be gauged from the fact that more than a year after the submission of a detailed report to the UT Administration that the inflow of sewage from Kaimbwala village be stopped immediately, the authorities have failed to stop it.


Who cares for defacement Act?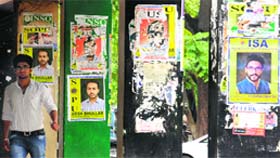 Poster war continues at Sector 10 market, opposite Hotel Mountview, in Chandigarh on Thursday. Tribune photo: Pradeep Tewari
Sukhna Wildlife Sanctuary's digital model on Net soon
Chandigarh, July 5
The UT forest and wildlife department will give an opportunity to nature-lovers in the city to explore the untouched bounties of the Sukhna Wildlife Sanctuary. A digital elevation model of the sanctuary will be accessible on the Internet soon.
Recycled water for service stations may be a must
Chandigarh, July 5
The municipal corporation (MC) is mooting a proposal to make it mandatory to use recycled water or tertiary treated water at car-wash service stations in the city. The public health department had recently conducted a survey at Phase I of the Industrial Area, where various service stations had been set up by companies.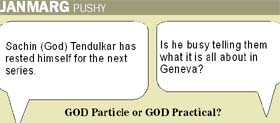 Illegal mining
Fresh orders issued
Panchkula, July 5
In order to tighten noose around anti-social elements involved in illegal mining, the Deputy Commissioner of Police, Panchkula, Parul Jain under Section 144 of the Code of Criminal Procedure prohibited illegal mining within the entire jurisdiction of Panchkula police.
dental college Admission
'Odd' demand upsets students
Chandigarh, July 5
High drama took place during the admissions counselling for HSJ Dental College, Panjab University, today. At GMCH Sector 32, where the counselling is conducted, the students were reportedly asked to submit their original qualifying certificates to secure a seat.
BEd Admission
Over 40 colleges submit compliance report
Chandigarh, July 5
Panjab University's strict measures to maintain infrastructure and educational standards in affiliated BEd colleges seem to have borne fruit. After the university decision to bar the institutions from making admissions before the fulfilment of set norms, around 40 colleges out of 50 errant ones have filed compliance reports.
Mohali Govt College starts four job-oriented diploma courses
Mohali, July 5
Mohali Government College is among five colleges in Punjab to start job-oriented trade diploma courses under a central government scheme. The overall admission process in the institution is moving at a slow pace and will pick up only after admissions in Chandigarh colleges get closed, said sources.
RTE ACT
Private schools urge new DPI to cooperate with them
Chandigarh, July 5
Following the MHRD's communication declaring UT Administration as not an appropriate government to notify the RTE Act, the city private schools and UT Education Department headed by the new DPI (S), Upkaar Singh, held a meeting today.
Dairy farming institute in town likely
Mohali, July 5
Punjab Chief Minister Parkash Singh Badal today announced to set up an advanced institute of dairy farming in the town. The announcement was made by Badal at a state-level seminar on "Advanced Technology in Dairy Farming" organised by the Punjab Dairy Development Board here at State Institute of Health and Family Welfare, Phase VI, here today.