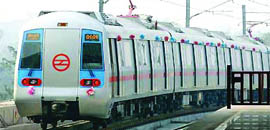 Nod to Ludhiana Metro project
Chandigarh, July 17
Chief Minister Parkash Singh Badal today approved the Rs 10,300 crore Ludhiana Metro project, which will be completed in five years. A detailed presentation on the project was made by the Local Government Department and Punjab Infrastructure Development Board in a meeting here, an official release said.


Heroin seizure from Pak train cargo has state traders worried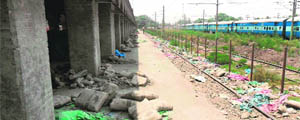 Amritsar, July 17
With yet another recovery of contraband from a cement cargo from Pakistan coming to the fore, Indian importers have sought stringent measures to curb the trend that is posing a threat to the future of the cement import business.
The Amritsar railway station's cargo area where cement and other goods imported from Pakistan are unloaded. Photo: Sameer Sehgal

PUDA to 'outsource' land acquisition
Chandigarh, July 17
Punjab's Housing and Urban Development Department is "outsourcing" land acquisition for future projects in Chandigarh's periphery.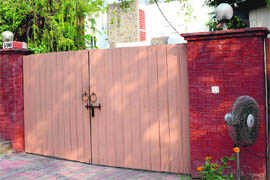 Rs 81 lakh spent on DGP's house, Home Dept objects
Chandigarh, July 17
Propriety in spending government funds has come under question with the Punjab Home Department not clearing a file raising bills of more than Rs 81 lakh spent on the renovation of the preceding DGP's official residence in Sector 16 here.

The Sector 16 house where former DGP PS Gill used to stay before his retirement. Tribune photo: Manoj Mahajan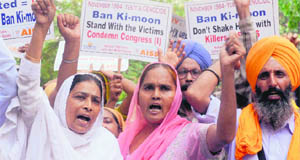 Victims of the 1984 anti-Sikh riots hold a protest in Delhi. Tribune photo: Manas Ranjan Bhui
Patiala sessions judge plants saplings in Nabha jail
Nabha, July 17
Patiala District and Sessions Judge Raj Shekhar Attari, Deputy Commissioner GK Singh and Nabha SDM Poonamdeep Kaur visited the high security jail here today. They listened the grievances of inmates and planted trees on the jail premises.
Punjabi varsity to set up sewage treatment plant
Patiala, July 17
To solve the problem of choking of sewerage pipes and waterlogging, Punjabi University has approved the setting up of a sewage water treatment plant worth Rs 1.70 crore. The plant is likely be commissioned within eight months.



Diamond Heist
Case shifted to Faridabad
Chandigarh, July 17
The Punjab and Haryana High Court has transferred the infamous diamond heist case to Faridabad, ruling that the "ever-obliging" cops could hardly be expected to act independently when the prime accused was their senior officer's son.

Notice to CBI on Bibi's plea
Chandigarh, July 17
Acting on a bail petition by Punjab MLA Bibi Jagir Kaur for enabling her to vote in the Presidential poll, the Punjab and Haryana High Court today issued a notice to the CBI for Wednesday.
Ludhiana Jail Supdt charge-sheeted
Chandigarh, July 17
The Ludhiana Central Jail Superintendent has been issued a charge sheet after a probe confirmed that an undertrial was beaten by two Head Constables. As punishment, the Head Constables had been denied two increments.



NRI couple booked for forgery
Moga, July 17
A local woman and her husband, both NRIs, along with their son have been booked by the Moga police allegedly for forging documents to get passports issued.
3-yr-old double murder case solved, three held
Patiala, July 17
The district police claim to have solved a three-year-old double murder mystery with the arrest of three persons. The accused had killed their friends belonging to Jalandhar in 2009.