Besides being a deadly health hazard for both men and women, oral cancer afflicts youngsters in large numbers every year in India. Awareness and preventive measures are urgently required to contain this disease
A killer in your mouth
Dr A. K. Dewan
An age-old adage says, "You are what you eat". The diet people consume, undoubtedly, has a direct bearing on the kind of diseases that may afflict them in life later. Conversely, the disease that affects a person could also reveal the kind of food the victim may have abused.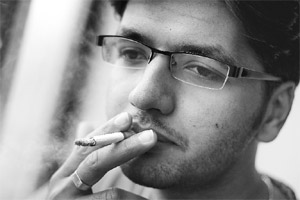 According to a study by Mumbai's Tata Memorial Hospital and Toronto's Centre for Global Health Research, cancer single-handedly kills 600,000 Indians every year. Of these, about 120,000 are young people. India reports the highest number of oral cancers worldwide with up to 80,000 new cases annually. Tobacco usage is said to be the biggest cause of various cancers, leading to 42 per cent of overall cancer deaths among Indian males and 18 per cent among females, according to statistics provided by the National Cancer Institute
With cigarettes and chewed tobacco (gutka) being comparatively cheap and available all over India, the oral cancer is a big danger for men and women alike. In people aged 30-69 years, the number of cases of oral cancer is more than twice the number of lung cancer — a pattern that varies greatly from the developed nations and indicates that India needs substantial controls on the sale of tobacco.

telltale symptoms

Patches in the mouth or on lips: A white or red patch – or a combination of the two – inside the mouth or lips are the most common signs of oral cancer. Initially, these patches indicate a pre-malignant condition or abnormal cells. If untreated, these can turn cancerous.
A mouth sore or blister: A sore or blister in the mouth or lip that does not heal indicates oral cancer. If the sore persists for more than a fortnight, please visit a doctor immediately.
Difficulty in swallowing: This could include difficulty in chewing, moving the jaw or tongue and speaking. Being a non-specific symptom of oral cancer, however, it could also be caused by many other conditions, so it is necessary to consult a doctor.
Earaches: Frequent or persistent earaches should never be ignored. Although in most cases earaches indicate an infection, in some cases oral cancer could be the cause.
Realignment of teeth: Oral cancer can cause loose teeth, which could also include dentures no longer fitting correctly.
Bleeding from the mouth: Any bleeding from the mouth should be reported to the dentists or doctor. Although such bleeding could be caused by many factors, it may be a symptom of oral cancer and needs to be checked immediately.
Crucial facts on oral cancer
Oral cancer could develop in any part of the mouth or throat. Males above 40 years who are addicted to heavy tobacco and alcohol consumption, and with a history of cancer in the head or neck, are most vulnerable to it. Awareness of basic facts could aid prevention. In case the disease has already developed, timely detection and early treatment could ensure better outcome.
Immune-suppressed people — such as those suffering from HIV and transplant patients — are also at a greater risk. High exposure to ultraviolet light also ups the risk of developing cancer of the lower lip. Low levels of Vitamins A and C as well as inadequate intake of vegetables and fruits also contributes to increased chances of developing oral cancer. An ulcer or growth that does not heal, which may be linked with pain, occasional bleeding and hardening of the surrounding area, could indicate oral cancer.
Although oral cancer usually occurs after 40, youngsters (primarily males) are falling victim to it more often nowadays. This is why early detection and timely treatment are emphasised. Several studies highlight the possible cancer-causing properties of mouth rinses that contain significant alcohol content. Though a direct cause-and-effect link is not yet conclusively established, it is best to avoid excessive use of mouth washes with high-alcohol content.

Any non-healing ulcer, growth or patch inside the mouth, gums or tongue should never be ignored. It is important to remember that anything causing chronic irritation to the mucosa - tobacco abuse, ill-fitting dentures, a broken filling with sharp edges — could be a cause of cancer. Given these facts, it's important to visit the dentist once a year to a undergo routine checkup.
Risk factors
Oral cancer (or mouth cancer) can occur in the lining of the cheek, gums, roof of the mouth, tongue and lips. It could also affect the oropharynx, which includes the middle part of the throat as well as its side and back walls, the soft palate and the tonsils. It may occur as white or red patches, or non-healing ulcers in the mouth.
Significantly, oral cancer is wholly preventable. The use of tobacco — cigarettes, pipes, cigars and smokeless tobacco — is the biggest causative factor. Avoiding tobacco is the best means to prevent oral cancer. Alcohol, especially beer and hard liquor, are also linked with a higher risk of developing oral cancer. The threat is more pronounced in those who consume both. Avoiding or decreasing the consumption of tobacco and liquor could, therefore, lower the risks of oral cancer.
This is easier said than done because most potential victims do not comprehend the dangers of tobacco addiction. More worrisome is the fact that because gutka and other kinds of chewable tobacco are sold in small sachets across India priced as cheaply as Re 1, youth and even children fall easy prey to this addiction.
Considering these facts and with 80 per cent of tobacco being consumed in the form of gutka, social activists have demanded that the Central Government should ban gutka consumption under the Food Safety and Standards Authority of India (FSSAI).
Activists also assert that tobacco taxes should be hiked considerably to precipitate lower consumption. Madhya Pradesh and Kerala have recently banned chewable tobacco products, based upon the FSSAI regulation that debars the addition of tobacco or nicotine in food. The trigger in Kerala was the fact that oral cancer cases had tripled in recent years, with up to four million addicted to tobacco, a large number apparently being children.
Whenever laws have been enacted, the industry's machinations have ensured the steps were aborted or, even if passed, rarely implemented and enforced. The extent of the problem can be gauged from the fact that the World Health Organisation pointedly declared 'tobacco industry interference' as the theme for this year's World No Tobacco Day on May 31.
The tobacco lobby argues that many jobs will be sacrificed and millions of rupees lost in tax revenues. But the actual facts are that for every rupee earned by the Exchequer through taxes on tobacco products, the amount that is spent in curative and preventive measures against ailments caused by tobacco abuse is almost four times more.
As per the Planning Commission, revenue generated from tobacco products in India every year is $1.62 billion, but the direct annual healthcare costs just from three tobacco-related ailments (cancer, coronary artery diseases and chronic obstructive lung diseases) is $6.32 billion.
Scary statistics

According to Tobacco Fact Sheet (May 2012), World Health Organisation, tobacco kills almost half of all users or nearly six million people globally, with one person succumbing every six seconds. More than five million of these are users and ex-users, including more than 600,000 non-smokers, who fall victim to passive smoke.
Incidentally, more than 80 per cent of the globe's one billion smokers hail from low and middle-income nations, where consumption is increasing. Since most tobacco users die prematurely, many families are deprived of bread earners, while the nation's economic growth is hampered and healthcare costs soar. Many people cannot afford cigarettes, so they use beedis or smokeless products. Tests indicate there are more than 4,000 toxic substances in cigarette smoke, of which at least 250 are dangerous and more than 50 are carcinogenic (cancer causing).
Gutka is more harmful than tobacco as it causes sub-mucous fibrosis where one cannot open mouth widely. The SMF is a pre-malignant condition. Oral cancer is preceded by oral submucous fibrosis, which holds a 24 per cent higher risk of transforming into a malignant lesion.
Unlike cancer deaths in the West, the majority of which arise from difficult-to-detect internal tumours, oral cancer occurs in easy-to-detect sites such as small patches in the mouth. Despite this, death rates from oral cancer in India are higher because of low awareness and late detection.
Line of treatment
Once the diagnosis of cancer is confirmed, a line of therapy is planned for the patient, depending on the stage of the disease. Cases are generally discussed by a team of doctors, which may include surgical oncologists, medical oncologists, radiation oncologists, radiologists, reconstructive surgeons and pathologists. In most cases, surgery is necessary to remove the malignant growth, followed by radiation and chemotherapy.
After the treatment is over, the team of doctors helps rehabilitate the patient at the earliest, based upon the extent of the disability and the type of treatment required further. This could include wearing a dental prosthesis and having dental implants. Speech therapy, dietary counselling and other services may also be required so that the patient resumes normal activities as soon as possible.
Patients are advised regular follow-up visits primarily to detect recurrence and secondarily to address late complications of treatment. Such patients are prone to develop a second cancer in the upper aero-digestive tracts. Patients must stop tobacco and alcohol use during and after treatment of oral cancer.
Remember, tobacco users never grow old; in other words, they never live long enough to reach old age. The choice is yours — choose cancer or change your lifestyle.
The writer is Medical Director, Rajiv Gandhi Cancer Institute and Research Centre, New Delhi