Poor visibility hits maiden Amritsar-Chandigarh flight
Amritsar, July 23
Though the inaugural Amritsar-Chandigarh flight took off on its scheduled time from the holy city, it could not land in the state capital due to bad weather.
Punjab, Haryana may get monetary help
New Delhi, July 23
Punjab and Haryana may get monetary help from the Centre for scanty monsoon this kharif season but the two states can forget about extra power from the Central pool.
Centre seeks feasibility report on metro project
Chandigarh, July 23
Appreciating the Ludhiana metro project, the Centre has assured Punjab that it will pay its share of funds for the project under the viability gap funding arrangement. It has asked the government to submit the feasibility report.

It's pointless having a working president: Capt
Chandigarh, July 23
Far from getting ready to hang up his boots, Punjab Pradesh Congress president Capt Amarinder Singh says he will "get going" once he is assured by the party high command that he would remain in office. In a candid talk with TNS, Amarinder said attempts were being made to give the impression that he was ready to quit office. "This is far from the truth. But it is up to party president Sonia Gandhi to take a final decision on the matter," he said.
RTI: Sangrur EO fined Rs 10,000 for losing application
Chandigarh, July 23
The Punjab State Information Commission has pulled up officers of the Sangrur Improvement Trust for playing "hide and seek with the law while holding responsible posts". It has imposed a penalty of Rs 10,000 on an executive officer (EO) for losing an application seeking information under the RTI.
Industrialists threaten state-wide stir
Jalandhar, July 23
Industrialists have threatened not to pay their power bills and to launch a state-wide agitation against the recent power tariff hike.
Teachers await transfer orders
Muktsar, July 23
Even though Education Minister Sikander Singh Maluka had announced in March that schoolteachers would be transferred by May-end and after that no transfers would be executed, teachers in the Chief Minister's home district of Muktsar are awaiting a response to their applications.
Schools not teaching Punjabi warned
Chandigarh, July 23
Stringent warning will be issued to all schools not adhering to the government order to teach Punjabi as a compulsory subject from Class I to Class X. There have been complaints that some private schools are not implementing the Punjab, Punjabi and Learning of Other Languages Act, 2008, a press note said.
Violation of building by-laws
14 commercial units sealed in Patiala
Patiala, July 23

Following the orders of the Punjab and Haryana High Court, the Patiala Municipal Corporation (MC) has swung into action and initiated a drive to seal the showrooms and commercial establishments, which had come up in the residential areas in violations of the prescribed norms and without sanctioning of the building plans.
Officials of the Municipal Corporation seal a showroom on the Upper Mall Road in Patiala on Monday. Tribune photo: Rajesh Sachar
Green Mission: Punjab to plant 40 crore saplings in 8 years
Devigarh (Patiala), JULY 23
Punjab Forests and Wildlife Financial Commissioner DS Bains said in the next eight years, 40 crore saplings would be planted in the state. Under the "Mission: Green Punjab", Bains planted saplings at the Mirpur college affiliated to Punjabi University near Devigarh. The college is near completion and would be inaugurated soon.
Pollution board staff remove bio-medical waste from roadsides
Patiala, July 23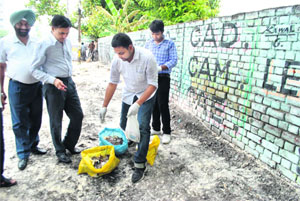 Taking cognisance of a news item highlighting the issue of dumping of bio-medical waste by hospitals and healthcare units in Patiala, appeared in The Tribune today, top brass of the Punjab Pollution Control Board (PPCB) inspected various areas in the city. PPCB chairman Ravinder Singh himself went to Badungar Chowk, Leela Bhawan area and other localities from where hospitals, nursing homes and other healthcare institutes are located.

Employees of the Punjab Pollution Control Board remove medical waste from the Badungar Chowk in Patiala on Monday. Tribune photo: Rajesh Sachar

Unhygienic conditions in GOVERNMENT Hospital
Dy Medical Suptd blames it on staff shortage
Patiala, July 23
More than 100 gastroenteritis and diarrhoea patients and their relatives are struggling on account of unhygienic conditions at Government Rajindra Hospital, revealed a visit to the hospital
Tewari speaks up for Baddowal residents
Ludhiana, July 23
Defence Minister AK Antony will set up a committee to look into "rationalising the security parameters" around the ammunition depot in Baddowal for hassle-free development of surrounding villages, a press note issued by Ludhiana Congress MP Manish Tewari said.
Neo-natal care unit sans staff, equipment
Bathinda, July 23
Even after the completion of a building for setting up a special neo-natal care unit at the local Women and Children Hospital about eight months ago, the hospital authorities are reportedly referring several newborns to other institutions causing inconvenience to the parents of the newborn babies and financial loss to them.
Train between Sriganganagar and Ferozepur sought
Fazilka, July 23
Activists of the Sanjha Morcha, who spearheaded a 45-day-long agitation recently demanding the opening of the Fazilka-Abohar rail track, have reiterated their demand for an express train between Ferozepur and Sriganganagar via Fazilka and Abohar as the track has now been thrown open for rail traffic.
10-year-old girl drowns
Ludhiana, July 23
Ten-year-old Neha was drowned in a pit where rainwater had accumulated after heavy showers this morning. The incident took place in BRS Nagar where the Municipal Corporation dumps garbage. The victim was playing in the rainwater with her brother Karan (5) and some other children of the locality.
Cancer camps on July 26, 27
Moga, July 23
The Roko Cancer, a London-based charitable trust, has announced to organise two cancer check-up camps at Baghapurana on July 26 and Sukhanand village on July 27.
SDM slapped Rs 1 lakh penalty for misleading HC
Faridkot, July 23
The Punjab and Haryana High Court has slapped a penalty of Rs 1 lakh on Faridkot SDM Bhupinder Singh for misleading the court, violating the Land Acquisition Act and failing to discharge his statutory duties.
XEN held for stealing power from streetlight
Amritsar, July 23
A senior XEN (Executive Engineer) of the Amritsar Municipal Corporation was allegedly found drawing power at his residence from a streetlight pole. On a tip-off, a team of enforcement wing of the Punjab State Power Corporation Limited (PSPCL) raided the official residence of Subhash Chander, who is also incharge, streetlights, on July 21 between 10 am and 12 noon. The team found that a 30-m-long wire was being used to draw power from a streetlight socket box. Its load was calculated at 9.060 killowatt.