SC turns down plea for CBI probe against Naidu


New Delhi, July 23
The Supreme Court today rejected a plea for a CBI investigation into allegations of corruption against former Andhra Pradesh Chief Minister N Chandrababu Naidu. A Bench comprising Justices TS Thakur and Ibrhahim Kalifulla, however, granted liberty to the petitioner YS Vijayamma, wife of later CM YSR Reddy, to approach the competent court.
Chandrababu Naidu
Team Anna's indefinite fast begins tomorrow
New Delhi, July 23
Team Anna will launch an indefinite fast from July 25 coinciding with Pranab Mukherjee's swearing-in as the President and setting the stage for yet another round of dramatic verbal outpourings against the government in the run-up to Parliament's monsoon session beginning August 8. Key members of the team - Arvind Kejriwal, Manish Sisodia and Gopal Rai - will sit on the indefinite fast in the presence of Anna Hazare favouring a strong Jan Lokpal Bill and setting up of a special panel to probe corruption allegations against Prime Minister Manmohan Singh and his Cabinet colleagues. Gunning specifically for Mukherjee, the group says proofs of corruption charges against the new President of India will also be released on Wednesday.
Deficient Monsoon
Coordinate with states, PM tells ministries
New Delhi, July 23
As the monsoon rain has recorded 22 per cent deficiency, the government swung into action with Prime Minister Manmohan Singh directing all departments and ministries to coordinate with states to meet any eventuality by monitoring the situation on a weekly basis.
FDI in retail, other reforms may get further delayed
New Delhi, July 23
Belying hopes, reforms such as FDI in multi-brand retail may be delayed further with objections coming from UPA-supporting SP and pressure increasing from Opposition parties after the Presidential polls. The government would find it difficult to implement the decision to allow foreign chains to open stores in the country as JD-U President Sharad Yadav joined hands with Left and the UPA-supporting Samajwadi Party (SP) in opposing foreign direct investment in retail.
INA legend Lakshmi Sehgal dead
Kanpur, July 23


Legendary freedom fighter, Captain Lakshmi Sehgal, who commanded the 'Rani of Jhansi Regiment' of Netaji Subhash Chandra Bose's Indian National Army, died after a brief illness here today. At the age of 97, she breathed her last at a private hospital at 11.20 am, her daughter and noted CPI (M) leader Subhashini Ali said.
Lakshmi Sehgal
WB to have commission against child abuse
Kolkata, July 23
West Bengal Cabinet at it's meeting here today approved a proposal to set up a commission for protection of the rights and privileges of the children.

Guwahati Molestation Case
Prime accused held in Varanasi
Guwahati, July 23
The prime accused in Guwahati molestation case, Amarjyoti Kalita was arrested by police from Varanasi in Uttar Pradesh today. The arrest was made after the local police was tipped off by the Assam police.
Amarjyoti Kalita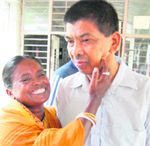 Man reunites with family after 17 years
Amritsar, July 23
For 17 years Pratima Rani Ruidas, 40, never lost the hope of meeting her husband Subodh Ruidas, 44, who had inadvertently crossed over to Pakistan in 1995 and was released to India in 2007. Since then he has been admitted at Dr Vidya Sagar Mental Hospital.


Subodh Ruidas with his wife Pratima Rani Ruidas in Amritsar on Monday. Photo: Sameer Sehgal
HC: Start K'taka Lokayukta recruitment by tomorrow
Bangalore, July 23
The Karnataka High Court today asked the state government to begin the process of appointment of Lokayukta in the next two days.
After cross-voting woes, Yeddy takes on party, Sangma
Bangalore, July 23
To add insult to injury, after cross-voting by the BJP legislators in the state in favour of the UPA presidential candidate Pranab Mukherjee, the party's Karnataka strongman BS Yeddyurappa today heaped praises upon Pranab. Chief Minister Jagadish Shettar today told reporters that a committee has been set up to probe the incident.
Jundal came to know of 26/11 plot in Pak
Mumbai, July 23
Arrested LeT operative Sayed Zabiuddin Ansari, alias Abu Jundal, has told interrogators that he was briefed about the 26/11 terror strike four months in advance by the bosses of terror outfits in Pakistan where he went into hiding in 2006 and underwent terror training.
Parliament bids farewell to Pratibha Patil

Outgoing President Pratibha Patil being escorted by Vice-President Hamid Ansari, Prime Minister Manmohan Singh, Lok Sabha Speaker Meira Kumar to the Central Hall of Parliament to attend a farewell programme
in New Delhi on Monday. Tribune photo: Mukesh Aggarwal