To secure matrimony, registration must
Registration of marriages is urgently required to ensure brides and grooms, especially those married to NRIs, have evidence of the bond. Punjab, which has a large number of matrimonial frauds, is yet to make it mandatory under the law
Anil Malhotra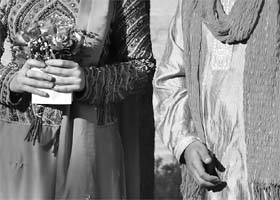 Problems are further compounded in NRI marriages when parties import foreign matrimonial laws to address unions solemnised domestically in India. Thinkstockphotos/Getty images

A marriage breaking up is not only a painful process for those involved but also has a social cost, with increased litigation and creation of liabilities in the form of ditched spouses, especially women.
Personal family law enactments prevalent today lack effective solutions. The problems are further compounded in NRI marriages, in which parties import foreign matrimonial laws to address unions solemnised domestically in India. Therein lies the need to bestow upon marriage a surety grounded in firm legal basis.
An optional marriage registration law in India led the Supreme Court to pass orders on February 14, 2006, and October 25, 2007, making it mandatory that marriages of all persons who are citizens of India belonging to various religions be registered in the states where the marriage is solemnised. Unfortunately, Punjab, as of date, has no compulsory registration of marriages prescribed under any state enactment or rule.
Compulsory registration of NRI marriages is urgently required to ensure that brides and grooms from Punjab have proof and evidence of their marriage, as also to prevent the matrimonial frauds being perpetrated commonly in the state. Punjab bears the shame of about 30,000 abandoned "nowhere" brides, with no succour or legal remedy. The Punjab State Commission for NRIs in a decision of July 11 recognised this phenomenon of fraudulent marriages with overseas Indians leading to cruelty and harassment, suggesting that the menace needed to be curbed with a heavy hand.
The possible answers lie in a compulsory marriage registration law, setting up of family courts in the state to deal with all aspects of disputes arising out of a matrimonial relationship, and meaningful amendments to give teeth to the Punjab State Commission for NRIs Act, 2011.
Make it compulsory
Punjab needs a law to provide for compulsory registration of marriages, irrespective of religion, caste, creed or nationality. This mandate flows from the direction of the Supreme Court, as also the dire need within Punjab to document the occurrence of marriages.
It should be made essential that every marriage between Indian nationals, NRIs or foreign nationals solemnised or performed in Punjab, regardless of the status of parties, be compulsorily registered. Additionally, where both or either parties are NRIs or foreign nationals, it should be made mandatory to disclose passport particulars, foreign residence details, and social security number or other identification proof issued by the country where the NRI or foreign national permanently resides.
Parties married outside Punjab, but who are residents of the state, may also get marriages registered under this proposed law. However, if the marriage already stands registered outside Punjab, or under any other law applicable to parties, no necessity be provided for additional registration. This law of compulsory registration may also give liberty to decline registration if the marriage between the parties is not solemnised or performed in accordance with the personal or other law of marriage applicable to the parties.
Hence, there would be no conflict with the Anand Marriage Act, as parties could opt and choose the law of registration of marriages. A register of marriages would record all essential details and the certificate of marriage would further transmit all such information, leaving no abandoned spouse without a remedy of knowledge of details of the other partner residing in a foreign jurisdiction.
Empower NRI panel
The Government of Punjab enacted the Punjab State Commission for Non-resident Indians Act, 2011, (Punjab NRI Act) to provide for the constitution of a commission for NRIs with a view to protecting and safeguarding their interests in the state, and to recommend remedial measures for their welfare. The commission is fully functional, taking up matters with efficiency.
However, the powers of the commission are stunted, as it has been created prematurely without the required authority. The panel can order or conduct an enquiry or investigation on a complaint with respect to NRIs, but the Punjab NRI Act stops short of providing it the power to pronounce a decision or giving any judgment.
Hence, the exercise is in futility, as the commission has no teeth. Therefore, it is recommended that the Act should be amended with the following powers, to be exercised after an inquiry or investigation:
n Where the inquiry discloses the violation of rights of any law concerning parties of a serious nature, it may recommend to the government or relevant authority the initiation of proceedings or prosecution of such action as deemed fit.
n Approach the civil, criminal or high court concerned for directions or writs as the court may deem necessary in the case.
n Recommend to the government for the grant of interim relief to the victim or members of his/her family.
Until the powers of inquiry and investigation vested in the NRI Commission are enhanced with authority to take the matter to a logical end, its existence will remain an exercise in futility. These powers would give the panel statutory teeth to enforce its orders. Beleaguered NRI spouses in distress would then be able to see justice in their cases as there would be legal remedy available. NRI family disputes will no longer remain at sea.
A judgment of the Punjab State Commission for NRIs, delivered on July 11, 2012, read: "The phenomenon of women being abandoned by bridegrooms who happen to be NRIs is not new. Earlier also there have been such instances. Women trapped in such fraudulent marriages with overseas Indians are increasingly reported. The problem is not only about women being abandoned in India, but includes the demand of dowry, cruelty and harassment by her in-laws. It is only when it is "too late" that the parents, who have possibly liquidated their assets to have their daughter enter into the so-called marriage, wake up and approach the state authorities. This is a menace and needs to be curbed with stern hands."
Punjab, which contributes the highest number of NRIs among the 30-million NRI population living in 180 countries, owes this as a moral duty to its residents. There has to be redress for family law problems in a proper legal framework. Rhetoric, empty promises, platitudes and non-remedial forums will not serve the purpose. The government must act and perform. Punjabi NRIs have hope, faith and expectations.
These additions and amendments for meaningful remedies in matrimonial problems must be met with without delay. At the same time, law must provide answers so that NRIs do not take recourse to foreign laws, which defeats the very purpose and meaning of our domestic laws. The need is to make the amendments required for all.
Create family courts
The Family Courts Act, 1984, which provides for the establishment of family courts with a view to promote conciliation in and secure speedy settlement of disputes relating to marriage and family affairs is the appropriate forum where such matrimonial matters ought to be decided. The Act leaves it open to the respective state governments to provide for such courts.
Punjab needs family courts to provide fast-track, effective and meaningful relief for abandoned spouses, deserted children and for resolving other disputes arising out of a matrimonial relationship. Under Section 3, the family courts are required to be constituted by the state government in consultation with the high court.
Family courts should be set up in every district in the state so that all matrimonial disputes, particularly of NRIs, get effective and speedy adjudication. As of now, the district judge or his nominee under the Hindu Marriage Act (HMA) entertain and adjudicate all matrimonial cases in their respective jurisdictions.
Even though the HMA contemplates day-to-day trial of matrimonial petitions and conclusion within six months, the statutory mandate remains an optical illusion. This deters NRIs from starting any matrimonial cause in Punjab. Hence, constitution of family courts could prove to be a boon.
Exclusively deciding matrimonial cases with conciliation, mediation and settlement procedures would put such matters in a better adjudicatory fast-track mode for effective relief. Abandoned spouses in every district will have a forum for expeditious relief regarding their grievances. Redress could be had in person too if desired.
The writer is a practising lawyer and member of the UT NRI Cell, Chandigarh.
anilmalhotra1960@gmail.com