Eateries show scant regard for Food Safety Act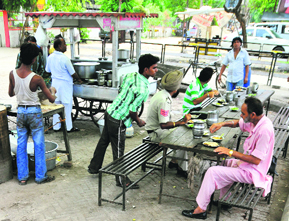 Chandigarh, July 21
Showing scant regard for the Food Safety and Standards Act, not more than 3,000 in the food business have procured the mandatory licence to run their eateries. While the last date for licensing and registration under the Act is August 3, the state has witnessed less than 6,000 registrations so far. Those associated with the food business and an annual turnover of more than Rs 12 lakh are required to procure licences under the Act.
Customers relish a meal at a road-side eatery in Jalandhar. Tribune photo: Malkiat Singh

Install scanner to counter drug smuggling in rail cargo: Sidhu
Amritsar, July 21
Local MP Navjot Singh Sidhu has demanded installation of a high-tech scanner at the rail cargo facility in Attari to check the smuggling of narcotics from Pakistan. Addressing mediapersons here, Sidhu said the two recent seizures of heroin from railway wagons carrying cement from Pakistan on June 2 and July 17 had left traders on either side of the border worried.
Kisan Morcha to form strategy for countering Centre's policies
Chandigarh, July 20
A two-day meeting of the Bhartiya Janta Party Kisan Morcha national executive would begin tomorrow in Chandigarh. Kisan Morcha national media incharge Vineet Joshi said the national executive would meet under the chairmanship of its president OP Dhankar. BJP's national vice-president Shanta Kumar would inaugurate the event while former Uttar Pradesh Chief Minister Rajnath Singh would address the members on the concluding day of the meeting.
Youth Congress' protest against power tariff hike from today
Ludhiana, July 21
The Punjab Youth Congress will start its protest against the recent hike in power tariff from the Ludhiana Lok Sabha constituency tomorrow.
Jawan keeps his promise, returns home in Tricolour
Sivia (Bathinda), July 21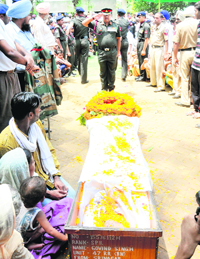 When Army jawan Govind Singh left his house to join back at a border post in J&K a few months ago, he lightheartedly promised to his family: he would return in the Tricolour one day. For his wife, it was a poor joke. Little had she thought his words would come true. Wrapped in the national flag and bedecked with flowers, Govind's body was brought to his village by Army jawans today. As his wife sobbed inconsolably, a few relatives whispered: "The promise was kept. He was a man of his words. He indeed returned in the Tricolor" Employed with the Engineering Regiment of the 47 Rashtriya Rifles, Govind was attached to the Infantry a year ago. His one-year 'disturbed area' posting was about to be over. He had already applied for leave. He had informed his family he would soon join them.
Army officers pay tributes to martyr Govind Singh at Sivian village in Bathinda. Tribune photo

After gastro, 2 cholera cases in Patiala colony
Patiala, July 21
Two confirmed cases of cholera have been reported from Badungar Colony, authorities said. There were two more suspected cases of the disease. Besides, 36 more cases of gastroenteritis have been reported from the same colony. Of them, 15 have been hospitalised.
Tainted cricketer's father sees error in drug report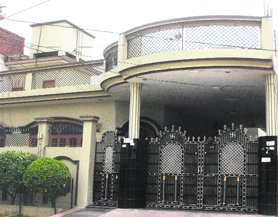 Jalandhar, July 21
Following reports of Rahul Sharma testing positive for recreational drugs at a rave party in Mumbai, the family, coach and fans of the leg-spinner are finding it hard to believe in what has transpired. Soon after the news of Rahul started beaming on television channels last evening, his parents, residing at Maqsudan here, are learnt to have left for Chintpurni to offer prayers at the temple.
Rahul Sharma's house wears a deserted look at Maqsudan in Jalandhar. Tribune photo: Malkiat Singh

Reduction in MBBS seats
Nervous parents want Chief Minister to intervene
Patiala, July 21
The Medical Council of India's decision to bar Chintpurni Medical College, Pathankot, from admitting students for 2012-13 has come as a shock to hundreds of students and their parents. This reduction of 150 seats which has brought the total number of medical seats in Punjab from 1,070 to 920 has affected the prospects of many students who opted out of counselling for other states hoping that they would get a seat in Punjab itself.
Development hit as Batala MC fails to get new chief
Batala, July 21
Development works have come to a standstill in the industrial town of Batala as the state BJP has failed to appoint a new president for the local municipal council. The seat had fallen vacant three months ago when Ambika Khanna was forced to resign.
Unplanned growth to spell heavy debt for civic bodies
Chandigarh, July 21
Of the 1.04 crore people living in 142 cities and towns of the state, only 63 per cent are linked with sewer connections while 88 per cent have access to potable water. In case both these facilities have to be provided to the entire population in these areas, the government would have to spend Rs 5,929 crore over the next years.
Punjabi varsity VC urged to hold PUTA elections
Patiala, July 21
Representatives of the Punjabi University Teachers' Coordination Committee met Vice-Chancellor Dr Jaspal Singh on Thursday on holding Punjabi University Teachers' Association (PUTA) elections at the earliest. Criticising the Vice-Chancellor for deliberately delaying the elections, members of the coordination committee said the VC should notify the election date as holding the PUTA elections was the VC's statutory duty.
Kisan Morcha meeting today
Chandigarh, July 20
A two-day meeting of the Bhartiya Janta Party Kisan Morcha national executive would begin from tomorrow in Chandigarh.



BDPO among three held for kidnapping youth
Amritsar, July 21
The police has arrested a Block Development and Panchayat Officer (BDPO) along with two other persons in connection with the kidnapping of a 20-year-old youth last evening.