PGI shrugs off negligence allegation
Chandigarh, July 21
Sixteen-year-old Anupama is still battling for life at the PGI. Though doctors noticed some movement in her limbs today, they said she was not out of danger. Adamant on their stand, the PGI authorities denied allegations of negligence in the treatment of Anupama.


Big haul of gold ornaments, two snatchers caught
Chandigarh, July 21
The Chandigarh Police claimed to have solved 16 cases of snatching reported this summer across the city with the arrest of two accused. Gold ornaments worth over Rs 7.10 lakh were recovered from the accused who are proclaimed offenders.

The accused in police custody in Chandigarh on Saturday. Tribune photo: Manoj Mahajan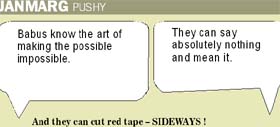 'cadre war'
Standing up to Admn costs HCS officer dear
Chandigarh, July 21
Resisting a "concerted" move by the UT top brass to bring in UT cadre officials on key posts, mostly held by state civil services officers from Punjab and Haryana, has backfired on HCS officer Yogesh Kumar, who yesterday sought repatriation to his parent state along with his HCS wife Varsha Khangwal.
MC authorities ignore committee decisions
Chandigarh, July 21
Making mockery of the policy decisions taken by the finance and contract committee, in the past six months, the Municipal Corporation authorities do not seem to be serious to implement them on the ground.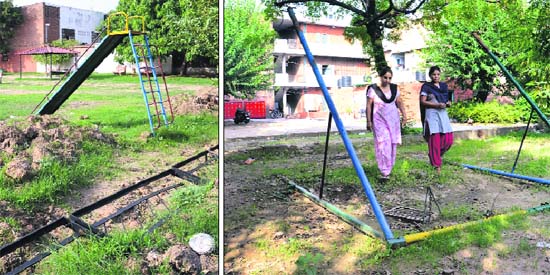 The railing work, left incomplete for the last four months; and (right) a broken swing lies on the ground for the last six months. Tribune photos: Manoj Mahajan

Patil pulls up UT, MC officials
Chandigarh, July 21
After failing to provide basic amenities to residents of the Deep Complex at Hallo Majra despite directions issued at UT Administrator Shivraj Patil's public hearing session in March, Patil today pulled up UT and municipal corporation (MC) officials and directed them to prepare a plan within three months to ensure basic amenities to the residents.


BSP members go to submit a memorandum to UT Administrator Shivraj Patil in Chandigarh on Saturday. Tribune Photo: S Chandan

Nationalist movement's challenges, solutions discussed
Chandigarh, July 21
India needs to exercise self-restraint and provide leadership to the world, said Indresh Kumar, member of the executive committee of the RSS, here today. He was speaking at a seminar on 'Nationalist Movement in India- Challenges and Solutions', organised by the Centre for Legislative Studies.
BJP and RSS leaders share the stage during a seminar at the Law Bhavan in Sector 37 of Chandigarh on Sunday. Tribune Photo: Manoj Mahajan
Who cares for norms?
Zirakpur, July 21
In the absence of any check, roadside vendors continue to flout norms. Traffic jams are a regular occurrence on the Chandigarh-Zirakpur highway due to these 'rehris'. The authorities have issued instructions asking the officials concerned to remove the rehris from the highway, but these vendors pay no heed to the orders.
| | |
| --- | --- |
| Rehris parked along the Chandigarh-Zirakpur highway lead to a traffic jam. | The violation goes unchecked near the flyover at Zirakpur. Tribune photos: Nitin Mittal |
Pay enhanced rates for park upkeep, residents' body tells GMADA
Mohali, July 21
The Kanal Houses Resident Welfare Association, Sector 59, has demanded that the Greater Mohali Area Development Authority (GMADA) should pay enhanced rates for the maintenance of parks retrospectively as it was doing in the case of a private contractor.
Efforts on to root out female foeticide
Mohali, July 21
"To deal effectively with the prevailing problem of gender ratio, panchayats will be given special training," said Dr Hrusikesh Panda, additional secretary, Ministry of Panchayat Raj, at Baroli village here.
Floor-wise ownership of flats
Poor response to HUDA scheme
Panchkula, July 21
The scheme launched by the Haryana Urban Development Authority (HUDA) three years ago to allow floor-wise ownership of flats here has not received a good response from the city residents as only 12 persons have come forward for the floor-wise registration.


Teej celebrated with zeal
Chandigarh, July 21
Teej festival was celebrated with zeal at the Dehlia Garden in Sector 36 here today. The function organised by the municipal corporation. The event was inaugurated by Madhu Bansal, wife of Pawan Kumar Bansal, Union Minister for Parliamentary Affairs and Water Resources.


Girls enjoy swings at the Dehlia Garden in Sector 36 of Chandigarh on Saturday. Tribune photo: S Chandan
4 city students make it to AIIMs
Chandigarh, July 21
Four city students have made it to the All India Institute of Medical Sciences (AIIMS), Rishikesh. After the list of AIIMS-Delhi, the list of candidates selected for six new AIIMs (at Rishikesh, Bhopal, Bhubhneshwer, Jodhpur, Patna, and Raipur) was declared on July 20.
School holds exhibition on development of weapons
Chandigarh, July 21
Since time immemorial man has been protecting and securing himself against danger. Self-defence has always been a primary need. Working on the theme 'Weapons-Through the Ages', Saupin's School-32 had an exhibition put up at the school premises today.
City girl attains all-India 18th rank in CA exam
Chandigarh, July 21
Bringing laurels to the city, Priyanka Mehtani, a local resident, has attained all-India 18th rank in the final examination conducted by the Institute of Chartered Accountants of India in May. Priyanka Mehtani scored 69 per cent marks in the examination.