Power crisis deepens, Ropar plant hits a snag
Huge overdrawal by Uttar Pradesh, Haryana from the Northern Grid adds to power woes of the state
Umesh Dewan/TNS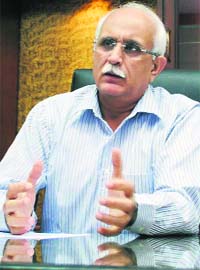 Patiala, July 24
With a drought-like situation in the northern states, a sharp rise in power demand and heavy overdrawal of power from the Northern Grid by the neighbouring states of Uttar Pradesh and Haryana, Punjab State Power Corporation Limited (PSPCL) is forced to purchase power from the grid on a day-head basis at Rs 9.25 per unit.
Despite this, the state is not able to meet the power demand, recording a power deficit of 383 lakh unit (LU) on Sunday. The PSPCL chief, KD Chaudhri, said the corporation had to purchase power at the "unscheduled intercharge" (UI) of Rs 9.25 per unit from the Northern Grid. In May this year, the power available under UI was about Rs 3 per unit. Now the UI charges vary between Rs 5 to Rs 12 per unit. With rains eluding the state, the power demand has risen to 2,200 lakh units whereas the availability is 1,817 lakh units. Chaudhri said: "Everday we are shelling out almost double the charges because the grid frequency is low. If the Centre helps Punjab with 1,000 MW of additional power, not only will it help the farm sector and the industry, which are reeling under power cuts, but will also help the PSPCL save money it is spending on purchasing power." Documents show while Punjab is drawing power from the grid well within its total transfer capacity (TTC) limit of 5,400 MW, Uttar Pradesh is drawing 7,100 MW against the TTC of 5,600 MW. Likewise, against the TTC of 3,100 MW, Haryana's overdrawal (recorded by the Northern Regional Load Despatch Centre) yesterday was 4,000 MW.
"Though these figures keep varying with the grid frequency, it is clear that Haryana and UP are overdrawing power by 50 per cent to 60 per cent. But whenever Punjab overdraws by just 5 per cent to 7 per cent, the NRLDC starts reprimanding us", said a senior officer in the distribution wing. To add to the power woes, one unit of Guru Gobind Singh Super Thermal Plant in Ropar was shut down today on account of a technical snag. "It will take at least two days for the unit to be operational", said Director (Generation) GS Chhabra. He said one unit of Guru Nanak Dev Thermal Plant in Bathinda with a capacity to generate 110 MW, which was closed for renovation and modernisation, is likely to be operational in a few days. An official spokesperson said the PSPCL was imposing a six to eight-hour power cut in the domestic sector.
Technical Hitch
One unit of Guru Gobind Singh Super Thermal Plant (GGSSTP) in Ropar shut down on account of a technical snag . It will take at least two days for the unit to be operational again
One unit of Guru Nanak Dev Thermal Plant in Bathinda, with a capacity to generate 110 MW, closed for renovations
It is likely to be operational in a few days
BAN ON ACs
The power corporation has decided to re-impose the ban on the use of the ACs in its offices across the state. "We are sending a communiqué to the state government requesting that a ban be imposed on the use of ACs in all government offices," said PSPCL chief KD Chaudhri.
Industry Fumes
n Unscheduled cuts are being imposed on the industry. President of the Federation of Punjab Small Industries Association Badish Jindal said the weekly off cut production by 33 %, causing a huge loss to the industry
Supply
Thermal generation 474 lakh units
Hydro generation 195 lakh units
BBMB 140 lakh units
NRSE 10 lakh units
Central allocation 436 lakh units
Power banking 120 lakh units
Purchase 442 lakh units
Total 1,817 lakh units
Total Demand 2,200 lakh units
Power deficit 383 lakh units
Power Cuts
Domestic Sector (Unscheduled): 4 to 6 hours
Agricultural pumpset tubewell supply: 6 to 8 hours
Weekly Off on general industry: 2 days
Weekly off on arc/induction furnace : 3 days
Bathinda Spared
Except for Bathinda, the entire state is reeling under a power crisis. Bathinda district has been declared "power cut-free" by the PSPCL as there are two thermal plants in Bathinda and local residentse have to bear the brunt of pollution
The holy city of Amritsar is facing an 8 to 12-hour power cut daily. In Ludhiana, several areas remain sans power throughout the night.The scenario in Patiala, Jalandhar, Sangrur, Mohali and Fatehgarh Sahib is no different.
The situation in villages is even worse with a 12 to 16-hour power cut. Farmers complain that they are not getting the promised six-hour power supply
No respite in sight
Scientist JR Prasad , who monitors the only Doppler radar in the region installed at Punjabi University, Patiala, says there is no possibility of heavy rain in Punjab till July 31. Howver, there will be slight showers on Thursday.