Making FDI in retail inclusive
Organised retail with foreign direct investment is proposed as a solution to farm sector problems. Does retail trade in India really need FDI? How can the state engage with new domestic and foreign market players?
Sukhpal Singh
THE changing consumer trends and rising consumer incomes, especially in the non-farm sector and in the urban areas, are leading to a higher demand for high-value crops such as fruits and vegetables in India which can help primary producers diversify their production away from cereals. Nearly 16% of small and marginal farmers grow vegetables compared with 14.8% and 10.5% of medium and large farmers, respectively. Fruits and vegetables (F&V) are more suitable for small land-holders than grain crops as they are more labour intensive, provide recurring income, have high value markets (domestic and export), offer value addition possibilities and are a mechanism of risk management against the field crop failure risk.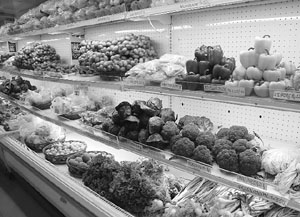 Therefore, the major challenge is to include marginal and small farmers in the retail growth. But F&V crops are input intensive, require more post-harvest handling, are more perishable and their profitability is dependent on market (i.e. quality/standards which are changing rapidly). They also suffer from high wastage/rejection, there is no Minimum Support Price (MSP) or protection against price risk, and local markets are thin. Thus, it is a high-risk business and requires good market linkages for viability.
Enter Indian retailers
Retailing contributes about 15% of India's gross domestic product (GDP) and 8% of employment. But only 4% of the 15 million retail outlets are bigger than 500 sq. ft. and almost all are family owned, and in 2011, modern retail had 7% share in the total retail sales. During the last decade, there have been many corporate entries in the fresh produce retail sector, notable being Reliance Fresh, Spencer's, Aditya Birla Retail Limited's More, Namdhari Fresh, Food World, and Heritage Fresh. The large majority (around 75%) of modern private retail came in from 2006 to 2010. Food and grocery market sales accounted for a 73.2% share of the hypermarket, supermarket, and discount formats in 2009. The nature of modern retailing has changed over time in terms of store formats. It shows that supermarket chains have moved more towards hyper and neighbourhood formats, leaving supermarket and department store formats. Further, in most cases, fruits and vegetables accounted for only about 20% of their sales turnover.
The issue of FDI in retail trade has been hanging fire for the last 15 years ever since 100% FDI in wholesale cash 'n' carry trade was permitted in January 1997 on a case- by-case basis. After that, the N K Singh Committee on FDI in retail trade in 2002 suggested the ban to be continued, which led to the 10th Plan dropping the proposed recommendation on FDI in retail trade. Then, in early 2006, 51% FDI in single brand retail trade (SBRT) was allowed. Since 2007, all the major wholesale cash 'n' carry players like Wal-Mart, Metro and Carrefour have set up shop in India and have multiple outlets ranging from two to as many as 14.
Reliance Retail, an Indian corporate, made an entry into the wholesale sector with a store 'Reliance Market' in Ahmedabad in 2011. Global retail chains have also been present in India in retail through licensing/franchising arrangements like SPAR (global supermarket with more than 12,000 stores in 33 countries) has a licensee -Max Hypermarkets of Dubai-based Landmark group with 10 stores in India.
Stores closing down
On the other hand, domestic corporate players have been present in supermarket retail since the early 2000s with hundreds of stores each, especially in southern and northern Indian cities, though most have shut shop in western Indian cities. The Government of India in November 2011 allowed a majority (51%) FDI share in multi-brand retail trade enterprises and up to 100% in SBRT entities. The conditions included a minimum investment of $100 million by each player, 50% of it in back-end infrastructure, 30% procurement from micro, small and medium enterprises (MSMEs), and the government right to procure the farm produce first. This was protested by different stakeholders in the sector and the government had to withdraw the Cabinet decision on MBRT.
It is important to understand implications of FDI in food retail for small farmers as it is being permitted in the name of farmers, supply chain efficiency and employment generation. The procurement practices of supermarkets have a huge impact on farmers and present them with an important opportunity as well as a challenge. Through their coordinating institutions and mechanisms such as contracts, private standards, sourcing networks and distribution centres, they are reformulating the rules of the game for farmers. There is also supplier farmer rationalisation due to the larger supplier preference of big retailers.
The most glaring aspect of the policy of FDI in retail trade in India is that there is no protection of farmer interest in any way. Unlike the protection granted to MSMEs in terms of 30% procurement being mandatory from such enterprises, it is a case of gross neglect that simply because small farmers' agency could not represent them like MSME associations, they could not get sourcing quota for themselves. Otherwise, how is not a quota for them justified when better-placed SMEs can get one? In fact, there are not even any incentives to encourage small farmers' inclusion. Small-holder exclusion has been a reality in supermarket chains globally, and more so in the developing world, be it India, Kenya, China or Latin America. Further, there was no provision for formal registered contract farming being mandatory in the decision. After many years of presence of wholesale cash 'n' carry players and that of domestic supermarkets in India, 60-70% of their procurement is still from wholesale markets, not directly from farmers. All this indicate that FDI in MBRT as proposed might produce no benefit to small farmers.
Risk of the growers
Further, if the operations of domestic fresh food supermarkets in India and those of the global supermarkets are any indication, they will not make any difference to the producer's share in consumer's rupee as claimed by many proponents of liberal FDI in MBRT policy, other than lowering the cost of marketing of producers, as supermarkets have collection centres (CCs) in producing areas, in contrast to the traditional Agricultural Produce Market Committee (APMC) markets (mandis)which are in distant cities.
The Indian supermarkets procured from large and medium 'contact' farmers without any commitment to buy regularly as they did not want to share the risk of the growers and excluded small growers. They offered market price based procurement prices and procured only a limited proportion of the grower's crop without any firm commitment and more on a day-to-day basis. They made no provision for any input or other services like extension. The rejected produce was left for the farmer to dispose of elsewhere as the chains procured only 'A' grade produce.
The poor performance of food supermarkets in India over the years and eventual shutdown of most of them in Gujarat shows that they could not create a competitive advantage in their operations where back-end (procurement) and front-end (retailing and marketing) should have reinforced each other. Thus, the involvement of supermarket chains with producers in India is low and there is no delivery of supply chain efficiency. None of them -- domestic retail players as well as whole cash 'n' carry players — have made any significant back-end investments so far other than setting up small collection centres in procurement regions and some distribution centres in cities/markets. They have mostly focussed on opening stores as a drive to capture the market share, rather than on supply chain improvements and operational efficiencies.
Supermarket malpractices
There have been a large number of supermarket malpractices
Due to the sheer size and buying power of foreign supermarkets, the producer prices may be depressed;
Threats of delisting if the supplier price is not low enough;
Payment and discounts from suppliers for promotions/opening of new stores;
Rebate from producers as a percentage of supermarket sales;
Suppliers not allowed to supply at prices higher than the competitor price;
Delayed payments.
Inadequate institutions and ineffective governance mechanisms to regulate and monitor the operations of global retailers to ensure fair prices for farmers
Norms are flouted openly at the store level as is indicated by a recent PIL against Bharti-Walmart.
Strengthen competition laws
There is need to limit buying power of supermarkets by strengthening the competition laws like the legal protection given under the Delayed Payments Prevention Law, 1956, to subcontracting industries in Japan in their relations with large firms, which cannot
Refuse to receive the delivery of commissioned goods
Delay payments beyond the agreed period
Return delivered goods without good reason
Force price reduction, compulsory purchase of the parent firm's goods by subcontractor, and discounting payment after prices have been agreed to.
An independent authority like a retail commission can supervise and regulate supermarkets and can ban the buying of products below cost, make contract farming a must, improve local traditional markets for small growers, establish multi-stakeholder initiatives in the chains and provide support to small producers.
There is need to strengthen small farmers' organisations for cost competitive production, improving quality of produce, and more active participation of small farmers in the marketing of their produce in order to capture value added in the chain.
The government should play an enabling role through legal provisions and institutional mechanisms like helping farmer co-operatives, producer companies and producer groups, to facilitate a smooth functioning of the supermarket linkages and avoid ill-effects.
The writer teaches agribusiness management at IIM, Ahmedabad.