Reconstructing faces & lives
Acid attack is a peculiar South Asian phenomenon. The severity of its devastating impact leaves its victims, often women, with life-long scars on body and mind. Social ostracism of these victims results in their financial hardships
Sharmeen Obaid Chenoy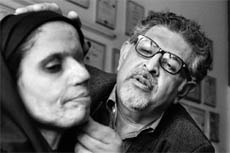 Dr Mohammad Jawad reconstructs Zakia's face in 'Saving Face'
Acid violence, the act of hurling acid onto a person with the intent of harming them, is an all-encompassing form of abuse. Not only does it cause permanent physical disfigurement, but its emotional scars can also be life long if left unaddressed. A vast number of such attacks occur in areas that are characterised by weak law enforcement, thus resulting in a lack of repercussions for the perpetrators of such forms of violence. About 150 acid attacks occur in Pakistan every year.
On the ground, concerned individuals and dedicated organisations have been quietly aiding acid violence survivors. One such individual, Dr. Mohammad Jawad had been travelling form the UK to Pakistan for the past ten years for the sole purpose of conducting free surgeries for those who cannot afford healthcare. When Daniel Junge learnt about Dr. Jawad's work with acid violence he felt compelled to document his story and share it with a larger audience. It was then that Daniel approached me to co-direct 'Saving Face.'
While most Pakistanis are well aware of the occurrence of acid violence, it remains on the fringes of our national narrative. Media coverage, community awareness and campaigns about it are lacking on a national scale. As a filmmaker, I felt it was necessary for me to use the tools and skills available to me to do my part in shedding light on this issue in order to stimulate critical discourse and prompt social change. It was only when I began researching the issue and travelled to relevant areas that I began to get a grasp of the severity of acid violence and its devastating impact on those who suffer its consequences for the rest of their lives.
It is essential for a filmmaker to spend time with her subjects before production begins; a director must understand their subjects' intentions, apprehensions and goals. Our team
had the privilege of being welcomed into the survivors' lives as they struggled for justice and received medical treatment. I was struck by the sheer bravery and determination of these women as they faced unimaginable circumstances with astounding grace and poise. It was a privilege to have spent time with these women, their drive inspired me to pursue this cause with increased vigour.
Compounding factors
A majority of acid attacks occur in the Saraiki belt of Punjab, a rural agricultural region where literacy rates are shockingly low and unemployment levels are appallingly high. Cotton is a widely grown crop there, and acid is used as a raw material in the farming process. Due to these circumstances, the social fabric in this region is highly fragmented, and the culture there has grown to condone certain forms of violence against women.
This lethal concoction is stirred by the lack of free healthcare and corruption within the law enforcement agencies. During our time there, it became evident that acid violence was not just simply a barbaric crime committed by senseless criminals; it was a result of a severely broken and isolated society, the failure of the justice system and the maintenance of gender inequality.
Women constitute more than half the population of those who suffer from acid violence, but men, and more frequently children become collateral damage in such conflicts.
Reasons and patterns of attack vary between countries; in Pakistan the most common cause revolves around a woman being attacked by a spurned suitor or for being 'put in her place' for socially unacceptable behaviour. Zakia, one of the main subjects in 'Saving Face,' was attacked by her husband because she wanted to pursue a divorce. Rukhsana, on the other hand, was attacked out of pure aggression at the hands of her husband, mother- in-law and sister-in-law who were also complicit in her attack. The fact that women aid in the abuse of other women shows that the aggressor is the person who is in a position of power and the victim is almost always the person who is in a subordinate role. In traditional communities, such as the Saraiki belt, women are seen as a form of property, with their behaviour proving integral to maintenance of family honour. Once a woman is married into a family they make sure that she does not behave in a way that will risk bringing shame to the family's name.
Victims feel shamed
Shockingly, this ultimatum stands even if it is the very family that puts the woman in a position of shame. I encountered women who were locked away by their families after
they suffered an acid attack. The disfigurement caused by the acid is perceived as a mark of shame, and the family of the survivor will sooner ostracise her than have the world see this mark, even if they were the ones who inflicted it upon her. Rukhsana, who was attacked by her husband and in-laws, was locked in a room with no windows and was prohibited from seeing even her own daughter.
Going into the field, I became aware of the physical effects of an attack. Nitric or sulphuric acid melts the skin tissue exposing the bones below the flesh, often even dissolving the bone. In cases where the acid reaches the eye of the victim, it blinds them permanently. While Zakia lost the use of one of her eyes, many acid attack survivors lose the use of both eyes, and others lose the use of their hands. Other organs may also get corroded, and limbs may be lost. I was aware that these effects largely inhibit the victims' ability to work and even mothering the children.
Once in the field, I had the chance to meet many women who could not work and were consequently forced into financial dependence upon their families and the very husbands, who were often the perpetrators of violent attacks on them. I learnt that survivors who were unmarried were plagued with the constant fear of remaining unmarried due to their unsightly scars, not to mention the tremendous decline in self-esteem that comes with a distorted face.
Since women traditionally rely on their husbands for financial support in such societies, these survivors had to deal with the additional fear of unavoidable poverty. Given these circumstances, expensive reconstructive surgery is not an option for most survivors.
Scars on mind
Completely separate from the physical effects is the psychological trauma that haunts the survivors well after the attack. In a community that ignores the urgent need for physical treatment of the survivors, and where mental health is a completely misunderstood phenomenon, I found that survivors internalise trauma and merely add it to the list of things they must learn to live with.
Due to a mentality that prioritises a fear of shame, victims of domestic violence in the Saraiki belt do not often make it to the hospital right after an attack; they are instead shunned by their families. Even fewer victims make it to the police station to lodge a report. In this case it is not only a fear of judgment from the police, but a lack of faith in the judicial system. Since a woman is deprived of even basic human rights in patriarchal societies, the police fail to take her plight seriously. The woman will be seen as deserving of the attack, as they prescribe to the norms that she has been accused of transgressing.
In cases where women are attacked by their husbands or family members, the police feel it is not their place to step in and enforce punishment; rather it is a matter to be taken care of by the family.
Women of courage

Disfigured with violence: Zakia, a victim of acid violence before plastic surgery
Zakia is one courageous woman who decided to challenge the norms imposed upon her by society and fight for justice despite the attitude that the judicial system in Pakistan adopts. During the filming of 'Saving Face,' Pakistan witnessed the passing of a landmark bill known as The Acid Control and Acid Crime Prevention Bill. This bill was passed unanimously by the National Assembly of Pakistan on 12 December 2011, declaring that perpetrators of acid violence will now be punished with life imprisonment or at least fourteen years in prison. They will also be fined up to Rs. 1 million. Although not under this bill, Zakia fought to have her husband imprisoned and sought out to pursue a life with her children, financially and physically independent of her husband.
While Pakistan has accomplished this feat, one that many other countries where acid crimes occur have not, it has a long way to go before it can effectively tackle acid attacks. The government must ensure that the Acid Crime Prevention Bill is implemented; punishing perpetrators will deter future perpetrators and will become the most effective approach to curing the plague. Simultaneously, work must be done from the bottom up. Local communities must be educated about the impact of acid attacks and other forms of violence against women and children.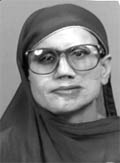 The reconstructed face and a new life
The Saving Face Outreach Team, partnered with Islamic Help( an NGO), and started an educational campaign that aims to pursue similar objectives. Their strategy involves airing public service messages on the television and radio and creating awareness about the bill that criminalises acid violence. They will also be distributing educational materials in the Saraiki belt, and Islamic Help will be starting programmes to tackle the patriarchal mindset there.
Combating acid violence cannot be achieved through one major feat; a change in the law or the presence of medical care cannot single handed rid Pakistan of this inhumane practice. It is imperative that Pakistanis, as a community rally around this cause and target it from all angles. Most importantly, we must target the root of the problem, and fight for gender parity and equal opportunities for women.
The writer is an Academy Award and Emmy Award winning documentary filmmaker of 'Saving Face,' 'Transgenders: Pakistan's Open Secret' and 'Pakistan's Taliban Generation.' She is the first non-American to be awarded the Livingston Award for best international reporting.