Discipline key to prosperity: Guv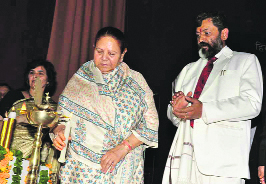 Shimla, July 22
Governor Urmila Singh has called upon students, teaching fraternity and employees of educational institutions, particularly universities, to help develop an atmosphere in campuses conducive for pursuing academic activities and maintaining a high standard of education.
Governor Urmila Singh lights the lamp to inaugurate the 43rd foundation day celebrations of Himachal Pradesh University in Shimla on Sunday. Photo: Amit Kanwar

Cong accuses HPU VC of appeasing BJP leaders
Shimla, July 22
Vice-Chancellor (VC) of HPU ADN Bajpai continues to draw flak for furthering the "saffron" agenda in the garb of celebrating the foundation day of the institution. The latest to join the issue is the Congress that has accused him of honouring and obliging persons associated with a particular ideology during the celebrations and all those involved in organising various functions are also from the same clan.
CM inaugurates irrigation project in Balh valley
Mandi (Kaloud), July 22
Farmers in the fertile Balh valley are all smiles today as they have got 22.59 cusecs of water drawn from the Bhakra Beas Management Board (BBMB) water channel and 18 tube wells to irrigate 2,355 hectares from the Balh Valley (left bank) Medium Irrigation Project (BVMIP) Phase-I inaugurated by Chief Minister PK Dhumal today.


Ban goes up in smoke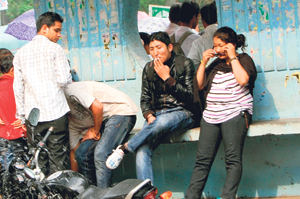 Despite a ban on smoking in public places, a man smokes at a bus stop near the school education board in Dharamsala on Saturday. Photo: Kamaljeet

Project for Shah Nehar beneficiaries gets nod
Nurpur, July 22
Under the centrally sponsored Command Area Development Water Management (CADWM) of the Union Ministry for Water Resources, a special development project of Rs 68.33 crore for Shah Nehar beneficiaries in the Mand area in lower Kangra district has got final nod. The Government of India has earmarked Rs 7.5 crore initially for the current fiscal year. This ambitious project is being considered a boon for the farmers using Shah Nehar canal water for irrigating their fields.
Pilgrims protest against 'extortion' by police
Kangra, July 22
The first day of the Navratas was marked by a pilgrim protest at Jawalamukhi against the alleged extortion by the police from tourist bus drivers during their travel in Kangra district.
Labour shortage forces apple growers to set up packaging units
Shimla, July 22
Setting up state-of-the-art grading and packaging houses is the answer that apple growers have found to the acute problem of farm labour shortage, especially those from Nepal, being faced by big orchardists, with over a dozen of them seeking grants for setting up such private ventures.
33 pc Quota for Women
'Move fails to make headway due to differences in parties'
Shimla, July 22
Senior Congress leader Digvijay Singh today reiterated that his party was in favour of granting 33 per cent reservation to women in Parliament and state legislatures, but the move was not making a headway due to differences among political parties.
Apple, vegetable crops take a hit as monsoon plays truant
Shimla, July 22
A delayed and rather erratic monsoon is giving sleepless nights to farmers in the state, which achieved the highest foodgrain production of over 16 lakh tonnes last year. Monsoon arrived 11 days late and has been playing truant since then with most parts of the state recording deficient rains.
Delay in completion of bypass adds to traffic woes
Dharamsala, July 22
A delay in the completion of a bypass being constructed in Dharamsala is adding to the traffic woes of the town. Traffic jams are a common sight in the Kotwali market through which the entire vehicular traffic to McLeodganj, the tourist hub of Dharamsala, passes. The narrow road passing through the Kotwali market is not enough to absorb the heavy rush of vehicles on the way to McLeodganj and the surrounding areas, especially during the tourist season.
Rs 14 crore spent on housing schemes in Hamirpur
Hamirpur, July 22
The state government has given a grant of about Rs 14 crore to construct houses under different schemes to weaker sections of society in Hamirpur district during the past over four years.
Poll observer: Dhumal has disintegrated Bamsan segment
Hamirpur, July 22
AICC observer of Hamirpur district for the Assembly elections in the state Jugal Kishore has accused Chief Minister PK Dhumal of disintegrating the Bamsan Assembly constituency after the last delimitation exercise in the state.
Power board staff threaten to go on mass leave
Shimla, July 22
The state Electricity Board Employees Union has threatened to further intensify its agitation and said its members might go on a day's "mass casual leave" if no steps were taken to save power utility.
4 die of burns, poisoning at Tanda medical college
Kangra, July 22
Four persons died at Dr Rajendra Prasad Government Medical College (DRPGMC), Tanda, during the past 24 hours, two of burns and two of poisoning, the police said here yesterday.
Teachers hold blood donation camp
Bilaspur, July 22
The HP State Science Teachers Association organised a blood donation camp on "Dharam Shanty" day of Jai Chand Patial, who died recently, at Anand Ghat near Jhandutta near here yesterday.
Pilgrim drowned in Beas
Kangra, July 22
An 18-year-old pilgrim from Ludhiana was drowned in the Beas at Dehra in this district today and the victim's body could not be traced as yet, the police said here this evening.
Info Under Economic Survey
Objections can be sent within 15 days: DC
Hamirpur, July 22
Rajinder Singh Thakur, DC, Hamirpur, said the information collected by the government under the economic and social survey was being analysed and would be made public except that containing caste and religion details.
Kalidhar faces recurring landslides
Chamba, July 22 Kalidhar, a 250-metre fragile hillslope near the Chowari township, subdivisional headquarters on the Chowari-Pathankot highway, has been constantly facing recurring landslides, causing blockades on the road.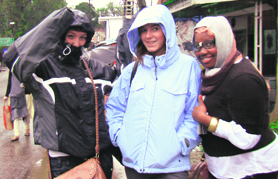 Rain lashes Kangra valley
Kangra, July 22
The Kangra valley was today lashed by rain bringing the temperature down and giving relief to residents from the scorching heat the valley had been experiencing during the past four days. It also helped farmers to carry on their agriculture activities. The valley had experienced rainfall on Wednesday last after a week long a dry spell.

Foreigners enjoy rain in Kangra on Sunday. Photo: Ashok Raina

Ajay Verma is HPCC secy
Kangra, July 22
Virender Chaudary, general secretary, All-India Congress Committee (AICC), has appointed Ajay Verma as the Himachal Pradesh Congress Committee (HPCC) secretary.
Couple dies in road mishap
Chamba, July 22
A husband and his wife were killed on the spot when their Maruti car in which they were travelling veered off the road and fell into the Hamlog Nullah near Kiani village in Chamba district today, according a police report received here.
Woman's body found from Gobind Sagar
Bilaspur, July 22
The local police has recovered the body of a woman from the Gobind Sagar in the Mandi-Bharadi area, near here, with the help of villagers. It has now kept the body in a mortuary of the Regional Hospital here after its postmortem examination.
Man dies of poisoning
Kangra, July 22
A 32-year old youth died of poisoning at the DRPGMC, Tanda, today, the police here said.