Move to change hydropower policy raises eyebrows
Shimla, July 15
Eyebrows have been raised over the government's move to change the hydropower policy to facilitate transfer of ownership of hydroelectric projects and allot a few project applications which were invited more than three years ago on the eve of Assembly polls.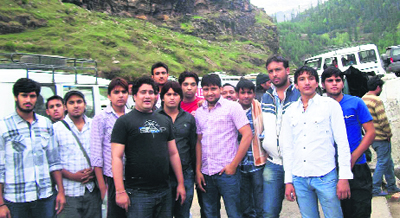 Kothi barrier hits tourism in Lahaul-Spiti
Kothi (Manali), July 15
The Kothi barrier has not only hit tourism in Manali, but also given a big blow to tourism in Lahaul-Spiti. It has raised the ire of trekking groups heading for Lahaul-Kunjam- Chandratal-Spiti routes.
Tourists from Delhi and Gurgaon protest at the Kothi barrier in Manali. Photo by writer
Land records just a click away
Shimla, July 15
From now on, people will not have to run after patwaris and other revenue officials for land-related matters as computerisation of land records and the amendments made to various revenue laws have enabled them an easy access to all related information at a click of a button.
Green India Mission to develop forests
Solan, July 15
With a view to enhancing the area under forests by 10 million hectares in the next 10 years across the country, a national mission to develop forests by restocking land and planting trees on it is being executed.
One-day mountain bicycling event held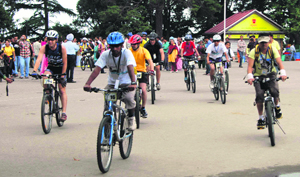 Shimla, July 15
The one-day mountain bicycling event organised by the Himalayan Adventure Sports and Tourism Promotion Association (HASTPA) evoked an enthusiastic response from peddlers here today. The event involved a route of about 40 km, out of which 17 km was the competitive section where riders were timed to ascertain their performance.
The Hercules MTB Shimla 2012 rally flagged off from the Ridge in Shimla on Sunday. Photo: Amit Kanwar

Beware of anti-social elements: SP
Bilaspur, July 15
The district police here has appealed to people to remain vigilant regarding the safety of their property and money and urged all residents to inform a police station or officer regarding suspicious activities of any person around them. The police said the active public cooperation was necessary to help curb, control and detect crime of all sorts.
Pensioners seek benefits on Punjab pattern
Chamba, July 15
The Himachal Pradesh Pensioners Welfare Association has urged Chief Minister PK Dhumal to allow pecuniary benefits to pensioners of the state on the Punjab pattern and uphold the commitment of his government agenda.
Mandial likely to join HLP
Hamirpur, July 15
Former Chief Parliamentary Secretary and MLA Babu Ram Mandial, who was suspended from the BJP a few years ago, is likely to join the newly formed Him Lokshakti Party (HLP).
Cong, BJP are anti-youth: CPM
Mandi, July 15
The CPM today accused the Congress and the ruling BJP of pursuing anti-youth policies as the successive state governments discarded one lakh government job vacancies by signing a memorandum with the Central government in the name of fiscal and financial reforms in the state.
Floods cause damage to potable water schemes
Dalhousie, July 15
Last week's floods, following heavy rain in hills and rivulets of the outlying Bhattiyat subdivision in Chamba district, have caused substantial damage to public and private property, according to reports received here today.
Conveyance allowance of disabled not revised
Shimla, July 15
Resentment prevails among disabled employees of the government over the failure of the government to revise the conveyance allowance on the Punjab pattern.
8 gamblers booked
Chamba, July 15
The police caught eight persons gambling near Sanghni village in Kihar border sector of Chamba district adjacent to the borders of Jammu and Kashmir yesterday, according to a police report reaching here today.