BCom: Govt colleges a hit
Chandigarh, July 15
Government colleges in the city seem to have taken the lead over private colleges in BCom admissions, with seats almost filled after the first counselling. A total of 551 seats of the 713 offered at five government colleges have been filled during the first counselling, showing that those are preferred by a large number of students compared to private colleges.
A view of rush for admissions at a government college in Chandigarh. Tribune file photo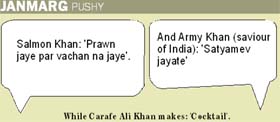 Woman looted of jewellery, cash, ATM card
Zirakpur, July 15
A 55-year-old woman from Dhakoli here has lodged a complaint that she was robbed of Rs 15,000, a diamond set, two gold rings, an ATM card and other valuables by three unidentified persons last evening.


Liver transplant gave them new lease of life
Chandigarh, July 15
Upasana (32) and Anil Gupta (45) have got liver transplants for an end-stage liver disease at the PGI here. As a result, both have got a new lease of life. This was possible only because someone had donated organs to save their lives. "This is truly a gift of life," said Upasana, who underwent surgery on October 6 last year.
Anil Gupta and Upasana after surgery. A Tribune Photograph

open house response
July 7 rain shows MC's preparedness
In view of the past experiences, the residents living in the southern sectors, especially in Sectors 39 to 47, have made several requests to the authorities concerned to clean the roads and sewerage before the monsoons, but no effective measures were taken. As a result the roads remain unclean.


No reply by HUDA officials on RTI
Panchkula, July 15
Officers of the Haryana Urban Development Authority (HUDA), who have been booked for colluding with a contractor to favour him by awarding him contracts, never replied to RTI filed by complainant.
A 'fiercely funny' slice of modern-day life
Chandigarh, July 15
The play 'August: Osage County', a black comedy exploring threads of demolished emotions in family settings of today, was staged at Tagore Theatre, Sector 18, today evening.
| | |
| --- | --- |
| A scene from the play 'August: Osage County', staged at Tagore Theatre, Sector 18, Chandigarh, on Sunday. Tribune photos: Vicky Gharu | A scene from the play 'August: Osage County', a black comedy exploring the threads of demolished emotions in family settings, which was staged at the Tagore Theatre at Sector 18 in Chandigarh on Sunday evening. |

rally at sector 40
CHB body gets political support
Chandigarh, July 15
Different political parties today reiterated their support to the CHB Federation regarding its demands of regularisation of structures. Addressing the rally organised by the federation in Sector 40, the BJP leaders assured to help the federation in its agitation over the issues.
Members of the Chandigarh Housing Board Resident Federation during a rally at Sector 40 in Chandigarh on Sunday. Tribune photo: Vicky Gharu


Traffic jammed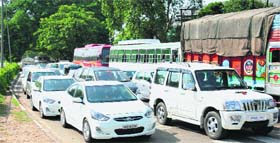 Motorists stuck in a traffic jam as presidential candidate Pranab Mukherjee's cavalcade moves during his visit to Chandigarh on Sunday. Tribune photo: Pradeep Tewari
chandigarh housing board
52 additional posts to be created in engineering wing
Chandigarh, July 15
The shortage of engineering staff and related subordinate staff in the Chandigarh Housing Board (CHB) is soon going to be met. The board of members of the Chandigarh Housing Board has approved creation of 52 additional posts in the engineering wing.
1,200 saplings planted at Chandigarh Golf Club
Chandigarh, July 15
In order to increase the green cover all around the golf course in the city about 1,200 saplings in the various roughs along the fairways were planted here today. The plantation drive was inaugurated by Gurinderjit Singh Sandhu, president of the Chandigarh Golf Club.
Prices of vegetables head north in city
Chandigarh, July 15
Prices of green vegetables have sky rocketed in the past one week. The price of potato has touched as high has Rs 25 per kg, while the price of tomato has registered four fold increase. It was being sold at Rs 60 a kg today.


Plantation drives to make Mohali green
Mohali, July 15
In an effort to make the town "green", two separate plantation drives took place here today. The first one was at Silvy Park in Phase VIII where Congress MLA Balbir Singh Sidhu along with his supporters planted saplings to make the area green while Harbhajan Mann, chairman, District Planning Committee, Mohali, along with local Akali leaders went to Sector 70 to plant saplings at the SCL Complex and Park No 32, here.

Mohali MLA Balbir Singh Sidhu along with Member of Parliament Ravneet Singh Bittu at Nature Park, Phase VIII, Mohali, on Sunday. Tribune Photo: Vicky Gharu
Books distributed to 151 girls
Chandigarh, July 15
Books and other reading material were provided to 151 girls at a function organised by the Maharaja Aggarsain Welfare Trust at Aggarwal Bhawan in Sector 16 here today. A seminar on female foeticide was also organised on the occasion.
Man falls to death
Zirakpur, July 15
A 40-year-old labourer, identified as Surinder Paswan, died after falling from the fifth floor of an under-construction building of Chinar Heights Housing Project at Peermuchhalla here today.


PU senate
Fellows question relevance of graduate constituency
Chandigarh, July 15
As campaigning for the forthcoming election to Panjab University Senate gathers momentum with the first phase of polling scheduled for August 9, questions are once again being raised about relevance of graduate constituency in the governing body.
Qualifying round for Efficycle concludes
Chandigarh, July 15
The two-day virtual qualifying round for Efficycle -- an inter-college event for finding environment friendly mobility solutions -- to be conducted later this year concluded at the University Institute of Engineering and Technology, Sector 25, today.
gmch 32
MS to be repatriated to PGI on August 1
Chandigarh, July 15
Government Medical College and Hospital medical superintendent Dr Vipin Kaushal will be repatriated to his parent institute of the PGI on August 1. Kausal has been on deputation from the PGI for the last two years.