Govt has failed to run trauma centre in Bilaspur: Cong
Bilaspur, July 16
Congress state general secretary Ram Lal Thakur has criticised the BJP government for its failure to run a suitable trauma centre at Bilaspur as the town is central to most accidents on the two national highways that pass through this district.
HLP leader fires fresh salvo at Bindal
Mandi, July 16
Himachal Lokhit Party (HLP) president Maheshwar Singh today fired a fresh salvo at former Health Minister Rajeev Bindal alleging that the state suffered a financial loss worth Rs 10 crore in purchase of ambulances for the Atal Swasthya Yojna from Madhya Pradesh.
Trials to introduce biodegradable bags in nurseries fail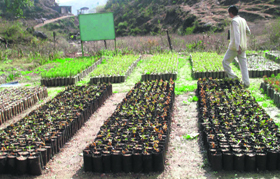 Shimla, July 16
The ban on polythene bags notwithstanding, the Forest Department will have no option but to continue using these for growing saplings for raising new plantations. Trials carried out by the department to replace polythene bags with biodegradable bags have not been a success.
The Forest Department is using polythene bags for saplings in its nurseries. Photo: Amit Kanwar

Palampur entrepreneurs bring state on emu farming map
Palampur, July 16
After Australia, the USA and some states of India, Himachal has come on the emu farming map, courtesy two young entrepreneurs who have started an emu breeding farm in a small village near Palampur.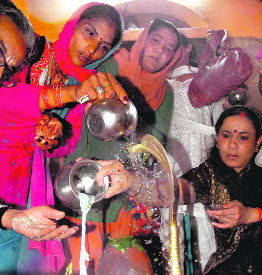 Faith in full flow: Devotees offer milk to Lord Shiva at a temple in Shimla on Monday. The day marked the beginning of Shravan. Photo: Amit Kanwar

Early varieties of apple hit market
Shimla, July 16
With an expected production of about 2.50 crore boxes this year, the apple season has started with the early varieties making an appearance in the market being sold at very high prices.
Roerich Trust Controversy
Trustees agree to settle pending issues
Kullu, July 16
Both Indian and Russian trustees of the International Roerich Memorial Trust (IRMT), Naggar, have reportedly decided to settle all pending issues at an executive meeting of the trust to be held soon. They have also decided that the Roerich museum will have two curators, one from the Russian side and one from Himachal.
Oberoi Clarke's closes for three months
Shimla, July 16
With landslides posing a threat to Clarke's Hotel here, century-old premiere property has been forced to close down for three months. The first property to be acquired by the Oberoi group in its chain of hotels worldwide in the early 1940s has been threatened due to landslides. Not only has the access road to the hotel collapsed due to construction work on the Lawyers Chambers along the Cart Road, but a portion of its garden also gave way.
Development to be BJP's poll plank, says Jaju
Bilaspur, July 16
Chief Minister PK Dhumal's dynamic leadership and veteran Shanta Kumar's guidance will certainly lead BJP to Mission Repeat in the forthcoming elections in HP. This was claimed by BJP national general secretary and BJP state assistant in charge Shyam Jaju while talking to mediapersons at the Circuit House here last evening.
CPM condemns lathi charge on protesters at Jogindernagar
Mandi, July 16
CPM leaders condemned the alleged lathi charge and manhandling of its protesters at Jogindernagar today when CITU activists, who have been on a chain hunger strike for the past over two months, tried to burn an effigy of Chief Minister PK Dhumal.
Cong sets up 21-member campaign committee
Shimla, July 16
In what appears to be an exercise to accommodate the maximum possible number of leaders, the Congress constituted a 21-member campaign committee for the forthcoming Assembly poll and also appointed 16 secretaries.
Crop insurance scheme to be introduced in Sirmaur
Shimla, July 16
The National Agriculture Insurance Scheme (NAIS) will be introduced for the ginger crop in Sirmaur district on an experimental basis and it will remain applicable for maize, paddy and potato crops during the current Kharif season.
Thieves decamp with valuables worth Rs 2.5 lakh
Mandi, July 16
A gang of thieves operating in the Paddar-Jogindernagar area broke into four houses in the remote Basehad village on Sunday night and decamped with valuables worth Rs 2.5 lakh.
Anupam Kher to hold acting workshop
Shimla, July 16
Actor Prepares, acting school established by renowned Bollywood actor Anupam Kher, will hold a production-based acting workshop at the Gaiety Theatre complex from August 6 to 31 in association with the Gaiety Dramatic Society (GDS).
BJP not afraid of Virbhadra's threats, says Satti
Shimla, July 16
State BJP chief Satpal Singh Satti said the demand by former Union Minister Virbhadra Singh that the Election Commission of India must enforce the code of conduct was a clear reflection of the dejection and frustration being faced by him after resignation from the Union Cabinet.
Farmers rue govt apathy
Nurpur, July 16
The Kangra district Bharatiya Kisan Sangh today convened its meeting at Chir village, near Gangth, which was presided over by its president Jagdeep Samyal.
Lecturers back St Bede's College staff, hold protest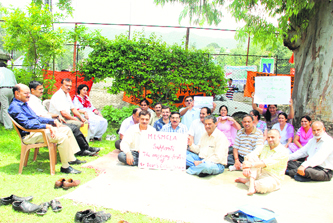 Mandi, July 16
Lecturers of non-government colleges today staged a protest in support of the ongoing agitation by the teaching and non-teaching staff of St Bede's College, Shimla, on their campuses throughout the state. They urged Chief Minister PK Dhumal to help end the impasse at St Bede's College.
Lecturers stage a protest at the MLSM College, Sundernagar, in support of the agitating St Bede's College staff.

Pensioners seek benefits on Punjab pattern
Chamba, July 16
The Himachal Pradesh Pensioners Welfare Association has urged Chief Minister PK Dhumal to allow pecuniary benefits to pensioners of the state on the Punjab pattern and uphold the commitment of his government agenda, thereby paving the way for Mission Repeat-2012 of the BJP.
Boy dies of snakebite
Bilaspur, July 16
Vishal (11), only son of a tea vendor at Nauni, but belonging to Delag village, near here, died of snakebite last night. Reports said Vishal had woken up during the night to go to the urinal when he was bitten by a snake.
Voters' List
Dates for registering names extended
Hamirpur, July 16
As per the directions of the Election Commission of India, the date for registering names in voters' list and filing objections has been extended till July 18.
Residents want power project site shifted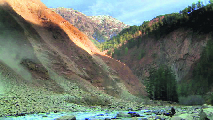 Chamba, July 16
Residents of the Nayagran and Holi areas have opposed the construction of the Bajoli-Holi Hydroelectric Project on the left bank of the Ravi as there is a thick habitation, including the Holi tribal township.
The proposed site of the 180-MW Bajoli-Holi Hydroelectric Project. A file photo

BJP holds training camp
Sundernagar, July 16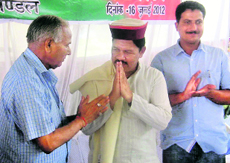 The BJP has geared up its activities expecting early Assembly poll. State convener of the party Shyam Jaju addressed a training camp today, which was attended by 700 workers of the BJP Nachan Assembly segment. While addressing the gathering, he said workers were the backbone of the party. The BJP government had done a lot for the development and uplift of all sections of society.
MLA Dile Ram welcomes BJP state convener Shyam Jaju in Sundernagar on Monday. Photo by writer

Don't mislead media over ticket: Cong
Chamba, July 16
District Congress Committee (DCC) spokesperson Dharam Malhotra has appealed to Congress workers and the rank and file of the party to be careful of self-styled leaders who are misleading the media over the allotment of party ticket in Chamba district for the forthcoming Assembly elections in the state.
Pilgrims throng Bharmour
Bharmour, July 16
Though officially the Manimahesh pilgrimage will commence on August 10, pilgrims of Lord Shiva have already started making a beeline for the sacred shrine of Manimahesh.