Gritty girl deposes against father
Chandigarh, July 16
The UT district courts were witness to a rare testimony today when a 14-year-old girl deposed against her father and grandfather, accusing them of being responsible for her mother's suicide last year.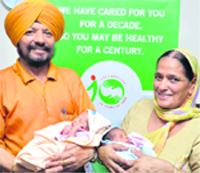 Mother of twins at 59
Mohali, July 16
Fiftynine-year-old Gurmeet Kaur, a former government employee, gave birth to twins at Fortis Hospital today. Gurmeet Kaur, a resident of Chandigarh and wife of a retired government teacher, was ecstatic after becoming a mother of a boy and a girl. "My phone has not stopped ringing. I am unable to contain my happiness," she said looking at her bundles of joy.


Gurmeet Kaur with her husband and their twins. A Tribune photograph
Humid conditions to continue for the next few days
Chandigarh, July 16
The scanty rainfall trend is expected to continue for another two to three days before the city receives a heavy downpour. Despite, the onset of monsoon, the humid conditions are likely to continue for another few days.


UT's 190 reservoirs blocking water to Sukhna
Chandigarh, July 16
Nothing less than 190 reservoirs set up by the Administration have been preventing the water from flowing into the Sukhna Lake. But all this is about to change, with the Punjab and Haryana High Court asking the administration to set things right. In what was being seen as a watershed in the Save Sukhna campaign, a Division Bench has, in fact, asked the administration to ensure free flow of water into the lake by altering the capacity of the reservoirs.
Treacherous path



Pits and potholes on roads of Mohali expose the apathy of the authorities towards residents. Tribune lensman Vicky Gharu takes a tour of the city to capture such pictures
Recent rainfall in the city has hampered de-silting drive at the lake
Chandigarh, July 16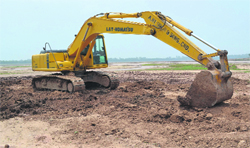 The recent rainfall in the city has not helped much in solving the water crisis of the city's landmark, Sukhna Lake, but it has affected the de-silting drive at the lake. Due to the recent rain, a large part of the lake area has become wet, which has made it difficult for the UT engineering department officials to use heavy machinery on the wet surface.
The de-silting drive has been hampered and machines put on hold at Sukhna Lake in Chandigarh on Monday. Tribune photo: Manoj Mahajan
Staff nurse held guilty
Chandigarh, July 16
Two weeks after a staff nurse allegedly slapped a medical laboratory trainee technician at Government Multi-Speciality Hospital (GMSH) in Sector 16, the inquiry committee has held her guilty and proposed strict action.
Day after molestation incident, FIR lodged
Chandigarh, July 16
A day after the molestation incident outside Tao discotheque in Sector 26, the UT police finally got into action and registered an FIR today. The police also traced the Ford Fiesta car of the molesters to Khamano. Even though police teams have been dispatched to nab the accused, who are on the run, no arrests have been made so far.
1,800 receive no electricity bill
Mohali, July 16
Hundreds of power consumers were harassed while paying the power bills as the new software introduced by the Punjab State Power Corporation Ltd (PSPCL) failed to give the desired results.
85 shops razed on Patiala-Zirakpur road
Zirakpur, July 16
Amidst tight security, as many as 85 shops located on Patiala-Zirakpur road were razed to ground by the Zirakpur Municipal Council here today.
Electricity poles on roads pose threat to life
Mohali, July 16
An alleged 'unmindful' construction of footpath in local Industrial Area has caused resentment among the industrialists and other residents of the area.
MC claim turns out to be false
Chandigarh, July 16
Several labourers were deployed at Sectors 18, 19, 21, 27 and 28 to clean road gullies today prior to the Mayor's visit. It was found that the broken road gullies in the areas were not repaired properly although the report of corporation submitted on June 4 stated that the road gullies of all these sectors were cleaned and repaired by special teams of the concerned department.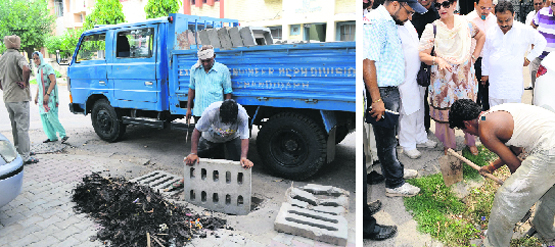 MC employees remove a broken drain cover and (left) clean wild grass during a special visit of the Mayor at Sector 27 in Chandigarh on Monday. Tribune photos: Manoj Mahajan
Members of traders' cell protest against FDI in retail
Chandigarh, July 16
The traders' cell of the Chandigarh, Punjab and Haryana unit of the Bharatiya Janata Party (BJP) held a protest at the roundabout of Sectors 7, 8, 18 and 19 against anti-trader policies of the UPA government.
UT Home Secretary postpones appeal
Chandigarh, July 16
The TDI mall management multiplex in Sector 17 will have to wait for some more time to get No-Objection Certificate(NOC) for fire safety norm for their complex, as the UT Home Secretary today postponed the appeal for the hearing of the case. On the rejection of issuing NOC to the mall by the fire department, an appeal was filed by the management to the UT Home secretary last month.
Global collaboration required on public health: Experts
Chandigarh, July 16
International collaboration is much need to improve health, to reduce disparities and to protect against global threats. This was stated by Dr Ravindra Khaiwal, assistant professor (environment health), School of Public Health, PGIMER, here today during a one-day international workshop on 'Global Collaboration: Public Health Priorities'.
Minor fire at Sector 18 market
Chandigarh, July 16
Minor fire was reported in booth number 13 and 14 at Sector 18 market this morning.
Six quintals of fish destroyed
Chandigarh, July 16
A surprise inspection of unauthorised fish shops and rehries in Hallo Majra, Sector 47, Colony No 5, Sector 43, was conducted by the Municipal Corporation today.
PU student quizzed by police
Mohali, July 16 Mohali police today quizzed Arun Kumar, a student of Panjab University, related to the shooting incident reported on July 10 at Sector 69, Mohali.
Severed head of Army jawan recovered
Panchkula, July 16 The Government Railway Police today recovered a severed head of an Army jawan from the railway tracks near Chandimandir area, Panchkula.The deceased has been identified as Vinod Kumar, a resident of MES quarters in Chandimandir area, who was posted at Army Unit-5, Ladakh.


DAV-10 takes bold step to curb violence
Chandigarh, July 16
Taking a strong stand against violence incidents on the campus, the DAV College, Sector 10, has for the first time barred admission to those involved in violence. A list of frequent trouble makers who have been booked by the Chandigarh Police was circulated to all the departments by the college authorities. The departments were directed not to give admission to these students.



A policeman struggles with a violent mob and (right) a student throws an LPG cylinder during a clash at DAV College, Sector 10, Chandigarh. File photos
Hotel management students attend induction programme
Chandigarh, July 16
A five-day induction programme was inaugurated at the University Institute of Hotel Management and Tourism for the students of 2012-2015 batch today.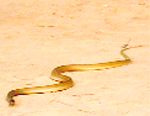 Snake-scare at PU
Chandigarh, July 16
Panic gripped the students of Panjab University after a snake was spotted at the Student Centre today evening. Students spotted the snake under one of the trees following which they raised an alarm. The PU security reached the scene and cordoned off the area. Large number of students gathered at the scene to watch the snake.
Second round of admission begins at city government schools
Chandigarh, July 16
Over 2,000 students, who recently got admitted to Class XI in the city government schools, have applied for a change in the allotted stream or school. A huge rush was witnessed today at the government schools on the first day of the second round of admissions to Class XI.
Student rival parties fight for credit at PU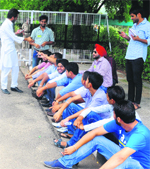 Chandigarh, July 16
With elections around the corner, students' organisations at Panjab University are trying hard to woo students. It seems, however, the organisations are short of students-related issues for staging protests. While the Panjab University Students Union party claimed they had submitted a memorandum demanding re-appear examination for students of the UIET and the UICET a few days back, the members of the Student Organisation of Panjab University staged a protest for the same demand today.

Members of SOPU stage protest at Panjab University in Chandigarh on Monday. Tribune photo: S. Chandan
2 GMCH docs appointed professors at AIIMS
Chandigarh, July 16
Two more doctors from the city have got bearth in the new All-India Institute of Medical Sciences being set up by the central government in five states.