Cabinet meeting on new taxes put off
Chandigarh, August 3
The Cabinet meeting scheduled for Sunday (August 5) to discuss the levy of new taxes and the issue of raising the retirement age of employees from 58 to 60 has been postponed indefinitely and is now likely to be held only after Chief Minister Parkash Singh Badal returns from his US visit on August 14.
SGPC approves Rs 443.6 cr budget for next 8 months
Amritsar, August 3
Stuck in a legal tangle over the Sehajdhari issue, the SGPC executive today passed its budget for the remaining eight months of the fiscal year 2012-13. This is for the first time that the SGPC has had to pass its budget in two parts.
TRIBUNE IMPACT
Probe into illegal mining ordered
Chandigarh, August 3
The district administration of Nawanshahr today swung into action to check illegal mining in the Sutlej riverbed. All mining activity in the riverbed has come to a halt. Following a report on illegal mining in The Tribune columns today, Industries Minister Anil Joshi directed the Nawanshahr district administration as well as the Principal Secretary, Industries, AR Talwar, to conduct a probe.
Separate teachers' cadre for border belt
Chandigarh, August 3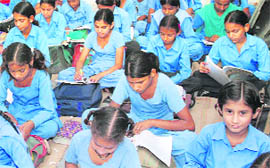 The Punjab Government has created a separate teachers' cadre for the 16 km border belt, keeping in view the perennial shortage of teachers in the area. Accompanied by Member of Parliament Harsimrat Kaur and Education Minister Sikandar Singh Maluka, Deputy Chief Minister Sukhbir Badal today reviewed the working of the Education Department.

The move is aimed to overcome staff shortage in border schools
Jalandhar-Panipat highway project back on track
Chandigarh, August 3
The Jalandhar-Panipat highway project is back on the track. The Punjab and Haryana High Court today directed that the notice by the National Highway Authority of India to the concessionaire, that could have pushed the project on the slow track, be held in abeyance. As the traffic regulation and safety case came up for resumed hearing, counsel for the concessionaire told the Bench of Acting Chief Justice Jasbir Singh and Justice Rakesh Kumar Jain that lenders too were brought into the picture by the NHAI and the inflow of money could turn into a problem.
Scientists alert farmers on pest attack
Moga, August 3
Agriculture Department scientists have advised the farmers to keep a watch on their paddy crop on a daily basis so that preventive measures could be initiated in the event of an attack by pests.
Dairy farmers threaten to stop supply to Milkfed
Chandigarh, August 3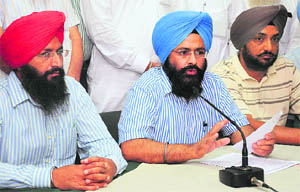 Dairy farmers and Milkfed are heading for a showdown with the former demanding a 20 per cent increase in the procurement price of milk and the latter showing reluctance to do so. Commercial dairy farmers, who supply 30 per cent of their produce to the Punjab State Cooperative Milk Producers Federation or Milkfed, have demanded an increase in the procurement price from Rs 395 - Rs 405 per kg fat to Rs 485 per kg fat by August 8.
DS Sadarpura, president of the Progressive Dairy Farmers Association, addresses a press conference in Chandigarh on Friday. Tribune photo: Parvesh Chauhan
Aided school staff to get pension benefits
Chandigarh, August 3
The Punjab Government today issued a notification allowing pension for teachers and other employees, who retired after May 31, 2003 from the aided schools recognised by the state government. In fact, there was a provision of pension for the employees of the aided schools before May 31, 2003. About 3,795 retired employees, mostly teachers, of these schools were drawing pension.
Teachers to hold protest on Aug 5
Patiala, August 3
Sarv Shiksha Abhiyan (SSA) and Rashtriya Madhyamik Shiksha Abhiyan (RMSA) teachers will hold a state-level rally at Bathinda on August 5 against the delay in issuing the notification of their revised pay scales which have to be sent to the SSA India for implementation of the revised grades.
Infant's death at Jalandhar civil hospital
Probe report back with Principal Secy, Health
Jalandhar, August 3
Taking note of the lapses pointed out by the Chief Parliamentary Secretary Dr Navjot Kaur Sidhu in the handling of the treatment of Anita and her deceased baby at the local civil hospital, health authorities have included the CPS' observations into the inquiry report being submitted to the Principal Secretary, Health, Vinny Mahajan.
Jawan killed in Assam blast cremated
Patiala, August 3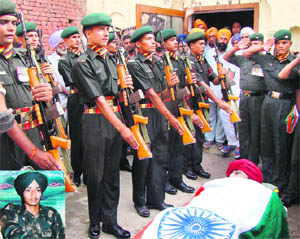 Residents of the area bid a tearful adieu to 13th Sikh Regiment Sepoy Sandeep Singh, who sacrificed his life in a bomb blast in Assam. He was cremated with military honour at his native village Mangewal near Bhadson in Patiala district. He is survived by his mother, wife Kulwinder Kaur, younger brother Mandeep Singh, two sisters and a one-and-a-half-year-old son.

Army personnel pay tributes to Sepoy Sandeep Singh (inset) at Mangewal village in Patiala on Friday. Tribune photo: Rajesh Sachar
Govt college teachers to boycott work
Patiala, August 3
Teachers working in government colleges of Punjab will boycott work for two hours each on August 8 and 22 in protest against the state government which has failed to release the first installment of 40 per cent of their arrears. They plan to take mass casual leave on Teachers Day (September 5) and hold a protest rally in Sector 25 rally ground in Chandigarh if the government does not meet their demands.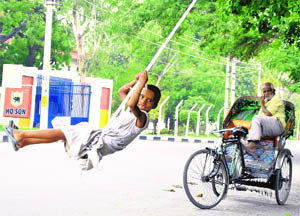 A girl uses a swing tied to a tree in Patiala on Friday. Tribune photo: Rajesh Sachar
DAV management to fight acquisition
Bathinda, August 3
DAV College, Bathinda, has whipped up a controversy over the acquisition of the pond, located at its rear, for a residential-cum-commercial project of the Improvement Trust Bathinda.
Govt elementary school to go under the hammer
Bathinda, August 3
The Government Elementary School, located on the Mall Road, is all set to go under the hammer. The 1.5 acres of land would be converted into a multi-level parking lot to solve the parking woes of the city.
Act tough against drug peddlers: SSP to SHOs
Patiala, August 3
Police officers serving as Station House Officers (SHOs) in the district got a dressing down from the Senior Superintendent of Police (SSP) on late Thursday evening after the Punjab Deputy Chief Minister directed the senior police officers to pull up their socks.
Man dies as bus overturns
Patiala, August 3
One person was killed and half-a-dozen other passengers were injured when the over speeding Punjab Roadway bus they were travelling in overturned and fell in fields near Jhala village in the district today.
Court vacates stay on doctors' appointment
Chandigarh, August 3
Less than a month after the State of Punjab was restrained from appointing 345 Medical Officers, the Punjab and Haryana High Court today paved the way for the appointments by vacating the stay orders.
State dragging feet on land grab probe
Chandigarh, August 3
Not mincing words, the Punjab and Haryana High Court today observed that the Punjab Government was deliberately dragging its feet in the land grab probe by not providing infrastructure to the Justice Kuldip Singh panel.
14 promoted as Chief Judicial Magistrates
Ludhiana, August 3
The Punjab and Haryana High Court has promoted 14 judges to the rank of Chief Judicial Magistrate (CJM) and 14 judicial officers to the rank of Additional Civil Judge (Senior Division).
Insurance company fined for needless litigation
Chandigarh, August 3
The Punjab State Consumer Disputes Redressal Commission slapped a fine of Rs 50,000 on a national insurance company for filing a "leisure litigation" against a soldier who made a claim after he was disabled in a bullet injury in April 2005.
3 kg of heroin seized from Pak train at Attari
Amritsar, August 3
Officials of the Directorate of Revenue Intelligence today seized 3-kg of heroin from a goods train that arrived from Pakistan via the Attari-Wagah route.