Team Anna appears divided over end of stir
Ananya Panda
Tribune News Service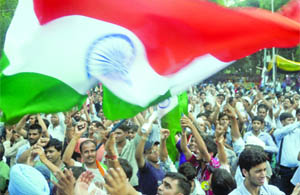 Supporters gather at Jantar Mantar as Anna Hazare and his associates break fast on Friday. Tribune photo: Manas Ranjan Bhui
New Delhi, August 3
While the Team Anna looks all geared up to offer a political alternative to the country, the decision to call off the agitation at Jantar Mantar today has not come down well with some of the core committee members of the team.
"The decision to begin the fast was wrong and to end it was also wrong when that the government would not agree to our demands. This is playing with people's emotions and people will feel cheated. Even volunteers of the India Against Corruption are unhappy," remarked an upset core committee member on condition of anonymity.
Even among the supporters of this Anna-led movement, the latest move evoked a feeling of betrayal, general discontent and disagreement, which as the day went on gradually gave place to a mixed reaction that many attribute to the appeal and fan-following that the 74-year-old Gandhian still enjoys at large, not known of in the recent past.
Kamlesh Ranjan, a resident of Janakpuri, felt that the Team Anna should have stayed apolitical and continued the movement as the government would have eventually passed the Lokpal legislation ahead of the 2014 Lok Sabha elections. "The agitation should go on under Anna's banner and it is very important to build pressure on the government and this can happen by moving on to the streets," said Ranjan who had taken leave from his office for 10 days to support the anti-graft crusade.
There were scores of supporters who expressed similar view even as several others sounded optimistic about this decision with many pinning hopes that this would create a benchmark for other political parties to change their ways.
"They should form an alternative party and we are here to support them. With Anna, this mass movement will give a new political direction. But it should not be a flop one like the JP movement which ended up with corrupt leaders such as Laloo Prasad but should have honest people," said a sceptical Indresh, an engineering professional who had been coming to support the agitation this time since July 25.
Sungandh Sinha from Jodhpur believes that the name Anna can carry the anti-graft agitation on his shoulders if not by fasting, by rallying around to vote for the right candidate. He feels the movement will affect a change in electoral politics like never before.
"This man has told that corruption can be finished otherwise everybody had accepted it as a way of life. Through this movement, he has created several Bhagat Singhs and is also worthy enough of giving us an alternative to these corrupt political parties," said the ardent Anna supporter.
Today before calling off the indefinite fast, Anna said that it is no longer just a movement for an effective Jan Lokpal but for a complete system-change.