Adarsh Schools under scanner
Chandigarh, August 1
Started in the public-private sector, Adarsh Schools in Punjab are under the scanner. The government has ordered that the records of these schools be inspected following the discovery of financial irregularities in several such schools.

Govt defends Saini's appointment as DGP
Chandigarh, August 1
The Punjab Government has once again defended Sumedh Singh Saini's appointment as Director-General of Police, claiming that the emerging volatile situation in Punjab in view of the impending execution of Balwant Singh Rajoana's death warrants was the precipitating factor.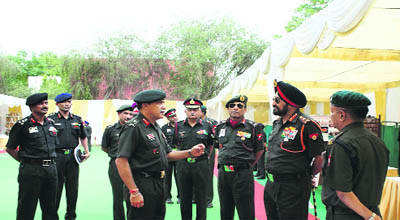 Army Chief General Bikram Singh (2nd from right) at the Bathinda Military Station on Wednesday. He was in the city to inspect Chetan Corps. A Tribune photograph
Akali Dal, Congress ready for rallies at Rakhar Punia
Amritsar, August 1
Both the ruling Shiromani Akali Dal (SAD) as well as the opposition Congress would hold political conferences at the annual Rakhar Punia fair at Baba Bakala tomorrow.
Govt launches austerity drive
Chandigarh, August 1
The Punjab finance department has introduced austerity measures, directing all departments not to purchase new vehicles and to curtail expenditure by 10 per cent. The Finance Minister has asked all departments to consume less electricity and to curtail expenditure on telephones by 10 per cent.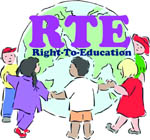 36% PSEB schools fail to file info on RTE
Mohali, August 1
At least 36 per cent schools affiliated to the Punjab School Education Board (PSEB) have failed to furnish information regarding their preparation for implementing the Right To Education (RTE) Act 2009, in their respective schools within the stipulated timeframe. Out of the total 2,999 affiliated schools, 1,920 have responded to the notice by the Board in this regard.
Mittal for better medical care for women prisoners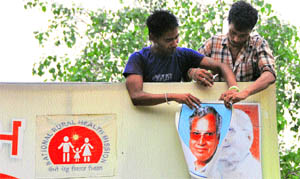 Ludhiana, August 1
The Health Department will deploy women doctors to visit female wards in jails once in a week. The decision will be implemented after August 15. This was revealed by Health and Family Welfare Minister Madan Mohan Mittal here today.
Workers replace the photo of former Health Minister Satpal Gosain with that of present Health Minister Madan Mohan Mittal before the latter's visit to the Civil Hospital in Ludhiana. Tribune photo: Himanshu Mahajan
Residents bitter over soaring sugar prices
Jalandhar, August 1
Sugar prices are zooming with traders allegedly resorting to hoarding and the ongoing strike of wholesale sugar merchants. The latter have stopped lifting stocks from sugar mills in protest against the imposition of VAT by the state government.
Bar for contempt case against Punjab cop
Chandigarh, August 1
In light of the recent graft accusations made by convicted CAT commando Gurmeet Singh alias Pinki against former Punjab and Haryana High Court Judge, the Bar Association today resolved to initiate contempt proceedings against the policeman.
'Dead' convict falls into police net
Faridkot, August 1
More than one-and-a-half months after convict Gurjinder Singh, lodged in the Faridkot Central Jail, escaped from police custody and was later "killed" in an accident, he has been arrested by the Pojewala police in Nawanshahr district.
Funds misuse
Citrus Council members indicted
Chandigarh, August 1
Constituted by the Punjab and Haryana High Court for probing the allegations of funds misuse, the Special Investigation Team has indicted Citrus Council members for causing loss to Punjab Government.
Directions to keep travel agents under watch
Chandigarh, August 1
The Punjab and Haryana High Court today issued a slew of directions for arresting the nefarious activities of unregistered travel agents.
HC relief for dependants of accident victims
Chandigarh, August 1
In a judgment expected to help the dependants of motor accident victims, the Punjab and Haryana High Court has ruled that even persons supported by the deceased before death are liable to be compensated.
Court: Convicts not entitled to grants
Chandigarh, August 1
While issuing a slew of directions for preventing misuse of discretionary funds granted by the Chief Minister, Deputy Chief Minister, cabinet ministers and chief parliamentary secretaries, a Division Bench of the Punjab and Haryana High Court today made it clear that a convict would not be entitled to grants.
Find ways to preserve drinking water: HC
Chandigarh, August 1
The Punjab and Haryana High Court wants the States of Punjab and Haryana to find ways of preserving drinking water. A Division Bench of the vourt has made it clear that a working group could be constituted for the purpose. The directions come at a time when Punjab has virtually declared an emergency in the state over severe power crisis. It has not only prohibited the use of ACs in its offices, but has also reduced the working hours.