OPED

Health
Preventing pneumonia
Dr K. Chugh
A change in weather may trigger respiratory infections in children which can further lead to pneumonia. This disease is completely preventable with the administration of highly effective pneumococcal conjugate vaccines (PCV)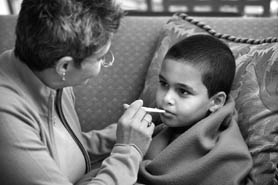 What puts children at risk

Neonatal and premature infants, who have underdeveloped lungs/organs.


Delay in treatment of cold, cough and viral infections.


Respiratory tract infections.


Weakened immune systems.


Excessive exposure to pollution, tobacco smoke etc.
Delay in monsoons and fluctuating temperature have triggered a spate of respiratory infections. Often, an untreated ailment such as seasonal cold, cough or fever, especially in children with poor immunity, can worsen and lead to pneumonia. Our lungs are designed to cough out the pockets of mucus before an infection sets in and pneumonia can even occur if any regular cough or cold worsens. The mucus secreted in the lungs is a breeding ground for bacteria and viruses and when they start to multiply it leads to an infection causing respiratory distress.


Five-year-old Sheetal was suffering from high-grade fever and slight discomfort in the right side of her chest. Without wasting time her parents decided to consult an expert. On examining the child, the doctor realised it was a case of pneumonia but to reconfirm the diagnosis a chest X-ray was done. Sheetal was one of the few children who benefited from timely diagnosis and treatment. Today, she has recovered completely and is a healthy child.
Two-year-old Preetha was not as fortunate. Her parents gave her homeopathic medication and wasted four precious days before they consulted a doctor who put her on antibiotics. When there was no improvement in Preetha's condition, her parents brought her to an expert. By then, she had developed pus in her right chest (pleural cavity). She had to be hospitalised and underwent extensive pneumonia therapy. The child recovered after a two-week stay in the hospital. But it was a huge financial burden on her parents who were unaware that this episode was completely preventable if Preetha had received the pneumonia vaccine.


Do's & Don'ts to prevent pneumonia during monsoons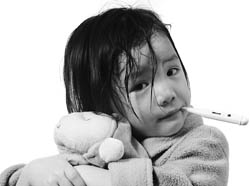 Don't stay in wet clothes for long.


Do not dry off under the AC.


Avoid exposure to frequent temperature change.


Self-medication is not advisable.


Seek immediate medical help on experiencing symptoms like high fever, congestion in chest and difficulty in breathing. Timely medical intervention could prevent pneumonia.


Pneumococcal vaccine can protect against the disease.
Merely getting wet in the rains does not cause pneumonia. External factors such as a damp environment contribute to the growth of bacteria or viruses that cause viral and bacterial infections in children. Unhygienic living conditions, unclean surroundings, pollution, hot and humid weather etc. make children more vulnerable to bacterial and viral infections. Many parents do not realise that pneumonia is an acute respiratory disease affecting the lungs caused by multiple viruses, bacteria and fungi that are commonly found in a child's nose or throat. These may also spread via air-borne droplets from coughing or sneezing and can easily enter the body making it difficult to breath.
Symptoms to watch out for
Severe cough
Fast or stressful breathing
High fever
Episodes of pain in the chest on coughing
Wheezing (commonly this is a sign of a viral cold affecting the chest), at times it can be a symptom for pneumonia
Loss of appetite
Treatment for pneumonia
Consult your doctor immediately if the child has more than one of the following symptoms:
Cough and fever accompanied with fast and uneasy breathing pattern.
Antibiotics — aid in fighting the bacterial infection.
Nebuliser to relieve the respiratory distress.
Intravenous fluids to rehydrate the child.
Prevention is better than cure
Ensure your child has received the vaccine for pneumonia. It is mandatory for infants to be immunised against pneumonia such as Haemophilus influenzae and pertussis (whooping cough). It also prevents pneumococcal infection, which is again one of the most common organisms responsible for ear, sinus infection, pneumonia and meningitis. A vaccine is definitely recommended for children at high risk, which includes patients with chronic liver disease, chronic renal failure and nephritic syndrome, diabetes mellitus, congenital immunodeficiency, sickle-cell disease, chronic lung and heart disease.
Vaccine regime
To a child less than six months' old, a total of four doses of vaccine are administered.
For a child who is between six months and one-year-old, three doses are required.
If the child is older than one year then two doses of the vaccine are required.
Build your child's immunity
Besides administering the vaccine, a strong immunity is the best way to ensure that your child is strong enough to fight infections. It is a known fact the diet should be balanced and rich in carbohydrates, proteins, calcium, minerals and vitamins. It should have fresh fruits and vegetables, cereals plus milk, curd, eggs and paneer as part of a child's daily intake. Keeping the child well hydrated is an important part of the diet.
Breastfeeding for the first six months' of life improves an infant's natural immunity. It is scientifically proven that mother's milk contains immunity-building antibodies and white blood cells. The older kids should drink plenty of fluids like coconut water, fresh fruit juices, milk shakes, butter milk etc.
Most pneumonia deaths are caused by bacteria such as Haemophilus influenzae type b (often known as Hib) and pneumococcus. Viral pneumonia is self-limiting in 90 per cent of the cases. However, the fatality rate is high for the remaining 10 per cent caused by bacterial pneumonia. Immunisation against vaccine-preventable diseases like measles, whooping cough (pertussis), Haemophilus influenzae type b (Hib) and pneumococcus can help in effectively preventing pneumonia.
The latest pneumococcal conjugate vaccines (PCV) available in the market are highly effective as they cover serotype 19A, which has globally emerged as a leading cause of pneumococcal disease in children less than five years of age. It is very unfortunate that so many infant deaths occur in our country because of pneumonia.
If the pneumococcal conjugate vaccine is included in the national immunisation programme, it would greatly bring down the child mortality rate. Keeping environment clean and hygienic is vital, too. Maintain a dust-and-mite free house, especially if there is space constraint. Parents should avoid smoking in the presence of children, inhaling smoke could impact your child's lungs. Make sure your child washes hands before eating. These simple steps will reduce the number of children falling prey to Pneumonia.
A recent report released by Lancet in 2010 states that pneumonia accounts for 14 per cent of child deaths worldwide and an additional 4 per cent child deaths globally are attributed to neo-natal pneumonia.
Only about half of the children suffering from pneumonia receive appropriate medical care and less than 20 per cent of children with pneumonia receive the necessary treatment of antibiotics. Hence, it is important that an upgraded vaccine is used to prevent pneumococcal disease.
Quick facts
Pneumonia kills more than 4 million people every year globally — half of these deaths occur among children under five years of age.
Pneumonia is a disease responsible for the largest number of deaths worldwide in children under five.
Most children, who die of pneumonia, live in developing countries.
India accounts for almost 40 per cent of worldwide childhood pneumonia cases.
Successful treatment of pneumococcal infection relies on the infection being caught and treated early with antibiotics.
Unfortunately, incidence of penicillin and multi-drug resistance is increasing across all countries. Antibiotic-resistant pneumococci are an increasing global problem.
According to the World Health Organisation, only half of children with pneumonia are taken to an appropriate healthcare provider (Pneumonia: The Forgotten Killer of Children, UNICEF/WHO)
Vaccines that can prevent pneumococcal infection are available, and they have been used with great effect in children in many countries.
India is among the countries where GAVI Alliance (Global Alliance for Vaccines and Immunisation) is willing to subsidise the cost of the vaccine so that it is affordable to the vast majority of people.
Lancet study
According to the World Health Organisation (WHO), pneumonia kills more children than any other illness — more than AIDS, malaria and measles combined. Pneumonia and diarrhoea still account for more than one-third of child deaths, including neo-natal deaths.
The WHO 2010 report says that there are approximately 155 million cases of childhood pneumonia every year in the world that result in the death of an estimated 1.8 million children under the age of five years. This is of particular concern to India where the under-five mortality is 69 per 1,000 live births and nearly 4,10,000 Indian children die annually from pneumonia alone. The number has risen sharply in the last two years and is now at about 8 per cent this year, according to a survey by paediatricians, based on a WHO report.
Only about half of children, sick with pneumonia, receive appropriate medical care and less than 20 per cent of children with pneumonia receive the necessary treatment of antibiotics. Vaccination is therefore the best cost-effective measure for vaccine-preventable diseases like pneumonia. In fact, the WHO has identified the inclusion of Pneumococcal Conjugate Vaccine (PCV) in the national immunisation programmes as a priority, particularly in countries where the mortality rate of children under five years old is more than 50 per 1,000 live births, or where more than 50,000 children die annually. India is an ideal candidate for inclusion of PCV in the national immunisation programme, as with under-five mortality of 75 and annual death burden of more than 2,00,000 under the age of five years, it meets with both the above criteria.
The writer is consultant paediatrician, Sir Ganga Ram Hospital, New Delhi
---
The article, "Infertile but not barren" published on July 26 was written by Dr (Mrs) Umesh N. Jindal