The recent positioning of khap panchayats as saviours of the girl child goes against their patriarchal structure. Will they override structural constraints to cast a new identity for themselves?
Simmering identity crisis at Khaps
D.R. Chaudhry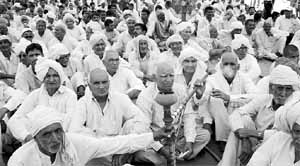 Khaps of Haryana, notorious for their outlandish edicts like declaring a married couple siblings, ostracising families and such other atrocious acts are suddenly taking up serious social issues like female foeticide. It seems like cool breeze in a hot, sultry desert. However, there is a wide gulf between appearance and reality.
Khap panchyats are endogamous, clannish institutions with strong patriarchal structures, which are largely Jat outfits around rural Delhi, some districts of Haryana and western U.P. and the adjoining areas of Rajasthan. The khaps have faced two-fold criticism relating to their structure. Traditionally, women are not allowed to participate in the khap panchyat proceedings, though vital decisions concerning their lives are taken there. Secondly, in our times it has become a caste panchayat of the Jats. To counter these accusations, it was decided to float a woman wing of the khap in a conclave of various khaps held at Kurukshetra on April 13, 2010, and secondly they started labelling every khap meeting as sarv jatiya khap panchyat - an all caste council. But, the changes remained on the surface.
It was clearly seen at Bibipur, in Zind district on July 14, 2012 where a woman khap was invited. But, as it turned out, women were used as a shield. It was propagated that the event was initiated by women against female foeticide, but, the stage was dominated by male khap elders. Not a single woman was included in the eleven member committee constituted to chalk out the future strategy. Despite the label of sarv jatiya there was no representation of non-Jats in the khap gathering.
A resolution was passed to condemn foeticide at Bibipur. Passing a resolution is a ritual which, unless equipped with proper ideological grasp of the issue and appropriate structural apparatus to give a practical shape to it, remains only a pious platitude. If Khaps possess these traits is doubtful. Foeticide has societal roots. It is an offshoot of patriarchal mindset. The institution of khap, by its structure and functioning, is a patriarchal institution. Thus, khap's resolution is a contradiction in terms of its structure.
No strategy
On account of highly skewed sex ratio and speedy dismantling of the  traditional bhaichara bondage in rural hinterland, girls in villages feel highly insecure and the problem of eve teasing, molestation etc. is assuming alarming proportions in rural society. Khaps, so far have displayed no appropriate strategy and will to curb this menace. Rather, the patriarchal mindset often tends to blame girls, their education, clothes, hair style etc. for this phenomenon which results sometimes in penalising the victims and letting off the wrong doers.
A girl has equal share in the parental property along with her brothers in the Hindu Succession Act. In arranged marriages, normally a girl does not demand her share. However, in case of a choice marriage, it is assumed the girl, or her husband would be bold enough to stake claim in the property. The cases of choice marriage are increasing in our times on account of growing intermixing of the two sexes under the impact of modernisation. The land, especially in the National Capital Region, the hub of khaps, has become very valuable and the risk of division of the family property starts haunting the male. The above three causes put together cumulatively make the girl child an unwelcome creature.
Their unpopularity
The legitimacy of the khap panchyat as an institution touched the lowest ebb in recent times, thanks to its atrocious firmans( diktats), which was a cause of concern for its political supporters- the ruling as well as the major opposition party, both being ardent supporters of khaps.
The mainstream political parties of Haryana do not want to lose their vote bank supposedly controlled by the khap elders, while in reality they do not enjoy much hold over society in making political choices. The khaps are realigning themselves in the wake of an alarmed central government which is concerned at the rising incidents of honour crimes. The centre decided to frame a fresh law to curb the menace and appointed a Group of Ministers(GOM) headed by the former Finance Minister, Pranab Mukherjee. The GOM wrote to Chief Ministers of all the states seeking their views on the possible legal remedies to counter honour crimes.
Several documents accessed through the RTI channel throw light on the issue. The Central Ministry of Home Affairs, vide its D.O. No. 12/24/209-Judl. Cell dated July 8, 2010, asked the Haryana government to send its views on the issue. The Law Secretary-cum-Legal Remembrancer to the Government of Haryana, replied that, "Honour killing is the most barbaric act…..The introduction of the Indian Penal Code(Amendment Bill, 2010) is indeed a step forward." This expert opinion was subsequently overruled.
Despite the issue being highlighted by the media, Haryana Government decried its role. The Home Department of Haryana vide its letter No. 14/26/2010-31(C) dated September 8, 2020, cautioned the Central Government "to be wary of motivational forces, more so in the present day climate rendered vulnerable by megalomaniac media." The Chief Minister of Haryana vide D.O. No. CMH-2010 PSCpi/3453 dated September 30, 2010, addressed to the then Union Minister Pranab Mukherjee also cautioned "…to critically examine the different manifestations of 'honour killing' in a wider context without being overwhelmed by exaggerated media reports." The letter also states that there is no need to have fresh legislation to deal with the problem.
On the contrary, leader of the opposition in Hayana has been very forthright in expressing his support to the khap panchayat's demand to ban same gotra and same village marriage. There are about three hundred such cases in his native village alone. The nexus between khaps and the two major political parties of Haryana was clearly visible at Bibipur too. The show could be seen as a smart exercise in image-making. But, this can also prove to be counter- productive if khaps fail to deliver on the issue. The media hype built on the show did not match the ground reality.
Losing social relevance
The sex ratio in Bibipur itself does not inspire much confidence. The record of institutional deliveries in government health centres maintained in the office of CMO ( chief medical officer), Jind, reveals that child ratio in the year 2009 was favourable with 48 female births against 43 male births in Bibipur. Thereafter started a phase of decline. The corresponding figures for the next two years are 36 female for 62 male and 38 female for 44 male respectively. The figures for the year 2012 up till the end of May are shockingly 13 female for 26 male- show a steep decline.
Passing a resolution against foeticide is not enough. There was no discussion on the roots of the problem: dowry, insecurity of girls, property rights etc. Such resolutions against social evils have been passed earlier also in khap meetings with no tangible results.
The earliest example of the sarv khap panchayat of the Jats relate to the one held at Barona, now in Sonepat district, on March 7, 1991. It was attended by 21 khaps. The conclave passed 28 resolutions, most of which dealt with issues of social reform like curbing dowry and wasteful expenditure on marriages, ban on obscene songs in social functions etc. To commemorate the century old khap panchayat held in Barona, a similar gathering took place on March 7, 2011, which also passed 28 resolutions. Most of them refer to issues of social reform and some financial concerns like getting remunerative price for the agricultural produce etc. This conclave took special notice of the menace of foeticide and resolved to curb it. Several other khaps too have passed similar resolutions. Despite these conclaves various social evils have multiplied many fold. There is not a single instance of khaps taking action against the violators of its decisions. Though khaps would like us to believe of their great relevance in the social history of the region, in our times khaps generally have shown the power to meddle into marital relations alone.
Reluctant to change
There are reasons for the poor record of khaps when the issues of social reform are involved. These are related to serious institutional constraints. There is no elective principle in constituting a khap nor is there a formal membership for enrolment. Its head or leader is appointed on the basis of hereditary in some cases while in others, they are self appointed. This undemocratic structure of the khap limits its appeal and capability. The khap elders are reluctant to modernise and democratise its outmoded structure, fearing their ouster in most cases in such an eventuality. It is their vested interest to perpetuate its outmoded structure.
Moreover, it is a question of changing the patriarchal mindset in the khap belt as was made apparent recently in a khap edict around Baghpat in western U.P. Facing the problem of eve teasing, it decided to confine women till the age of forty in the four walls of their houses, denying them the use of mobile phones instead of taking on the eve teasers, approaching their families to check them, failing which commanding a social boycott for them- hukka-pani bandh, an age old tradition of khaps. Ajit Singh's RLD (Rashtriya Lok Dal)supported this edict. The All India Jat Arakshan Samiti endorsed the order and asked all panchayats in U.P. and other states to follow it. Its president Yash Pal Malik lambasted Union Home Minister P. Chidambaram for criticising it. In the perverse concept of justice of these Jat leaders, victims are to be penalised while the wrong doers are to be let off. The Jats known for being energetic, resourceful, hardworking and rebellious against all kinds of wrong doings will face a bleak future unless they get such dinosaurs of the community off their backs.
D.K. Chaudhry has authored 'Haryana at Crossroads: Problems and Prospects' published by National Book Trust