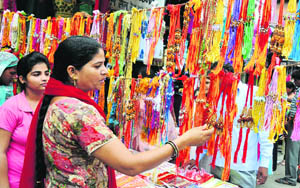 A woman takes her pick at a Rakhi shop in Karnal. Tribune photo: Ravi Kumar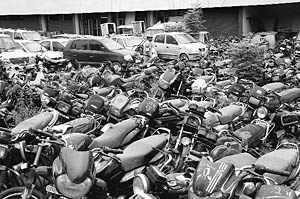 Impounded vehicles: Impounded vehicles lie in a heap at Civil Lines police station in Karnal. Tribune photo: Ravi Kumar

Contempt Proceedings
TCP chief gets stay from SC
Chandigarh, August 1
TC Gupta, Director-General, Town and Country Planning Department (TCP), Haryana, held guilty for contempt of court last Monday for defying high court orders in a land case, has got a stay against the orders from the Supreme Court.
2 delivery-related deaths in Sonepat
Sonepat, August 1
Two delivery-related deaths — one of a newly born boy this morning and the other of a 28-year-old married woman after operation at night -- have raised eyebrows on the treatment being provided in the local Civil Hospital.
Kids 'exploited' at Karnal Apna Ghar
Shelter home not registered
Karnal, August 1
The Karnal Apna Ghar, which suffered a severe blow to its reputation following allegations of molestation and maltreatment by three minor girls yesterday, was not registered with the government.
Houses in illegal colonies not to get water, power
Fatehabad, August 1
With a view to curbing growth of illegal colonies in the district, the authorities have decided to deny water and electricity connections to houses built in such colonies. ML Kaushik, Deputy Commissioner, said the authorities had already issued orders against registration of any sale deed without prior clearance from the office of the Town and Country Planning.
Delay in Conceding Demands
Varsity, college teachers wear black badges
Hisar, August 1
University and college teachers throughout Haryana wore black badges today in protest against the non-acceptance of their demands by the government. The call for the protest had been given by the Haryana Federation of University and College Teachers Organisations (HFUCTO).
Sangwan's Shekhpura village to boycott viewing of Olympics
Shekhpura (Karnal), August 1
The native village of boxer Sumit Sangwan,Shekhpura, has decided to boycott viewing of Olympics to protest against the alleged bias in referring. Gloom descended on the village after Indian boxer Sumit Sangwan went down 14-15 under the controversial circumstances to Brazilian Yamaguchi Falcao Florentino at the London Olympics on Monday evening . The ray of hope died as the jury rejected the review appeal filed by Chef de Mission Brig PK Muralidharan Raja.
Diarrhoea Cases
Hooda suspends SDO, JE
Yamunanagar, August 1
Coming down on officials of the Public Health Engineering Department (PHED) for their alleged negligence in providing clean drinking water in the local Madhuban Colony, where 110 cases of diarrhoea were reported recently, Chief Minister Bhupinder Singh Hooda ordered the suspension of the sub-divisional officier and junior engineer of the department.
Accident victim dies, kin block highway
Fatehabad, August 1
Protesting against the 'biased' attitude of the police, kin of an accident victim blocked the National Highway-10 here today. Chiranji Lal, a clerk with a local lawyer in the district court, died when a car hit his motorbike near the police lines yesterday.
Nestle factory raided
Chandigarh, August 1
Dr Rakesh Gupta, Commissioner, Food and Drug Administration (FDA), said the FDA raided M/s Tilak Raj Kapil Kumar, Sabji Mandi, Rewari, and seized 600 injections of oxytocin manufactured by M/s Ambika Pharmaceuticals, Gaya, Bihar. These injections were banned and were without any bill. They should have been in a blister pack, but were in single packing, he added.
Panel to keep watch on rainfall formed
Chandigarh, August 1
A committee of secretaries was today constituted by Haryana Chief Secretary PK Chaudhry to keep a watch on the situation arising out of deficient rainfall in the state.
Maruti Manesar staff not to get pay
Gurgaon, August 1
The fact that 2,000 employees of Maruti Suzuki India, Manesar, will not get their salary for 18 days of July has dampened their rakhi spirit.
Road mishap toll touches 31
Hisar, August 1
The death toll in the tragic road accident at Sainiwas village, near here, rose to 31 with two succumbing to their injuries late last night.
Contractual APROs finally get salaries
Ambala, August 1
After The Tribune highlighted the plight of 21 assistant public relation officiers working on a contract basis, the state government has released their salaries.