Fiza : A maze of love, passion, betrayal and revenge
Kanchan Vasdev
Tribune News Service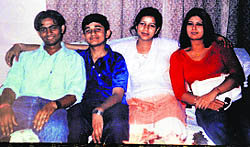 Fiza with her relatives
Chandigarh, August 17
Fiza, in Arabic means breeze. Anuradha Bali, who rechristened herself to fiza on embracing Islam to marry former Haryana Deputy Chief Minister, Chander Mohan, stirred a major storm then, and now created even a bigger story in her death-dubbed mysterious by the police as well as her friends.
Anuradha Bali wanted to strike it big in life. She settled for shortcuts to conquer whatever she desired. It didn't matter if she courted controversies. She ended up being caught in a maze of love, passion, betrayal and revenge from where nothing less than death could rescue her.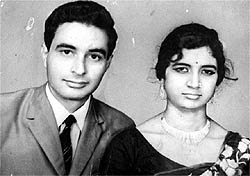 Her father Dharam Pal and mother Savitri Devi
Her meteoric rise from a lawyer to an Assistant District Attorney to Additional Advocate General of Haryana raised many an eyebrows. Her liaisons with certain bureaucrats and politicians sent tongues wagging. But she continued to strike at a lightning speed and did not miss an opportunity to make her way to fame, however brief it may have been.
Her mysterious tale was full of love and romance even if she indulged in it for the wrong reasons with the wrong persons. She vacillated between bouts of love, hatred and desire to avenge the "wrong" done to her. She was hypertensive and was suffering from anxiety before she died a lonely death. There was nobody by her side and she lay dead for six days uncared for and unnoticed. Less than a fortnight after she met a sad end at a young age of 41, one wonders if she was more sinned against than sinning.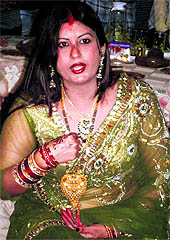 May 3, 2011: A publicity hungry Fiza, alias Anuradha Bali, never failed to surprise people and remained in news. She married former Haryana Deputy Chief Minister Chander Mohan amidst high drama only to part later on. She then entered into a series of spats with neighbours and later entered into another wedlock, but this time her groom was none other than the seventh largest country in the world - India.
Craved for attention
Fiza definitely got what she wanted- love, power and fame. But it was short lived. She lost everything in a sudden blow of fate and was forced to live a life seeking love, and attention. Even in the end peace eluded her. She clamoured for attention, picked up fights with her neighbours, even turned violent at times. She did not like anybody to infringe on her privacy. "She would not answer the door bell if we went to her unannounced. Even her siblings were told not to spring any surprises in the form of their visits," says Rohit Mahajan, Anuradha's friend, who studied law with her at Panjab. University.
Had a rocking affair but failed marriage
Anu, as she was fondly addressed by her friends and relatives, fell in love with a boy, popularly known as Babbar when she was in class XI. Her affair went on for more than a decade before she finally got married to this man, a small time transporter in Mohali. He did not study beyond class XII while she went on to do her LLB. "Her ex-husband would spend all his time waiting for her outside the law department throughout the day as she attended classes. She finally got married in 1995 only to walk out of his life eight months after the wedding," recall her friend adding she found out that her husband was hooked to drugs.
Married to controversies
She started practicing law in 1995 and a year later she was appointed as the Assistant District Attorney. Tongues started wagging as her closeness to a Haryana cadre bureaucrat began doing the rounds. She was however removed from the post when she started having differences with certain Judges in the same year. Then she moved to the High Court. Here she became the Additional Advocate General of Haryana amidst controversies.




Distraught Fiza:

A shattered Fiza in tears after she was deserted by Chander Mohan
The love story
It began with Chander Mohan. And that led to her nemesis. The affair goes back to 2004 when she met him at a juice shop. Her friends said he started following her. She was reluctant initially but she fell for him. "She would discuss him with me. I was also charmed by Chander's simplicity. He promised he would divorce his wife, Seema Bishnoi and live with Fiza forever. They decided to get married by converting and finally both embraced Islam and got married in December 2008," recalls Rohit.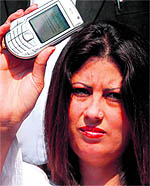 How he did it:

Fiza shows Chand's divorce message

Parents advised her against the alliance
Her parents had advised her against marrying Chander Mohan stating he was a politician and already married with children. "But Fiza would not listen. She was in love and convinced that Chander will be hers forever," recalls Rohit.
The revenge
She was heartbroken. The betrayal made her suffer bouts of hatred. She started thinking of taking revenge from Chander Mohan. She complained against him to the police but he was given a clean chit. Later in 2009, she campaigned against former Haryana Chief Minister Bhajan Lal and Chander Mohan's brother Kuldip Bishnoi. She had decided to contest next Assembly elections against Chander Mohan. "She would even think of claiming maintenance from Chander Mohan", a friend said.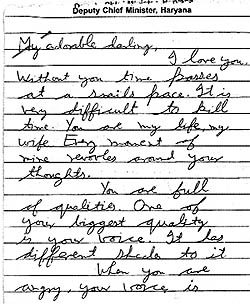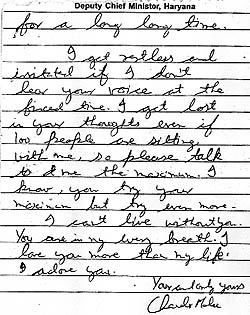 Letters recovered from Fiza's house
A connoisseur of good things in life
Anu, as she was popularly known as was a connoisseur of good things in life. She was known for her expensive dresses and perfumes. "One day, I complimented her for a perfume she was wearing. She told me she bought it for Rs 17,000. Then she started telling me how she loved dressing up," said a police official, praying anonymity. The police officials, who searched her house after her death said she had a fascinating collection of saris, clothes, gold and diamond jewelry. She left every body open eyed when Rs 1crore cash was found stacked in a cupboard in her house along with jewellery worth Rs 45 lakh. The money was linked with Chander Mohan.
Not fond of house keeping, never cooked at home
Her house was in a mess. Only her bedroom was tidy. Rest every other room was in a disorder, said a police official, who frequented her house following her complaints. Her clothes were always scattered around and a thick layer of dust was accumulated on her furniture and other goods kept in her house. It spoke volumes about her mental state. "She could have hired a few servants as she had a lot of money and easily taken care of the household chores." "She would never cook at home and was always eating out or ordering food from hotels. She was fond of pizzas," said a close friend. "As far as I knew her she hated alcohol. But I was shocked to find that she had started drinking," said Rohit.
Unanswered questions
Nobody contacted her for five days when she lay dead.
Neither her neighbours nor her uncle, who came to her house on August 5, complained of foul smell.
Nobody tried to contact her on Rakhi, which fell on August 2.
Neighbours say she was always frequented by visitors
police is taking too long to probe the case
A Scorpio, she lent to a friend, was found abandoned in Ambala.
Decorative lights on her balcony remained switched on for five days.
'Feared for her life'
Ranjan Lakhanpal, a leading lawyer: Reported Fiza called him on July 28 and expressed a threat from a Haryana political leader and a close relative of Chander Mohan. But the police claimed that Fiza called him up on July 19 and spoke to him for just 63 seconds.
Salim Alwi, a Bulandshahar-based social activist: Reported that Fiza had often expressed threat to her life from a Haryana-based politician.
Police Take
These people are trying to draw out mileage from the incident.
Officialspeak
We cannot say anything till the time we get the viscera and fingerprint reports. We are conducting a probe and all her friends and relatives have been questioned in the case but so far we have not been able to reach any conclusion.
DS Mann, DSP, Mohali city II
Those in touch with Fiza
Satpal, Fiza's uncle: He reported Fiza's death.
Ajit Hooda, her lawyer friend: Was last seen with her.
Rohit Mahajan, her university friend: Has been constantly in touch with her.
Dilip Mahajan, her lawyer friend: Had lent his Scorpio car to her and had reported the matter to the police.
Balwinder Singh, owner of Dera Bassi-based Five Star Security Agency: who abandoned the Scorpio car borrowed by Fiza from Dilip Mahajan.
Question mark on her mental health
Fiza was a terror in her neighbourhood. She would beat up children playing in the park opposite her house. She would often shout passing off the neighbours as "down market." "The children were so scared of her that they would leave their slippers and run towards their home just at her sight. She would not allow neighbours to wash clothes as she could not stand noise," said a neighbour.
" her quarrels with children were a routine affair. On one occasion, the children had staged a protest", said Amrik Singh, a resident of the area. Having suffered emotional trauma after separation from Chander Mohan, she attempted suicide, but was saved. Her dispute with one of her neighbour, R K Phuliya, saw her regularly appearing in the district courts here.
'Needed a psychiatrist'
Amrita Brar, former Assistant Inspector General of Police, Punjab, who inquired into a case of assault on Fiza's neighbour Sanjay Aggarwal recommended in her report that it seemed Fiza was not keeping good mental health and needed medical attention. Her report did not go down well with Fiza. "She was very upset. After that we challenged the report in the Punjab and Haryana High Court," says Rohit Mahajan.
Celebrated birthday on July 25
She celebrated her birthday on July 25 in Blue Ice at Ssector 17 with a handful of her friends. "Her uncle Satpal was invited. It was a low-key affair. Only four persons were invited," said a friend.
Was hypertensive
She was suffering from hypertension for last two years. "Her blood pressure started going haywire after Chander Mohan deserted her. She was on 500 mg Amlong, a drug used to control blood pressure. Of late she was missing out on the medication. I remember her telling me 10 days before her death that she hadn't taken her medicine for some days," said Rohit Mahajan.
Death mystery

A CCTV clip when she was spotted last at Rajshree Hotel in Chandigarh

Fiza was last seen alive on August 1 when she went to Hotel Rajshree in Industrial Area with her lawyer friend, Ajit Hooda, who dropped her off at her Sector 48 residence at 7 pm. Incidentally, Ajit was the last person to have spoken to her at 10pm the same day over the phone. She spoke to him about changing her lawyer in the cases she had filed against her neighbours. After that nobody has reported speaking to Fiza.
On her last evening out, she consumed two mugs of coffee and butter toast. She then got cottage cheese pakoras packed before reaching home.
Her body was recovered on August 6 after her uncle Satpal reported to the police about stench of flesh emanating from her house.
(Inputs: Rajmeet Singh, Akash Ghai)
Baby Anu (Anuradha Bali)
July 25,1971: Anuradha Bali was born. She was the eldest of the four daughters of Dharam Pal, a Military Engineering Services Engineer and Savitri Devi, a housewife.
June 1990: Graduateed from Government College for Girls at Sector 42.
1994: got her Law degree from PU
1995: Began law practice
1995: Got married to a small-time transporter
2005: Appointed Assistant Advocate General of Haryana
November, 2008: Eloped with Chander Mohan
December 2, 2008: Converted to Islam, married Chander Mohan
January 29, 2009: Chander Mohan deserted her
March 14, 2009: Fiza and Chand were divorced
June 8, 2012: Met leaders of the Bahujan Samaj Party and expressed her desire to contest elections
July 25, 2012: Celebrated her birthday
July 30: Took part in Iftaar party
August 2: Called up her uncle Satpal to invite him on Raksha Bandhan
August 6, 2012: Her body was found from her residence in Sector 48
Shy teenager
Anuradha was a stunningly beautiful but a shy young woman in the Law Department of Panjab University, Chandigarh, where she completed her studies in 1994. "She was a head turner and hated the attention she would get. Ogling boys would upset her no end," says Rohit Mahajan, adding, "She would often complain she hated the stares," he adds. However, just a few years down the line she changed completely.