Snakes in the house? Panel to rescue reptiles in distress
Bathinda, August 17
Repeated distress calls to snake catchers in the city has led to the formation of a snake rescue committee comprising youths associated with the NGO Sahara Jan Sewa.
From prosperity in Pakistan to penury in India
Amritsar, August 17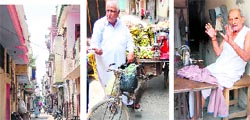 Eightyfive-year-old Krishan Das and his family had migrated from Pakistan in 1957, leaving behind their flourishing trade for the "safety of their lives".

(1)A view of Pishauri Nagar in Amritsar where most of the families who have migrated from Pakistan reside. (2)Krishan Das, now a fruit seller, owned several shops in Pakistan (3)Channa Ram, a prosperous farmer in Pakistan, works as a tailor Photo: Sameer Sehga
Indian citizenship is all they want
Jalandhar, August 17

Fed up with alleged harassment in Pakistan, a number of Hindu families have of late been leaving the neighbouring nation for good, migrating across the border in pursuit of a better life. A similar step was taken by 67 families living in Jalandhar over the past 15 years. They just crossed over, thinking they will live a protected life by being part of a majority community (Hindus are in a minority in Pakistan).
A girl shows her Pakistani passport at her house in Basti Bawa Khel in Jalandhar. Photo: Sarabjit Singh
Teachers to hold protest tomorrow
Patiala, August 17
Perturbed over the non-regularisation of their services, the Sanjha Front Teacher Union will hold a protest rally in Ludhiana on August 19.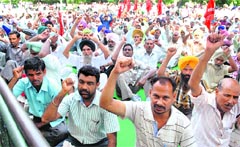 PSPCL workers hold protest
Patiala, August 17
Angry over the non-acceptance of their pending demands, a large number of Punjab State Power Corporation (PSPCL) employees, under the banner of Technical Services Union (TSU), staged a massive protest here today.

TSU members protest outside the PSPCL headquarters in Patiala on Friday. Tribune photo: Rajesh Sachar
Infant's death
Medical Supdt shifted
Jalandhar, August 17
Health and Family Welfare Minister Madan Mohan Mittal has ordered the transfer of the Medical Superintendent, Civil Hospital, Jalandhar, for the death of an infant on July 25.
Squadron Leader DS Tomar cremated with honours
Jalandhar, August 17

Eleven months after his remains were recovered from the dense forests of Himachal Pradesh, Squadron Leader Dharmendra Singh Tomar was cremated at the Adampur Air Force station this evening.

Neha Tomar, wife of late Squadron Leader Dharmendra Tomar who was killed in a Mig-29 fighter aircraft crash, at the funeral ceremony of the pilot at Adampur Air Force Station on Friday. A Tribune photograph
Entire staff of Joga police station shifted
Bathinda, August 17
With two major incidents causing an embarrassment to the state government, the entire staff of the Joga police station was transferred today.
Killing of Kapurthala man in US
He had migrated to US only 4 years back
Jalandhar, August 17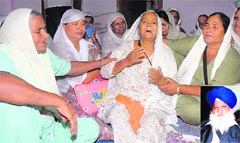 Having had a narrow escape at Oak Creek gurdwara in the US, where six Sikhs were killed in cold blood on August 5, Dalbir Singh (57) was not so lucky on the night of August 15.




Grieving mother and sisters of Dalbir Singh (inset) at Talwandi village in Kapurthala. Tribune photo: Malkiat Singh


High Court asks police to vacate community halls
Chandigarh, August 17
The Punjab Police may soon be asked to vacate the community centres in its possession.
List illegal marriage palaces: HC
Chandigarh, August 17
The Punjab and Haryana High Court today directed Punjab Deputy Commissioners to furnish a list of all the unauthorised marriage palaces in the state. The high court has given the Commissioners a time of four weeks to finish the task.
No mining without clearance: HC
Chandigarh, August 17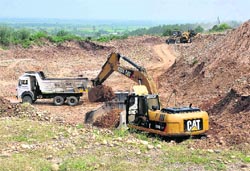 Digging deep into the issue of environment protection, the Punjab and Haryana High Court today imposed an immediate ban on mining without environmental clearance in Punjab's operational quarries of up to five hectares. A Division Bench of Acting Chief Justice Jasbir Singh and Justice Rakesh Kumar Jain made it clear that the Deputy Commissioners would be held squarely responsible for any illegal mining activity in their area. In its detailed orders, the Bench directed Punjab Advocate-General Ashok Aggarwal to bring the court orders to the Chief Secretary's notice so that the information is sent to all the DCs.


Drug peddler from Nawanshahr nabbed in Delhi
New Delhi, August 17
Ranjit Singh Kandola alias Baljit Singh alias Raja, a resident of Nawanshahr, and his accomplice Sukhjinder Singh alias Sonu of Hoshiarpur, have been arrested by the Delhi Police (Special Cell) for allegedly trafficking drugs.
Clerk in DC's office part of gang selling fake permits
Moga, August 17
The Moga police has arrested two members of an inter-state gang selling fake red beacon permits, fake number plates with names of departments and fake letterheads of various ministries. The kingpin of the gang, Harish Kumar, is a clerk in the Deputy Commissioner's office.
Mandi Board chairman accuses staff of fraud
Muktsar, August 17
In a comment that could stir a controversy, Punjab Mandi Board chairman Ajmer Singh Lakhowal today claimed that his own department employees were in the habit of "misappropriating" funds meant for erecting tents at purchase centres during grain procuring seasons.
Newlywed couple jumps to death
Barnala, August 17
A newly wed couple today allegedly committed suicide by jumping before a Delhi-Bathinda train near here.