Hooch tragedy: Prime accused facing 23 cases
Batala, August 9
With one more person dead, the toll in the hooch tragedy rose to 17 today. That the law is soft towards those involved in the illegal trade can be gauged from the fact that the prime accused, Kamla, has 23 cases registered against her. She has been convicted in 11 cases.
Villagers blame cops, excise officials for hooch deaths
Jalandhar, August 9
The hooch deaths in Batala have once again exposed the illegal trade being run by the mafia in Mand and Bet areas allegedly in connivance with local politicians.The illegal trade has not only taken several lives but is also causing a huge loss to the state exchequer.
US shootout: CM announces relief for victim's kin
Chandigarh, August 9
Punjab Chief Minister Parkash Singh Badal today visited the bereaved families of those killed in the shooting incident at Old Creek Gurdwara in Wisconsin, US. He also visited the injured in hospital, including Lt Brien Merphy who saved several lives.
SAD has left farmers in a lurch: Cong
Chandigarh, August 9
Congress legislators today condemned the Shiromani Akali Dal for deserting drought-hit farmers. In a joint statement issued here today, party legislators Laal Singh, Parminder Singh, Brahm Mohindra, Gurkarit Singh and Tarlochan Singh Sundh said instead of the ruling party leaders flying abroad at this crucial juncture, the MLAs said the Akali leadership should have been focussing on the problems of farmers.

Amid opposition, Excise dept's online facility to go live today
Patiala, August 9
Starting tomorrow lakhs of traders in Punjab dealing in intra-state trade above a fixed amount (fixed by the excise and taxation department) will have to make available all information pertaining to the transported goods online to the department.
Industry on fast to protest e-filing of trade details
Ludhiana, August 9
The local industry today went on hunger strike to protest against the Excise and Taxation Department's notification regarding online filing of intra-state trade details. Claiming that they had the backing of both the BJP and Congress, the traders said industrialists from across the state had come to Ludhiana to participate in the hunger strike.
Not paid by PRTC, bus owners in trouble
Patiala, August 9
Pepsu Road Transport Corporation (PRTC) Kilometre scheme bus owners are in a fix as PRTC management have not paid the bus owners in the last six months. Now banks have initiated action against bus owners who have not been able to pay their installments.
Farmers protest over lack of power supply
Patiala, August 9
Expressing resentment over the shortage of power supply, hundreds of farmers today held a protest outside the office of Punjab State Power Corporation Limited demanding a power supply for eight hours to the agricultural sector.
Without local funds, govt schools face financial crisis
Patiala, August 9
Punjab government's decision to not charge government school students a nominal amount of Rs 90 per month has led to a severe shortfall in local funds in all government schools.
Traders protest VAT on sugar, fresh taxes
Fatehgarh Sahib, August 9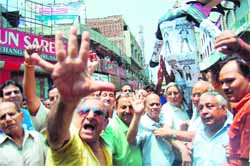 Members of the District Beopar Mandal today held a protest rally near the District Administrative Complex here demanding a rollback of the VAT on sugar, as announced by the state government. The traders also submitted a memorandum to the Prime Minister and the Chief Minister through the Fatehgarh Sahib Deputy Commissioner.

Traders protest in Amritsar against the government's move to impose fresh taxes. Tribune photo

Louisiana Guv Jindal losing fans back home
Khanpur (Sangrur), August 9
Indian-origin Louisiana Governor Bobby Jindal is fast losing fan following back home. Residents of Khanpur in Sangrur are disappointed that unlike several others who have shifted abroad, the Jindals have not contributed to the development of his native village.
Foundation constituted for proposed Jang-e-Azadi memorial
Chandigarh: To evolve a consensus on the concept and design of the Jang-e-Azaadi Memorial at Kartarpur, a foundation has been set up under Chief Minister Parkash Singh Badal. An official spokesperson said the memorial would come up over an area of 25 acres.
Government to seek Rs 5,000 cr drought relief
Chandigarh, August 9
Punjab will seek a package of Rs 5,000 crore from the Centre for the additional expenditure incurred by farmers on purchasing diesel and Punjab State Power Corporation limited on purchasing power to combat the drought-like conditions in the state.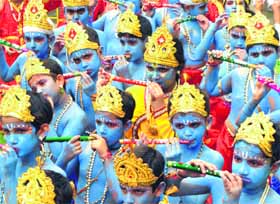 cloning divinity

: Children dressed as Lord Krishna take part in a function organised at a school in Patiala on Thursday. Photo: Rajesh Sachar
PDA seals 105 buildings
Patiala, August 9
Following the directions of the Punjab and Haryana High Court, the Patiala Development Authority (PDA) has sealed 105 illegal establishments in Urban Estate Colony, Theri village, Royal Enclave and Sahib Enclave today.
79 new vends in Sangrur
Sangrur, August 9
Giving two hoots to a resolution passed by 55 panchayats in Sangrur district against the opening of new liquor vends, the state government has increased their count by 79 as compared to the last financial year. While their count stood at 575 in the entire district during the 2011-12 financial year, the number has now risen to 654 .
HC orders fresh probe into issuance of red cards
Chandigarh, August 9
The Punjab and Haryana High Court today ordered fresh inquiry into the issuance of red cards to 30 beneficiaries. Punjab had earlier denied irregularity in the issuance of red cards to 578 riot victims. But, the High Court had observed that a vigilance inquiry, said to have been conducted in the matter, had found that the documents furnished by 30 beneficiaries were forged.
High Court orders Rs 3.5 lakh relief for widow in custodial death case
Chandigarh, August 9
Eight years after Charanjit Singh of Jagraon, 39, died behind bars, the Punjab and Haryana High Court today ordered that Rs 3.5 lakh be paid to the victim's widow. Seeking compensation for his widow Balwinder Kaur, human rights activist Navkiran Singh told a Division Bench of the High Court that Charanjit Singh was lodged in the Ludhiana jail when he died of poisoning.
Court wants brakes on buses ferrying commuters illegally
Chandigarh, August 9
Just about three months after the Punjab and Haryana High Court took up the issue of plying of sleeper buses in Punjab, a Division Bench today directed the Secretary (Transport) to ensure that the buses with national permits do not pick and drop passengers on way.
Nurse lures couple into selling their newborn
Abohar, August 9
Sunita and her husband Ashok Panjmana of Kattianwali village were allegedly lured by a nurse into entering a "deed" for selling their male child. Madhu Nagpal, who assisted Sunita in the delivery of her second child at a private hospital here, was aware that the couple needed money for treating their physically challenged son Raunak. She proposed the "sale" of their male child and approached Iqbal, her neighbour, who struck a deal with one Vinod Aggarwal and his wife Shakuntala.