Baba's yoga draws crowd to Maidan
Ananya Panda
Tribune News Service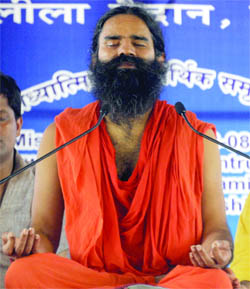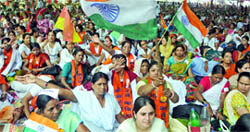 (Above) Baba Ramdev performs yoga on the first day of his three-day fast at the Ramlila Grounds in New Delhi on Thursday as his supporters follow him. Tribune photos: Manas Ranjan Bhui
New Delhi, August 9
Baba Ramdev's second round of protest that he declared open with a three-day fast here at Ramlila Grounds today looks to have emerged a hit, at least, this is what the unprecedented sight suggested right on the first day when followers could be seen thronging the venue till the evening.
Keeping aside all fanfare that characterises every gathering of the self-styled healer, it was the faith people repose in his lessons of yoga that became noticeable as his supporters could be seen swaying, with the tricolours in their hands as he declared a fresh battle against black money, demanding a stringent Lokapal Bill and transparency in appointment to some of the top posts in the country.
There were supporters both from the agrarian as well as wealthy class from several states, with many turning up to join their "Swami ji" as they call him with reverence. And many were spotted performing yoga moves and relaxing through meditating postures.
"Baba doesn't have a hidden agenda. All his work is for the public and even this is for us. He has taught yoga with which he has benefited all by several ways," said Naresh Sharma, an owner of a music and CD company, from Noida.
A staunch follower of the baba's yogic lifestyle, Rukmini Bali, a professor of English at Lalal Lajpat Rai College, Mumbai, had taken four days' leave from work to join the protest here. "I am going to retire and still look so young. This is due to yoga and meditation that I do daily. Both my sons are doctor and even my husband has adapted to yoga. This has brought a discipline in my life and I am sure even this protest will bring a change in the corrupt system," she said.
Chander Singh, a farmer from Brij village, UP, said, "The government is giving mobile phones at low prices even as hundreds in the country go to bed on an empty stomach. We want our children to be educated and give them good food. But the poor still become victims of corruption."
Sharing the same predicament, Mahesh Saraf, an accountant from Patna said, "There is big gap between the have and the have-not and the solution lies in bringing back the country's black money stashed abroad. Under the guidance of baba we have gathered here for the second struggle of Independence to see that parity in all fields."
Jassu Bai Sagar, a businessman from Baroda, Gujarat, feels that people in villages are better connected to Ramdev and so even the second Independence (as they call the yoga guru-led agitation) will come through villages. "Baba ji's followers are concentrated in villages where yoga and meditation is practiced religiously. People in the city lead a stressful and fast life more influenced by western lifestyle," added Jassu, who claimed to be accompanied by 2,500 supporters from Rohtas districtin Gujarat alone.
Thus spake supporters
"I am about to retire from work and still look young. This is due to yoga. Yoga has brought discipline in my life and I am sure this protest will bring a change in the corrupt system"
"The government is giving mobile phones at low prices even as hundreds in the country go to bed on an empty stomach. We want our children to be educated and get good food. But, the poor still beocme victims of corruption."
"Baba doesn't have a hidden agenda. All his work is for the public and even this is for us. He has taught yoga with which he has benefited one and all"