Narcotic Bureau alerts government
Ludhiana, August 12
After the Director-General Punjab Police Sumedh Singh Saini and Additional DGP (Prisons) RP Meena recently expressed concern at the increasing drug menace in the state, it is now the Narcotic Control Bureau, Ministry of Home Affairs, that has written to the police department on the illegal cultivation of cannabis in certain districts of the state.
Colours of Patriotism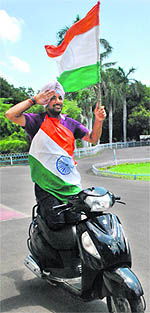 A participant rehearses for I-Day celebrations in Patiala. Tribune photo: Rajesh Sachar

Info on panchayat accounts now a click away
Chandigarh, August 12
A new software, e-panchayat, has succeeded in bringing more transparency in financial transactions of various panchayats as the same can be viewed on a daily basis by government authorities concerned at the command of a click.
NREGA: Fiscally empowered women walk chin up
Gurdaspur, August 12
The Mahatma Gandhi National Rural Employment Guarantee Act (MGNREGA) has empowered hundreds of women of Sohal village, 8 km from here.They can now supplement their menfolk's income and eke out a better living.
Sukhbir vows to revive hockey
Chandigarh, August 12
Punjab Deputy Chief Minister Sukhbir Singh Badal today said he would initiate a programme to review hockey and had approved a Rs 418 crore plan to strengthen state's sports infrastructure. The Deputy CM, who visited hockey stadiums in London during his visit there, said he was hurt by the lacklustre performance of the Indian hockey team at the Olympics.
from drought to deluge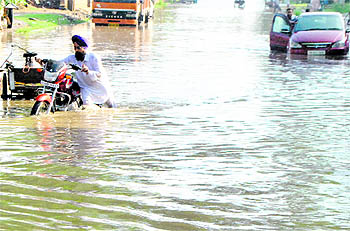 Rain lashed parts of Patiala district on Sunday, providing relief to the residents from scorching heat and drought-like situation

Till last week, rainfall was less by 82% from normal in Amritsar district, 90% in Mansa, 95% in Moga, 89% in Tarn Taran, 80% in Muktsar, 83% in Sangrur, 88% in Fatehgarh Sahib and 77% in Nawanshahr

Till date, rain is 70% less than normal in Punjab
Photo: Rajesh Sachar


Khaira: Parole to Bibi against rules
Jalandhar, August 12
Alleging that former SGPC president Bibi Jagir Kaur's parole is illegal, Illegitimate and politically motivated, former Congress MLA Sukhpal Khaira has demanded its cancellation. In a press note issued here today, Khaira alleged that "the parole given to convict Bibi Jagir Kaur is in gross violation of the Punjab Good Conduct Prisoners (Temporary Release) Act, 1962."
SS Khaira

BJP Yuva Morcha holds anti-graft rally
Lehragaga (Sangrur), August 12
Punjab Health Minister Madan Mohan Mittal today called upon BJP's Yuva Morcha workers to disseminate the slogan 'Congress Hatao Desh Bachao' in a big way so as to oust the "corrupt" Congress from the Centre in the next Lok Sabha elections.




Govt to focus on raising milk production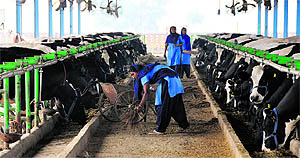 Chandigarh, August 12
After years, Punjab is set to once again shift focus on increasing milk productivity. It has decided to install a new high-tech plant at Verka in Amritsar and upgrade the milk plant at Mohali, besides taking other steps to reduce the cost of milk handling. All these measures are aimed at making the Verka brand more competitive.
Adarsh School scheme revamped
Bathinda, August 12
The government has decided to revamp the Adarsh School scheme. All Adarsh Schools will now be allotted five acres of land instead of 10 acres as decided earlier, says Education Minister SS Maluka.
Bridge over Sutlej brings relief for border villages
Ferozepur, August 12
In a major relief to hundreds of residents belonging to over two dozen villages in Gatti cluster along the India-Pakistan border, a permanent steel bridge is being constructed over the Sutlej near Hazarasingh Wala village.

548 challaned for smoking at public
Sangrur, August 12
In pursuit of its aim to obtain smoking-free status for Sangrur, the district administration challaned 548 violators for smoking in public places between January and July. A fine of Rs 43,970 was slapped on them.
TET teachers gear up for August 19 protest
Sangrur, August 12
Members of the TET Passed Teachers Union's district unit here today staged a protest against the state government's "failure" in fulfilling their demands.
'Telecast SGPC meetings'
Jalandhar, August 11
The Akali Dal (1920) president, Ravi Inder Singh, has demanded that the proceedings of SGPC meetings should be recorded and telecast live for the sake of transparency.
PTU churning out 'unemployable' postgrads
Bathinda, August 12
Every year, the only technical university in the state- Punjab Technical University (PTU) — is churning out hundreds of "unemployable" post-graduates in MBA HRM (human resource management) who cannot be employed as welfare officers in factories as per the Factories Act 1948.
Cricket stadium yet to get off the mark
Bathinda, August 12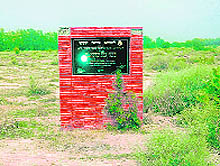 For the last five years, the dream project of the chief minister, constructing an international cricket stadium and cricket academy is hanging fire. Caught in legal complications and due to lack of coordination between the different executing agencies, the project has not seen even a brick being added ever since its foundation was laid on December 8, 2007, on the occasion of the CM's birthday.

The 25 acres of land at Jodhpur Romana village where an international cricket stadium was to come up has not seen a brick being added to the envisaged project. Photo by writer

HC rejects petition on retirement order
Chandigarh, August 12
A former district and sessions judge's plea that compulsory retirement order could not have been passed in "public interest" on the basis of a single adverse report has failed to find favour with the Punjab and Haryana High Court.
Husband strangulates wife to death
Moga, August 12
A husband allegedly strangulated his wife to death at Lopo village in the Nihalsinghwala sub-division of the Moga district, last night.
Six arrested for possessing drugs
Patiala, August 12
The district police have arrested six persons under the Narcotic Drugs and Psychotropic Substances Act, who were found in possession of smack and poppy husk.
Five held for drug peddling
Bathinda, August 12
The counter intelligence wing of the Punjab Police arrested five persons with drugs today. An official press release informed that the sleuths of the wing, under the leadership of DSP counter intelligence, Rakesh Kumar, also arrested a dismissed Army jawan.