'Misuse' of funds by former Sikh varsity VC
Audit firms yet to finish probe against Ahluwalia
Fatehgarh Sahib, August 11
The two audit firms appointed by the Shiromani Gurdwara Parbandhak Committee (SGPC) to inquire into the alleged financial irregularities committed by Jasbir Singh Ahluwalia, former Vice Chancellor of Sri Guru Granth Sahib World University, were yet to complete their probe.
Shinde to visit ICP soon
Amritsar, August 11
Union Home Minister Sushil Kumar Shinde would soon inspect the Integrated Check-Post (ICP) and the rail cargo terminus at Attari. He is expected to order strengthening of security and infrastructure at the post to meet the growing potential of the India-Pakistan trade.
Royal city gears up for state-level I-Day function
Patiala, August 11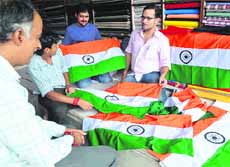 Security arrangements have been made and all preparations are in place for the state-level Independence Day function to be organised at the YPS Stadium in the Royal city on August 15. Deputy Commissioner (DC) GK Singh is personally monitoring the security and other arrangements for the function.



A shop selling Independence Day merchandise in Patiala on Saturday. Tribune photo: Rajesh Sachar

Nursing dollar dream, Punjabi hunks shed macho image
Amritsar, August 11
Punjab youths can't resist the lure of a foreign visa. Even if it comes at the cost of their macho Punjabi image! That appears from the changing trend in nursing colleges in the state where more and more boys are enrolling themselves for various courses. Nurses, female or male, are in high demand abroad. And, the job is well-paid too.
Patiala sealing drive takes political colour
Patiala, August 11
Wasting no opportunity to settle their political scores, leaders of the Congress and the ruling SAD-BJP combine have started a war of words over the ongoing sealing drive in the city. Congress MLA from Sanaur Lal Singh said instead of finding a solution to the problem, the SAD-BJP government was running away from its responsibility.

Villagers block highway to protest illegal mining
Nawanshahr, August 11

Up in arms against the mining mafia, residents of over a dozen villages today blocked the Rahon-Machhiwara highway for over two hours. Having gathered under the banner of Sutlej Bachao Sangharsh Committee, the villagers, a majority of them farmers, raised slogans against the SAD-BJP government and the district administration for allegedly turning a blind eye towards the menace.

Members of Sutlej Bachao Sangharsh Committee block the Rahon-Machhiwara road in Nawanshahr on Saturday. A Tribune photograph

Respect panchayat decisions: NGOs
Sangrur, August 11
Two local NGOs - Scientific Awareness and Social Welfare Forum, People For Transparency - today asked the Punjab Government to scrap Section 40(2) of the Punjab Panchayati Raj Act 1994 that empowers the Commissioner, Excise and Taxation, to reject (on one account or the other) the resolution passed by a panchayat not to open a liquor shop in its village.
Countering Addiction
Correction pens to replace fluids: Centre
Chandigarh, August 11
The Centre has corrected the decade-old problem of correction fluids being used by addicts! Erasing the chapter of dependence on correction fluids, the Centre has penned down the history of sorts by notifying that only correction pens will hit the stalls of stationery shops.
Water at 16 Sangrur schools not potable
Sangrur, August 11
Drinking water supplied to private and government schools in the region is not fit for consumption. State Public Health Laboratory, Chandigarh, after testing water samples from various schools declared that water here was not potable.
2 abandoned baby boys find place in girls' shelter home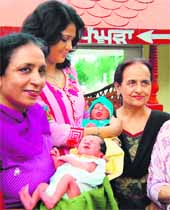 Amritsar, August 11
A home for "unwanted" girl children today received two abandoned baby boys. While one was dropped in the cradle outside the home, the other was rescued by a rag picker. Panghura, a home for "unwanted" children run from the Red Cross Bhawan here by the district administration, was primarily set up to save unwanted girls. It is not usual for Panghura to shelter male children as predominantly female children are abandoned. Before yesterday's instances, the institution had only three boys out of a total of 52 children.



The boys at Panghura home. Photo: Sameer Sehgal

Fungal infection hits paddy crop in Moga villages
Moga, August 11
After battling a prolonged dry spell due to a weak monsoon, farmers in some villages of Moga district are now up against sheath blight, a fungal infection that has hit their paddy crop.
Low water level in dams hits irrigation
Chandigarh, August 11
The low level of water in Bhakra, Pong and other dams continues to worry the state government. In fact, it has severely impacted canal irrigation and hydro-power generation in the region.
But recent rain cuts power cut duration
Patiala, August 11
Almost after a month, domestic power consumers got some respite from power cuts with Punjab State Power Corporation Limited (PSPCL) decreasing their duration. According to reports from various parts of the state, power cuts varying between eight and 12 hours were being imposed earlier. Now, their duration has been reduced — from four to six hours.
Drug menace in jails
ADGP for strict action against erring officials
Ludhiana, August 11
Punjab Additional Director General of Police (Prisons) RP Meena today said smuggling of drugs inside the jails would not be tolerated at any cost."If any jail employee found guilty of supplying drugs or mobile phones to prisoners, he or she will be dismissed from the service," said the ADGP in the first meeting with Jail Superintendents here today.
PEDA for focus on biogas
Bathinda, August 11
To throw light on the dangers posed by increase in pollution, a training camp on biogas was organised by the Punjab Energy Development Agency (PEDA) at the Krishi Vigyan Kendra, Bathinda, recently.
Police plans to crack the whip on tax evaders in Bathinda
Bathinda, August 11
The excise and taxation department has pulled up its socks and has started keeping a close watch on goods being brought into Bathinda through various routes without paying the entry or exit taxes.
Tributes paid to hero of Zoji La battle
Chandigarh, August 11
It was after three months of intense fighting in snow-clad heights of the Himalayas that India wrested control of the strategically vital Zoji La pass from Pakistan in 1948 and gained supremacy along the Dras-Kargil axis in Jammu and Kashmir. The 11,600 feet high pass, through which National Highway-1A passes, is the lifeline of the Kargil and Ladakh regions.
HC to rescue of those paying loan in advance
Chandigarh, August 11
The Punjab and Haryana High Court has made it clear that charging interest as per the original scheme of payment of installments, even though the auction-purchasers of a plot have deposited the balance amount well in advance, can lead to penal action.


Man held with fake currency
Muktsar, August 11
The Lakhewali police today arrested a man with fake currency notes worth Rs 48,600 and seized a Ford Ikon car in his possession. The police said that acting on a tip-off, a naka was set up on Gandhad road. Harbans Singh, native of Guru Ki Dhabh village near Kotkapura in Faridkot district, was caught red-handed possessing fake currency notes.
Councillor booked for cheating
Bathinda, August 11
The police has booked six persons, including a Municipal Councillor and a former councillor, for cheating an employee of the PTU Giani Zail Singh Campus. A complaint was submitted with the Economic Offences Wing of the Bathinda police by Amritpal Kaur.