Face of the week
Quality of education on the decline: Dr Joshi
Dehradun, August 18
Every morning when social scientist and former VC of Kumaon University Dr BK Joshi takes up his place in the quiet corner of the Doon Research Library, he cannot help but get concerned about the abysmally low status of higher education in the state.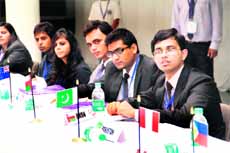 Model UN conference begins
Dehradun, August 18
The Model United Nations Conference started at Law College in Dehradun today. The two-day conference aims to discuss global matters on regional conflicts, peacekeeping, human rights, economic and social development and environment.

Students from various colleges during a Modern United Nations under way at Law College in Dehradun on Saturday. A Tribune photograph

Guv greets people on Id-ul-Fitr
Dehradun, August 18
Governor Aziz Qureshi has greeted the people of the state on the occasion of Id-ul-Fitr. In his message on the eve of the festival, the Governor expressed the hope that the festival of Id-ul-Fitr, which gives the message of compassion, sacrifice and brotherhood, would strengthen feelings of unity and communal harmony.
1,400 saplings of 28 varieties planted in Doon
Dehradun, August 18
Himalayan Environmental Studies and Conservation Organisation and Indian Council of Forestry Research and Education today planted 1,400 saplings of 28 varieties of Bhimal Fibre in the Kharipuch and Sarket village areas of Dehradun.
Web designing competition
Dehradun, August 18
To promote computer skills among students, the computer faculty of Unison World School organised an inter-house web designing competition today. The topic of the competition was London Olympics 2012. It featured the creation of high-quality, well-designed websites while seeking to identify and encourage future talent in the field.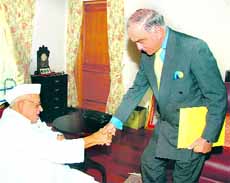 Ex-General calls on Guv
Dehradun, August 18
Uttarakhand's Finance Minister Indira Hridyesh and former Commandant of the Indian Military Academy (IMA) Lt Gen TS Shergill (Retd) called on Uttarakhand Governor Dr Aziz Qureshi yesterday to enquire about his health.





Lt Gen TS Shergill (retd), a former Commandant of the Indian Military Academy, meets Governor Aziz Qureshi in Dehradun. A Tribune photograph


No move to take back rebels, says Chufal


Pithoragarh, August 18
President of the state unit of the BJP Bishan Singh Chufal, who was in Almora today, has denied any move to take back rebels. Addressing party workers, district coordinator of the BJP Lalit Latwal said: "We had conveyed our desire to the president that local leaders who had left the party in the Assembly elections recently should not be taken back."