M A I N N E W S

Coal blocks Parliament for Third day


Expose BJP tactics: Sonia to party MPs
Tribune News Service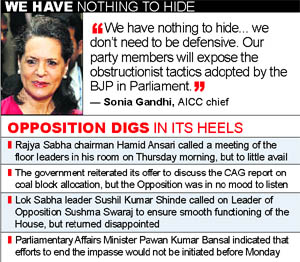 New Delhi, August 23
Even as the confrontation between an adamant UPA government and an unrelenting Opposition over the CAG report on allocation of coal blocks paralysed Parliament for the third day in a row on Thursday, Congress president Sonia Gandhi told her party MPs to launch an offensive against the BJP's demand for Prime Minister Manmohan Singh's resignation.
"We have nothing to hide... we don't need to be defensive," she told a group of party MPs, adding that they should expose the "obstructionist" tactics adopted by the BJP in Parliament.
While Sonia Gandhi's tough message was a clear indication that the Congress is in no mood to backtrack from its stand, the BJP was also unyielding in its demand for the PM's resignation failing which its party leaders said Parliament would not be allowed to function. The Congress has rejected the demand, describing it as outrageous.
As expected, both the Lok Sabha and the Rajya Sabha were adjourned shortly after the two Houses met this morning as slogan-shouting Opposition members rushed into the well to demand the PM's resignation, which was countered by equally vociferous Congress members. The mood in the Opposition camp suggested that Parliament would not function tomorrow as well while the government appeared resigned to such an eventuality.
Parliamentary Affairs Minister Pawan Kumar Bansal indicated that efforts to end the ongoing impasse would not be initiated before Monday. Rajya Sabha chairman Hamid Ansari called a meeting of the floor leaders in his room this morning in an effort to end the ongoing stalemate, but to little avail. The government reiterated its offer to discuss the CAG report on coal block allocation, promising to respond to all queries raised by Opposition members, but they were in no mood to listen.
Leader of the Opposition in the Rajya Sabha, Arun Jaitley, reminded the Congress that it had also blocked Parliament in a similar fashion over the Tehelka sting operation when the NDA was in power, stating that the BJP would continue to put pressure on the government. Taking a cue from UPA ally Trinamool Congress chief Mamata Banerjee's suggestion that an all-party meeting be convened on this issue, Lok Sabha Speaker Meira Kumar could call such a meeting next week.
Lok Sabha leader and Home Minister Sushil Kumar Shinde called on Leader of Opposition Sushma Swaraj to ensure the smooth functioning of the House but came back disappointed. Like Bansal, he was hopeful that matters would be resolved next week.
The UPA government believes the divisions in the BJP's ranks and in the Opposition will compel it to seek a compromise on this issue. The Left parties and NDA partner Janata Dal (U) have already said they favour a debate on the subject.