Shift wheat to godowns, HC tells procurement agencies
Chandigarh, August 23
The Punjab and Haryana High Court today came down heavily on FCI and Pungrain officers for not showing keen interest in storage of foodgrain.
Delhi team to inspect Ludhiana metro route
Chandigarh, August 23
A team of senior officials from New Delhi will arrive in Ludhiana on Monday for a two-day visit to inspect route of the proposed metro rail track. Official sources said the team would be sent by the Delhi Metro Rail Corporation (DMRC). The state government has offered to appoint the DMRC as consultant for the project.

PPP expels Bir Devinder Singh
Chandigarh, August 23
The People's Party of Punjab (PPP) today showed the door to Bir Devinder Singh. The latter had launched a tirade against PPP chief Manpreet Badal three days ago, calling him "individualistic and autocratic".
Former legislators call the shots in Gurdaspur district
Batala, August 23
Congress legislators, who represent five of the seven assembly seats in the district, are peeved at former SAD legislators wielding "extra-constitutional" authority in matters of transfers, postings and getting developmental works initiated.


Empty coffers, yet govt to spend Rs 38 cr on chopper
Chandigarh, August 23
Struggling to meet its fiscal requirements, the state government has released a sum of Rs 7.50 crore as advance money for a five- seater helicopter.
Probe over, FIR to be filed soon
Patiala, August 23
The Vigilance Bureau is all set to register an FIR against erring officers in the Patiala land scam.
No power cuts for now, says PSPCL
Patiala, August 23
Heavy rainfall in the state has brought respite for power consumers from long power cuts.
Scarce ivory delays work on Darshani Deodhi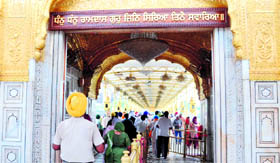 Amritsar, August 23
The "kar sewa" of the gates of Darshani Deodhi (entrance to the sanctum sanctorum of the Golden Temple) has got delayed due to non-availability of ivory. Now, the work is likely to be completed within the next six months.



A view of Darshan Deodi, the entrance to the sanctum sanctorum, at the Golden Temple. Photo: Vishal Kumar

Quash proposal to set up evening courts: Lawyers
Moga, August 23
Up in arms against the proposal to set up evening courts, members of various district and sub-division-level Bar associations today met in the town and decided to hold a protest on the premises of the Punjab and Haryana High Court in Chandigarh on August 31.
College students boycott classes, demand abolition of PTA funds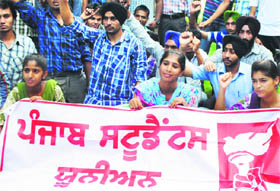 Patiala, August 23
Demanding the abolition of Parent Teacher Association (PTA) funds, college students under the banner of Punjab Students Union (PSU) boycotted their classes in various colleges in the city today.






Members of the Punjab Students Union hold a protest in Patiala. Tribune photo: Rajesh Sachar

Mandi Gobindgarh, August 23
BJP leader Dharampal Rao was removed from the post of president, Municipal Council, after he lost the no confidence motion by 14 votes to one at a meeting held at municipal council building complex amid tight security here today.

Principal suspended for drawing wife's salary
Patiala, August 23
The principal of Government Senior Secondary School, Bhadson, Patiala, was suspended today for drawing his wife's salary. His wife Malwinder Kaur worked as a teacher at the same school and had been on leave for a few months.

Regularise affairs of trusts, govt told
Chandigarh, August 23
The Punjab and Haryana High Court today asked the Union of India, the State of Punjab and the University Grants Commission to take a decision on constituting a body to look into the affairs of educational trusts and societies, along with non-government institutions dealing with education.

Protesting farmers seek regular power supply
Bathinda, August 23
Members of the Bhartiya Kisan Union (Ekta) Sidhupur today held a dharna outside the District Administrative Complex in favour of their demands.



Ludhiana City Centre scam
Court dismisses Vigilance plea to withdraw case against 4 accused
Ludhiana, August 23
The court of Sessions Judge Gobinder Singh yesterday dismissed the Vigilance Bureau's application seeking permission to withdraw case against four of the accused in the alleged multi-crore City Centre scam.

Frame policy for whistleblowers, says HC
Chandigarh: The Punjab and Haryana High Court has directed Punjab, Haryana and Chandigarh to have their policies on the protection of whistleblowers on the official website.

PIL on handing over grants to defeated MLAs
Chandigarh, August 23
Acting on a petition for directions to the State of Punjab and other respondents against handing over grant-in-aid for gram pachayats and municipal councils to unauthorised persons, including defeated MLAs and MPs, the Punjab and Haryana High Court today issued a notice of motion.





Woman sarpanch, a faith healer, tortures girl to death
Moga, August 23
A woman sarpanch, also a faith healer, allegedly killed her teenaged niece to "free her from demons" at Bhinder Kalan village in Moga district last evening.

Local leader attacks Ghanaur SHO, held
Patiala, August 23
In a shocking incident, a local leader and his accomplices tried to strangulate an on-duty Station House Officer (SHO), who tried to stop them from drinking in public in Ghanaur on Wednesday night.