Record yield, yet price of wheat flour zooms
Chandigarh, August 21
Despite a record yield, prices of wheat flour, refined flour and flour products have zoomed in the past fortnight.The prices of wheat flour have gone up by Rs 300 per quintal (Rs 3 per kg) to Rs 1,550-Rs 1,600 per quintal. The price of refined flour (maida) too has jumped by Rs 300 per quintal (Rs 3 per kg) to Rs 1,900-Rs 2,000 per quintal.
Punjab delays bills worth Rs 1,600 cr
Chandigarh, August 21
Punjab's fiscal crisis seems to have deepened with the state government holding payments worth Rs 1,600 crore. The government is even facing problems in compensating the Punjab State Power Corporation Limited (PSPCL) for providing free power to the farm sector.


Manpreet's PPP fast disintegrating
Chandigarh, August 21
For someone whose party was touted as the third alternative in Punjab, People's Party of Punjab (PPP) chief Manpreet Singh Badal now seems to be presiding over an organisation disintegrating by the day. Buoyed at disgruntled SAD leaders flocking to him in the runup to the assembly elections, Manpreet is now finding the going tough. He is not getting any new converts to his party and his old colleagues are deserting him.
Bir Devinder quits PPP posts
Chandigarh, August 21
Former legislator Bir Devinder Singh today announced his resignation from all posts of chief spokesman and senior vice-president of the PPP.


Sorry State of higher education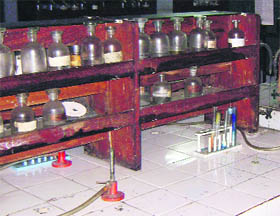 Chandigarh, August 21
With the state government not taking any effective measures to improve the state of higher education in Punjab, students continue to be at the receiving end. A majority of the colleges have been awaiting appointment of regular lecturers for the last several years. Apart from teaching staff, the functioning of colleges is getting affected by vacancies in other departments.


Empty flasks at the chemistry lab of the government college at Karamsar. Photos: Mahesh Sharma

Govt plans to plant trees on vacant rly land
Faridkot, August 21
Aiming to make up for the lakhs of trees being axed for widening of national and state highways, the Punjab Forest Department has devised a plan to use vacant railway land alongside railway tracks in the state for afforestation.
Ashwani: BJP against taxing common man
Fatehgarh Sahib, August 21
The state BJP has urged the government to immediately withdraw the recently imposed VAT on sugar and other essential commodities as it directly affects the common man.
Lawyers to hold protests across state tomorrow
Moga, August 21
Up in arms against the proposed setting up of evening courts in the state, members of various district bar associations have decided to hold protests at all district and sub-divisional headquarters on August 23. The move is likely to affect the functioning of courts.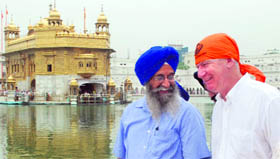 paying obeisance:

Canadian High Commissioner Stewart Beck (right) pays obeisance at the Golden Temple in Amritsar on Tuesday. Photo: Vishal Kumar
Adarsh School teachers elect new committee
Moga, August 21
Teachers of the 42 Adarsh Schools in the state have constituted a state-level union to fight for their rights.
Late rains can't undo damage, say experts
Ludhiana, August 21
After a dry spell, the monsoon is picking up in the state. However, experts say the rain deficit will remain. Also, the rains have come too late and will not undo the loss suffered by farmers. State farmers have incurred huge input costs while trying to save their kharif crops from the impact of sluggish monsoon.
Hospital workers harass parents of newborns
Patiala, August 21
Staff members at Government Rajindra Hospital, Patiala, are openly making money in the name of "badhai" (token money) from the families who get their child delivered in the hospital.
Prisoner escapes, two jail officials suspended
Ropar, August 21
A prisoner escaped from the local Civil Hospital late last night. The accused, Sukhwinder Kumar alias Doctor Dhindsa of Bakhlaur village, was undergoing life sentence for murdering Kulwant Kumar of Bahadurpur village in Nawanshahr in July 2010.


Security breach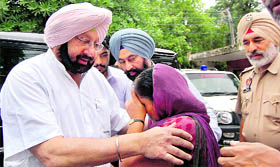 PCC chief Capt Amarinder Singh listens to the grievance of a government employee, who reached out to him after breaching his security cover at the Mohali District and Sessions Courts on Tuesday. Tribune photo
Sanction posts of math teacher
Patiala, August 21
Perturbed over shortage of mathematics teachers in government middle schools, the Math Teachers' Association has urged the Punjab Government to sanction these posts at the earliest.
Sirhind canal getting polluted
Bathinda, August 21
The vast sum spent on cleaning the Sirhind canal passing through the city has gone down the drain with city residents polluting the water by dumping their waste into it.
Waste management plant hangs fire
Bathinda, August 21
With the State Level Environmental Impact Assessment Authority delaying the meeting on solid waste management plant supposed to come up on 36 acres of land in ward number 29 of the city, the project now hangs fire.
Punjab to provide infrastructure to probe panel
Chandigarh, August 21
After dragging its feet in the land grab probe by not providing infrastructure to Justice Kuldip Singh panel, the Punjab Government today finally gave in.


Ensure drinking water in Lalru: HC
Chandigarh, August 21
Acting on a petition filed in public interest for supplying clean drinking water to the residents of Lalru village in Dera Bassi, the Punjab and Haryana High Court has asked the Nagar Panchayat to act immediately.


Man held for killing daughter
Hoshiarpur, August 21
A Jat girl who got married to a Ramgarhia boy eight months ago was allegedly murdered by her kin in Dhiangarh village for bringing "disrepute" to the family.
School kids arrested with stolen bikes
Bathinda, August 21
The anti-narcotics cell of the Bathinda police has arrested two school students for stealing motorbikes to purchase drugs.