Congress MPs want leadership issue resolved
Chandigarh, August 20
With no decision on the Punjab Congress leadership issue yet, the eight party MPs are a worried lot. As the party is in utter disarray, they are wary of starting their poll campaign.
Cong leaders skip Rajiv's anniversary function
Bathinda, August 20 The 68th birth anniversary of Rajiv Gandhi was a non-event here with sitting legislators and senior Congress leaders skipping the function held at the party headquarters.
PPP likely to see more desertions
Chandigarh, August 20
The People's Party of Punjab (PPP) may see more desertions with its official spokesman and former legislator Bir Devinder Singh today calling party chief Manpreet Singh Badal 'individualistic and autocratic'.
Loan scheme of no help: Industrialists
Goindwal Sahib (Tarn Taran), August 20
Local industrialists have alleged that the Punjab Financial Corporation (PFC) has not implemented the one-time settlement (OTS) scheme in letter and spirit.
More Hindus arrive from Pak, but won't stay back
Amritsar, August 20
Two more families of Hindu pilgrims arrived by Samjauta Express from Pakistan through the Attari-Wagah border today. Unlike a few pilgrims who alleged harassment in the neighbouring nation and had decided to stay put in India, these families said they would return once their pilgrimage was over.
Muslims promised representation on various boards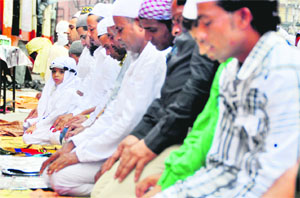 Malerkotla, August 20
Thousands of Muslims today offered prayers at the local idgah and exchanged greetings on the occasion of Eid-ul-Fitr. Finance Minister Parminder Singh Dhindsa attended the Eid celebrations. In response to a demand made by the Chairman of the Punjab Wakf Board, Mohammad Izhar Alam, Dhindsa assured the community that the government would ensure representation of Muslims on all boards and corporations as well as the Parvasi Welfare Board.
Muslims offer prayers at an idgah in Ludhiana. Tribune photo: Himanshu Mahajan
Sand rate soars in just two days
Chandigarh, August 20
With the Punjab and Haryana High Court banning sand mining in 241 quarries of less than five hectares across the state, the prices of minor minerals have rocketed. In the past two days, the price of sand has gone up by Rs 500-Rs 700 per 100 cubic feet.

Sobti is DAV varsity VC
New Delhi, August 20
Dr RC Sobti, a former Vice Chancellor of Panjab University, has been appointed as the first Vice Chancellor of the DAV University. The DAV College Management Committee took this decision at its meeting here on Sunday. The committee also decided to start the construction of a nursing institute in Jalandhar.
Punjab to re-conduct exam on August 25
Patiala, August 20
Following reports of irregularities in the Basic Proficiency Test (B1 promotional tests) held for Punjab Police constables on July 15, the authorities have decided to re-conduct the written examination under a newly appointed panel of officers.
Villagers await approach road
Mandi Gobindgarh, August 20
Over 40 years of wait of residents for a connecting road of between Mandi and Gobindgarh villages seems to be far from over. Though a railway under-bridge (RUB) to connect the two villages was constructed last year, the district administration has failed to construct an approach road to the RUB.
Electroplating units raided
Patiala, August 20
The Punjab Pollution Control Board (PPCB) yesterday raided 13 electroplating units in different areas of Ludhiana. While two units were found flouting the pollution control norms, four were shut temporarily.
Dalits, landlords reach compromise
Patiala, August 20
The issue of Dalit community of Sadarpur village facing a boycott over a minor issue was today resolved with the intervention of police and district officials.
Re-allocate central sector power, engineers to PM
Patiala, August 20
The All India Power Engineers Federation (AIPEF) has sent a letter to Prime Minister Dr Manmohan Singh, urging him to review the distribution of the 15 per cent unallocated central sector power to northern states.



Lofty aim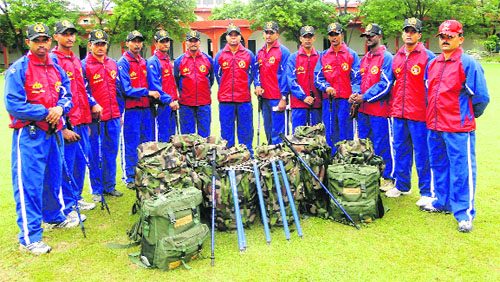 An Army team that will leave for an expedition to Kinner Kailash mountain range on Tuesday. Tribune photo
Gang of vehicle thieves busted in Moga; 6 held
Moga, August 20
With the arrest of six persons, the police today claimed to have busted a gang of vehicle-lifters active in the state. Thirty motorcycles, being transported in a stolen truck, were also recovered from their possession. Ferozepur DIG Paramraj Singh Umranangal said some quantity of drugs and ammunition was also seized.
10-year-old foils kidnapping bid
Ropar, August 20
A 10-year-old boy foiled his alleged kidnapping bid by two motorcycle-borne youths at Nangal, near here, today. The boy, identified as Harjot Singh, is a student of Class V at local Saint Soldier School.