Tribune exclusive
Cong's 'indecisive prince' must learn from his late grandmom
Indira used to take quick decisions, says ex-member of her personal staff
Man Mohan
Our Roving Editor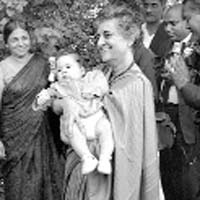 Indira Gandhi with Rahul
New Delhi, August 20
The Nehru-Gandhi family's 'indecisive prince' Rahul Gandhi must learn a lesson from history, especially from his late paternal grandmother, Prime Minister Indira Gandhi, "otherwise he may miss the bus."
This advice comes from Dr Janak Raj Jai (82), who once worked on the personal staff of first PM Jawahar Lal Nehru and Indira Gandhi when she was the Information and Broadcasting Minister in the Lal Bahadur Shastri government. "Indecisiveness can affect Rahul's political career and may give an unwanted twist to his and the Congress' destiny," Jai said, observing that "the young man must learn from Indira Gandhi's life - she used to take quick decisions, one of which had chartered her political career."
A Supreme Court advocate, Jai told The Tribune that Indira Gandhi, after her father's death on May 27, 1964, had rebuked the then PM Lal Bahadur Shastri for inviting her to join his Cabinet. "I am in grief," she told him in anger, but according to Jai, she changed her mind within hours and went to meet Shastri to say that she was ready to join his Cabinet.
PM Manmohan Singh had recently said Rahul was welcome to join the Cabinet. Last month, Rahul himself said he would play a more proactive role in the Congress and the government, the timing of which would be decided by his two bosses - Congress chief and mother Sonia Gandhi and the PM.
The Tribune has procured the first copy of Jai's yet-to-be released autobiography - Strokes on Law and Democracy in India: An Eyewitness - in which he has revealed how Indira Gandhi became a minister in the Shastri regime.
The 612-page book contains many historical anecdotes since the day he shifted to Delhi from his native place Ramdas (in Amritsar district) after Partition. "I had observed from close quarters the functioning of the Executive, Legislature and Judiciary in its true colours," Jai said.
Jai writes that after returning from Allahabad, where Nehru's ashes were immersed at the Ganga-Jamuna 'sangam,' Shastri asked Indira Gandhi at the New Delhi Railway Station to join his Cabinet, as he felt that one person from the Nehru family must be in his government.
"Indira Gandhi rebuked Shastri. He felt embarrassed. I was standing within their earshot. As she left, Shastri muttered to himself a bit loudly, 'I will now have to ask Mrs Vijaya Lakshmi Pandit (Nehru's sister),' Jai disclosed.
"As my loyalty was with Indira Gandhi," Jai says, "I alerted her by sending a note through her personal attendant Nathu, explaining Shastri's intentions. She immediately called me to fix a meeting with Shastri. I accompanied her to Shastri's residence. After some time, she came out smiling and told me that she had told Shastriji that she would be too glad to join his Cabinet, but has asked him to give her a lighter portfolio."
Indira Gandhi was inducted in Shastri's cabinet as the I&B Minister.
"This is how destiny favoured Indira Gandhi to join the government and ultimately she was destined to become the PM," said Jai commenting that "one does not know what would have been the destiny of Indira Gandhi if, instead of her, Vijaya Lakshmi Pandit would have joined Shastri's Cabinet." Jai joined the Congress and started practicing as an advocate in the Supreme Court after quitting the government job in 1969 at the age of 37. Interestingly, he was arrested during the Emergency as, he said, "I had dared to oppose its imposition by Indira Gandhi."
Jai began his career as a clerk in the office of the Director-General of Post and Telegraphs on December 22, 1948. Later, he learnt shorthand and passed the UPSC test. He got a doctorate degree from Delhi University in 1990.
In 1956, with the help of Yashpal Kapoor (cousin of Congress MP RK Dhawan, who was Indira Gandhi's powerful personal assistant), Jai got a posting in the PMO at a monthly salary of Rs 257 and began sitting in the room adjoining Nehru's office.
Those days, the influential Kapoor was working as a personal assistant in the PMO and "unofficially" working with Indira Gandhi. The most powerful man in the PM's Secretariat then was MO Mathai, whom Nehru trusted too much, Jai felt.
"Mathai was a bachelor and used to drink in the PM's house at Teen Murti, where Nehru had allowed him to stay. Mathai had developed nearness with Indira Gandhi, who was staying with her father while her husband Feroze Gandhi had declined to live there. Nehru once deputed Mathai to mediate and narrow down Indira's differences with Feroze. Mathai was not sincere in his efforts and never wanted that both should patch up and live together," Jai pointed out.