Designers' den
Chhaya Mehrotra and Varija Bajaj, though different in many aspects, have one similarity — successful designs

The first element in the design of success is probably the desire to create. Two dramatically different designers Chhaya Mehrotra and Varija Bajaj stepped in together with designs on City Beautiful on Saturday. And they have two different success stories to narrate.
Destiny's plan: Chhaya Mehrotra knew her calling as early as when she was 10. Born into one of the oldest textile-printing families of Benaras, she started experimenting with colours and fabrics early.
Different take: Varija Bajaj
Cheers to sporty spirit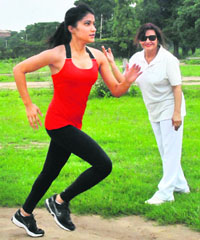 Academics have always been the prime concern of parents, but there are some who believe sports is equally important for the balanced growth of their children...
The time when India was primarily known for academic glory has not been long forgotten. Children moving out to foreign shores on full scholarships either to the Massachusetts Institute of Technology, University of Pennsylvania Wharton School or the Harvard University are still common conversations among the 'report-card friendly' parents. But now, although gradually, more and more parents have started initiating their children into the world of bats, balls, rackets, golf clubs and swimming pools. So, have the Olympics made a difference...we find out.
Aanchal Bajwa with her mother Nikki Bajwa (in white). Photo: Vicky Gharu

A brush with life
Manjunath Kamath, one of the most popular names in the art fraternity, shares experiences from his world…
It's not rare to find the Government Museum and Art Gallery-10, Chandigarh, brimming with people for a presentation of a renowned artist, but to have crowds pouring in half way through the session certainly points to the fact that the artist in question truly commands the respect. Manjunath Kamath, in Chandigarh for a slide and video presentation, the lover of fables and grandmother's stories, introduces us to his world. There is always a phase in life of an artist when he is unaware of what to do next; his first set of paintings titled Something Happened, created in 2006, talk about a similar phase. "It was then that I visited a museum and saw several miniature paintings. Bharma on a lotus is unimaginable, isn't it?" he questions, throwing the audience into a thought-provoking mode. His affection for mythological images comes out clealy in his work.


So far, so good
There were stories of Anushka Sharma and Katrina Kaif not getting along on the sets of YRF's untitled film and even before that. However, sources close to them confirm that there was no fall-out between them and they get along just fine. They talk to each other on the sets. Moreover, they both are sweet and friendly girls. Anushka is enjoying the lack of connectivity in Ladakh and spending time with nature.
Mixed flavours
Music certainly knows no boundaries — DJ Eve Carey from UK came calling to Chandigarh on Saturday to play at The Blue Blazer, Sector-26, Chandigarh. DJ Eve has been coming to India since a few years now, but this was her very first visit to the city beautiful.
Astro turf
ARIES: An unexpected guest may gatecrash on your hospitality. A romantic mood can colour even the toughest situation with a rosy hue. Tarot message: Plan your life to avoid the in-built delays, which come your way. Take care of your health today. Lucky colour: Coffee brown.


Home away from home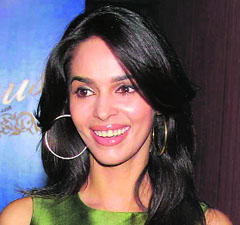 Food wise: Mallika Sherawat
Mallika Sherawat may have moved to America but she misses Indian food. She recently went to a university and shared the tiffins of the students who had Gujarati food. They were more than happy to oblige her with dhoklas, theplas etc.
The year ahead
If your birthday is August 26...
If you act prudently, you'll have excellent occasions for a higher income. Finally, you will reap the fruits of your efforts. Don't worry if your loved one is annoying because he or she is simply doing it to attract your attention. Your life may seem perfect to your friends and family members- but you will be disturbed over some recent developments. Speculation will be hazardous- therefore all investments should be made carefully. Arguments with children will bring mental pressure. Do not strain yourself beyond a point because certain issues are best when not touched. Today, you will miss true love in your life.
Chatter box
Exploring India on four wheels
Two intrepid journalists, Justin Rowlatt and Anita Rani, have set off on a chaotic and gruelling road trip around India. They will discover how the country's booming economy is affecting its people. As the Indian economy booms, the latest must-have accessory is the car. With increasingly affordable models in the market, and growing demand for cars as a status symbol and sign of social development, people's lives are becoming intertwined with car ownership. Justin Rowlett and Anita Rani join the chaos of India's roads on a madcap road trip across the country, to find out the truth behind the dream.


The Parisian touch: Ranbir Kapoor is in Paris shooting for a schedule of Yeh Jawaani Hai Deewani with Ayan Mukerji. So he has flown his mother Neetu Kapoor there. How sweet is that!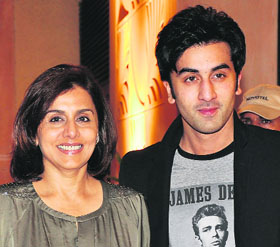 Mama's boy: Neetu Kapoor with Ranbir Kapoor

New kids on the block
We take a look at some newbies who are debuting this year. Here is what we think of them. Great expectations: With a Karan Johar film, her debut film is a dream one. And she seems to have it all: looks glamourous, has lost weight, worn a bikini, kissed both heroes, danced, sang, etc. She looks pretty and cute. Let us hope she lives up to expectations.
Suit yourself
Designers experiment with intricate embroidery, colour blocking and layering for traditional salwar suits
Riot of colours, intricate embroideries, rich fabrics and asymmetrical lines re-define the traditional attire of salwar kameez and churidar pyjama. Finding favour with all age groups, this is one dress (if tailored well) that makes a woman look sensuous and traditional at the same time. Though Anarkali suits have been a huge hit, this season is all about a re-defined style in suits. And designers have showcased some brilliant collections at the recently concluded LFW, where we had designers like Shyamal and Bhumika with their intricate embroidery and colour-blocked heavy velvet pieces.
Posture perfect
Parag Shastry, an ergonomic expert, gives tips on how to improve one's work environment to remain healthy
Are you one of the million people who suffer from back pain? Have you been visiting the doctor for a stiff neck? Do your fingers sometimes go numb at night? If you answer yes to even one of the stated questions, check your workstation. You probably keep your feet under the chair when you work on your laptop or sit on a wallet brimming with expired cards and faded ATM slips. There was a time in the world when a work station was a huge notebook.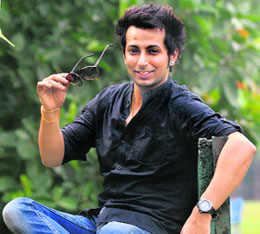 TRENDSETTER
In sync with style
It's not just one's sense of style which makes one stand out in the crowd, but also one's confidence. Deeptanshu Thukral, a pass out from INIFD and currently managing a retail chain, talks about the trends he follows—
Your sense of style is…
Anything bright and something that looks nice, perfectly in sync with the latest trends. At this moment my style statement is more about linen pants and subtle shirts.
Brand new: Deeptanshu Thukral
Master Chef
Wholesome and hearty!
Kandla Nijhowne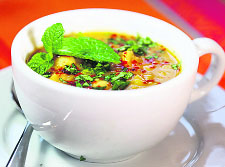 The rains have brought with them a minor chill when a hot soup suddenly seems more welcome! They have also brought with them my college day memories from England when the urge for a 'daal' drove me to the kitchenette to muster up a lentil soup instead. This was an easier option because it married well with a dinner roll and a quick salad to complete the meal. Who wanted to bother with making chappatties? We grew up believing that "daals" belong exclusively to the Indian subcontinent with the rest of the meat-loving world having little to do with them. Little do we realize that lentils are quite frequently used in other countries, albeit combined with some meat proteins.
High Spirits
Elixir of life
Blessed with the aroma of bay leaves and taste of sweet berry and lime, this is a must-try cocktail. Elixir of life indeed..!
Why Shahid is missing from action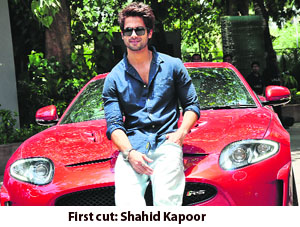 Actor Shahid Kapoor has completely stayed away from gym because for his next film, the actor isn't required to look fit. "I have not worked out in 3 months because I'm not supposed to look fit for my next film. I am missing the weights," he said. The actor will start shooting in 8 days. "Every movie feels like starting all over again. And every time, I feel like I have no clue what I'm going to do with the character. I guess every actor is searching for that moment of truth, somewhere between action and cut. I guess, to find any part, an actor has to look within and not outside if he wants it to be honest," he added. On the personal front, Shahid is reportedly seeing Bipasha Basu.
When Anurag used his car as a train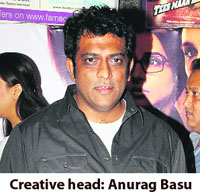 Anurag Basu's prized Maruti 800 was used as the engine of the train for the movie Barfi! Barfi!'s art director, Rajat Podar, badly needed a train for the shoot. They had already used plywood and cooking tumblers as the headlights of the train. However, the engine was missing. So, Basu found a way out and asked the art director to use his car as the engine of the train. Anurag Basu said, "We needed a train for the shoot, and we practically created it out of my first car. After that we created the body of the train, we didn't know how to move it. Suddenly, I thought my old car may be of some use. I showed it to our artist and he was ready to work on it. Within days, he modified it to make it fit on the train's body, and we finally had a train shoot. It's incredible." Apparently, Basu used to romance his wife in this very car.
Rock solid
Diamonds are said to be a girl's best friend. But these days it's not just any diamond that will make a girl happy. Every girl wants a diamond jewellery piece as exclusive as she is. To offer exclusive designer diamond jewellery, an exclusive designer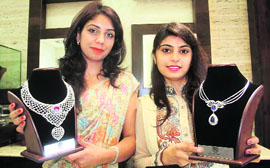 diamond jewellery store PNR Jewellers has launched their flagship store at Sector 34, Chandigarh. Narinder Bansal, the managing director of PNR Jewellers, said, "In Chandigarh this would be the first boutique diamond jewellery store to get exquisite hand crafted pieces and designs from countries like Italy and Dubai. Our expertise is on providing the residents of this city with experience of fine international jewellery. — TNS
Razzle dazzle: Designer jewellery on display.
Anything for you


Veteran actor Shatrughan Sinha made his first public appearance ever since his bypass surgery when his daughter Sonakshi took him out to watch a play. Shatrughan had recently revealed in an interview that he can't defy his daughter's commands and he happily gave in when Sonakshi asked him to accompany her for a play Kishen vs Kanhaiya, which has inspired an upcoming film Oh My God.
Doting daddy: Shatrughan Sinha

Itsy bitsy teenie weenie...
Minissha Lamba wore a bikini in Kidnap and has done a few photo shoots since. She shot another bikini sequence for a magazine. Initially, she was not too happy with it but went ahead after crew members convinced her. We shall see the results soon.
Home away from home
Mallika Sherawat may have moved to America but she misses Indian food. She recently went to a university and shared the tiffins of the students who had Gujarati food. They were more than happy to oblige her with dhoklas, theplas etc.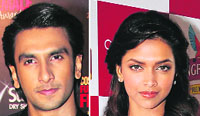 Look who's hanging out!
Ranveer Singh and Deepika Padukone are hanging out together just to get comfortable before they start shooting Raam-Leela in which they play lovers. They need a crackling chemistry. They are the new friends in Bollywood and get along very well.
Real life: Ranveer Singh. Creating chemistry: Deepika Padukone

The Parisian touch
Ranbir Kapoor is in Paris shooting for a schedule of Yeh Jawaani Hai Deewani with Ayan Mukerji. So he has flown his mother Neetu Kapoor there. How sweet is that!