IAS, IPS crunch: Blame it on career shift, slow hiring
Ajay Banerjee/TNS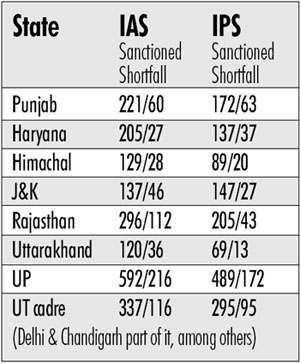 New Delhi, August 26
For long considered dream jobs for any aspiring Indian youth, the Indian Administrative Service (IAS) and the Indian Police Service (IPS) are today facing a huge shortfall of officers and it may take several years to bridge the gap.
Reasons for the shortfall include slow rate of recruitment and trained officers opting out mid-career for hefty private sector pay packages. Moreover, there has been increased demand for IAS officers from the Centre and state governments to run newly implemented social sector and urban infrastructure schemes. More IPS officers are needed for security-related duties, tackling Naxal violence, intelligence gathering, probing financial frauds, the newly set up National Investigation Agency (NIA) and the Marine Police.
As per the data made available in Parliament last week, the country faces a shortfall of 1,777 IAS and 1,255 IPS officers against the sanctioned need for 6,154 and 4,730 officers, respectively. Not a single state has full strength of these officers, the data shows.
Almost 50 per cent of IAS posts are vacant in Jharkhand, while Nagaland with 60 per cent vacancies is the worst hit in terms of IPS cadre strength.
Retaining IAS talent is a serious issue. The charm of the red beacon-fitted white Ambassador and power to decide future of millions of people is no more enough to hold back bureaucrats. Figures show that 181 IAS officers left their jobs between January 2002 and June 2012, mostly for the corporate-MNC sector.
The shortage will take some time to bridge. This year, the countrywide intake of directly recruited IAS officers will be 180, the Union Public Service Commission, the examining body has been informed by the Ministry of Personnel. The figure has been arrived at following recommendations of a committee headed by B S Baswan, a former Director, Indian Institute of Public Administration (IIPA). This suggested a cap of 180 IAS officials per annum to effectively manage future promotions and postings.
In case of IPS officers, the main reason behind the shortage is the increase of 815 IPS-cadre posts in the total authorised strength due to cadre reviews in 2010 and 2011. Between 2008 and 2011, 30 IPS officers quit their jobs as security-related jobs were in great demand in the private sector following the November 2008 Mumbai attacks.
In a written reply in Lok Sabha on August 21, Minister of State for Home Jitendra Singh indirectly put the blame on the previous NDA regime.
"(There was) a low average intake through Civil Services Examination in IPS between 1998 and 2002. The average batch size was only 40. Now the batch size is 150 officers per annum."
To reduce the IPS shortfall, a new mode of recruitment has been started from this year with a limited competitive exam for officers of state police services, officers of the armed forces and paramilitary forces.