Cell shock for jail staff
Amritsar, August 26
In the absence of a mechanism to jam phone signals, notorious criminals lodged in the high-security Amritsar Central jail continue to sneak in mobile phones to remain in touch with their counterparts outside.
52 await grants under inter-caste marriage scheme
Sangrur, August 26
An amount Rs 50,000 is paid under a Union Government scheme whenever a General Category or Backward Class boy or girl solemnises marriage with a member of the Scheduled Caste community. The money is paid as a reward for contributing towards eradicating untouchability.

BJP toughens stance on levying of fresh taxes
Chandigarh, August 26
The BJP's core committee, which met here this evening, has urged Chief Minister Parkash Singh Badal to immediately withdraw VAT on sugar.



Manoranjan Kalia, BJP spokesman

Youth Cong activists march to Badal village
Badal (Muktsar), August 26
Activists of the Punjab Youth Congress led by party chief Vikramjit Singh Chaudhary today marched to the native village of Chief Minister Parkash Singh Badal. They were stopped by the police at Kaljharani, 3 km from Badal village. The activists were protesting against the "failure" of the SAD-BJP government to keep its election promises.





State YC chief Vikramjit Singh at a rally near Badal village. A Tribune photo

Additional Levies


Manpreet gives 'jail bharo' call
Longowal (Sangrur), August 26
The Sanjha Morcha today gave a "jail bharo" call against the state government's move to impose fresh taxes on the people. Speaking at a function here today to observe the death anniversary of Sant Harchand Singh Longowal, PPP president Manpreet Badal said with tax burden on the common man already high, the Sanjha Morcha would not allow the government to impose fresh taxes. Manpreet asked the people to gear up for a "jail bharo andolan".



Govt to promote pvt rural schools
Chandigarh, August 26
After its crippled Adarsh schools project, the Punjab Government is making a rejuvenated attempt towards introducing public-private partnership to facilitate setting up of private schools in backward and rural areas.
Wisconsin Gurdwara Shootout
No SGPC functionary attends victim's bhog
Fatehgarh Sahib, August 26
Residents of Rattangarh village are angry as no minister or SGPC representative turned up at the bhog ceremony of 80-year-old Shubeg Singh today. The latter was among those killed in the Oak Creek Gurdwara shootout in Winconsin, on August 5.

Patiala man murdered in US
Patiala, August 26
Kashmir Singh Manesh, 43, belonging to Patiala, was reportedly murdered in California (US) on Thursday. He is survived by his wife, a son and a daughter.

A grieving relative. A Tribune photo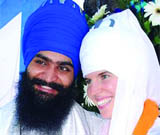 UK ex-minister's daughter turns devout Sikh
London, August 26
The daughter of former British minister Jonathan Aitken has swapped the world of nightclubs and parties for a simple life as a devout Sikh in Punjab.



Alexandra Aitken Spiritual Switch


Rickshaw-puller's son sings success note
Ferozepur, August 26
Defying all odds, Anantpal Singh, son of a rickshaw-puller, bagged the coveted "Voice of Punjab-III" title at the final round of the show organised in Amritsar last night.

Anantpal Singh Success Note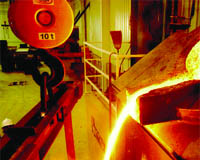 Furnaces begin indefinite strike
200 units threaten to move to Gujarat
Ludhiana, August 26
Over 200 furnaces and 300 steel rolling mills in the state might shift base to Gujarat, if the state government doesn't revoke the recently introduced e-billing system. Members of the Induction Furnaces Association, North India said the Gujarat Government had already invited them to visit the state and explore business avenues there.
State exchequer stands to lose Rs 400 crore
Ludhiana, August 26
The state exchequer may lose up to Rs 400 crore due to the indefinite strike called by the Induction Furnaces Association, North India.
Withdraw development fund levy: Rice millers
Chandigarh, August 26
Hundreds of rice shelling units across Punjab are facing tough times ahead. While the state government is undertaking an exercise to recover Punjab Infrastructure Development Fund (PIDF) dues worth crores from these units, rice millers say the cess of 3 per cent levied on them will lead to their financial ruin.
Rs 150 crore approved for highways
Chandigarh, August 26
The Punjab Government has approved a budget of Rs 150 crore for the maintenance of national highways in the state for the current financial year.
Don't raise retirement age, say employees
Patiala, August 26
Punjab State Electricity Board Engineers' Association has strongly opposed the proposed move of the Punjab government to increase the retirement age of its employees from 58 to 60 years.
DGSE: Check eve-teasing
Chandigarh, August 26
To check eve-teasing around government schools, the office of the Director General School Education has told the principals to depute teachers at the school gates at least 15 minutes before school timings.


Couple among 4 held in Moga passport scam
Moga, August 26
The special investigation team set up to probe the Moga passport scam has arrested a couple and two travel agents for duping two sisters of Rs 4.5 lakh on the pretext of sending them to Malaysia.
200 kg poppy husk recovered
Patiala, August 26
After being tipped off by the CIA, police today successfully recovered 200 kg of poppy husk from a Verito car, whose driver managed to give the cops a slip, here today.
Sex racket busted
Patiala, August 26
Tripuri police arrested three persons, including two women under Sections 3, 4, 5 and 7 of the Immoral Trafficking Act, 1956 after they raided a house on Bhadson Road in Subedar Colony.